On the first day of the 12th annual Mountain Jam at Hunter Mountain, there was a much expected buzz throughout the festival grounds. Thursdays of a four-day festival can be one of the greatest days; it's the kick-off to the annual celebration of music and arts. Attendees, staff and volunteers are just gaining their bearings for the weekend to come, but most notably, Thursdays tend to be a bit more exclusive. Not everyone has a schedule that allows for them to arrive so early, making attendance on the first day much lighter than the rest. This was the case in Hunter on June 2.
Mountain Jam 2016 kicked off on the Valley Stage with a quartet of consecutive acts who were not only the musical welcoming committee as the first wave of fans poured in, but they were the catalyst for a day and evening of incredible music. Jane Lee Hooker, a New York City-based blues quintet, were first to play. The all-female blues band brought fervor and soul to the stage, which proved their respect to the blues craft and their namesake, John Lee Hooker. Next up was the Capital Region's own Wild Adriatic; they lived up to expectation and performed an amazing set, which only substantiated the next act, Cabinet, a Pennsylvania bluegrass band that always makes the crowd shake and stomp.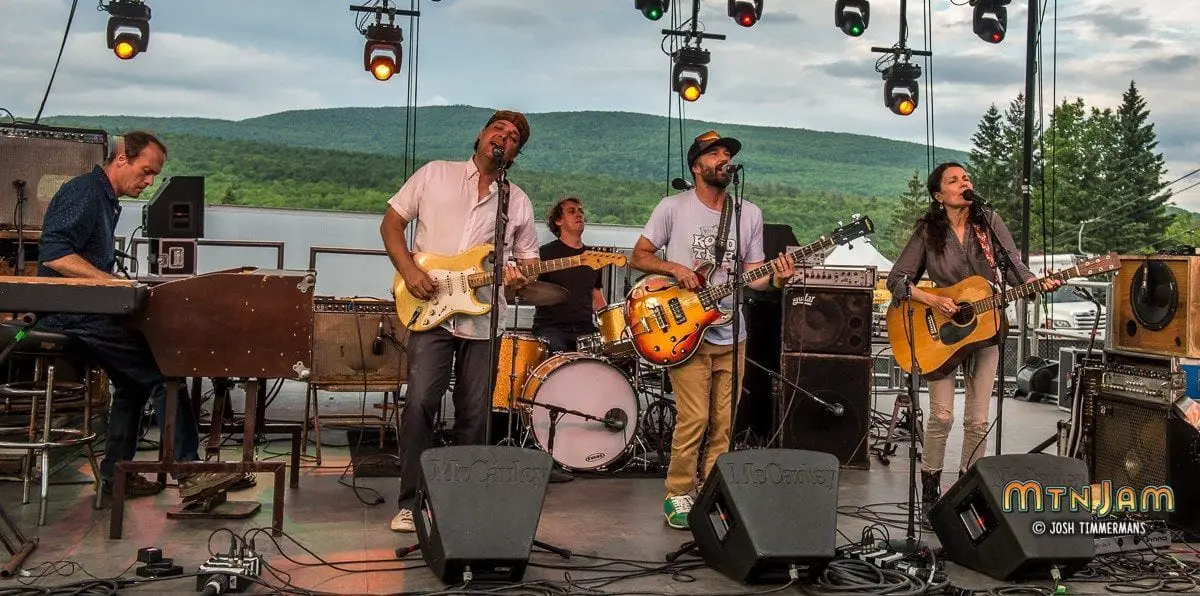 The fourth band of the initial quartet was Donna the Buffalo, a Central New York-based band riddled with Americana influence from old-time Appalachian music to modern rock and country; this was the group's first Mountain Jam billing. NYS Music sat down with Tara Nevins and Jeb Puryear, who founded the band in 1989. When asked how they came to be, Jeb said, "We're both old-time fiddle players, and in that form of music, a lot of people jam with each other.  All you have is acoustic instruments, so you can just meet easily." He added that Tara was the first person he'd met that wrote songs like the ones heard on the radio.  A smile instantly hit her face when he paid her that compliment.
Over the course of time, Donna the Buffalo, comprised of these old-time players Tara and Jeb, met back in the '80s and evolved from acoustic fiddle and banjo music to a more modernized, electric bluegrass. "The music [Appalachian music] kind of predates bluegrass; the kind that bluegrass grew out of," Tara added.  "I started writing songs that were more pop-oriented and then Jeb started writing songs. Then we [started to] transfer to electric instruments, and thus, was the formation of Donna the Buffalo."  Although they evolved into a more modern sound, they still stick close to their roots, continuing to play bluegrass festivals around the country, including their own called the Finger Lakes Grassroots Festival of Music and Dance in their hometown of Trumansburg.
As the evening progressed, the heavy hitters started to come out. The first Mountain Stage act was Train Play Led Zeppelin II. Festival-goers throughout the grounds were hypothesizing how the performance would go. Only those who had heard Train play Zeppelin tunes on Howard Stern's Sirius/XM radio show knew just how amazing it was going to be. The band's frontman, Pat Monahan, was a true embodiment of a young Robert Plant. The band masterfully moved through the entirety of Led Zeppelin II and finished off their set with a crowd-pleasing reprise of  "Stairway to Heaven."
After Train finished their jaw-dropping performance, an amazing duel between Marco Benevento and Superhuman Happiness on the Valley Stage and Umphrey's McGee on the Mountain Stage commenced.  Marco and his collaboration of astounding musicians and singers paid homage to the late David Bowie by covering a vast amount of his catalog, including legendary hits like "Oh You Pretty Things," "Let's Dance" and "Life on Mars." Chills were brought to many spines in the audience as this well-orchestrated performance not only gave everyone a live listen of Bowie tunes, but paid breathtaking amounts of respect to Ziggy Stardust—a face, voice and mind that the music world and its fans miss very much.
The echos of Bowie off of Hunter Mountain were responded to by a true fan favorite, Umphrey's McGee.  Although the Thursday crowd was light, it seemed every soul in Hunter was on the concert field. The boys from Chicago started their set off with "Similar Skin," after which Brendan Bayliss delivered the message that instead of everyone pacing themselves for the weekend to come, a full-on party should take place since they were only around for the one night. After that public service announcement, Umphrey's kicked into "Rocker (Part II)," and it didn't slow down much from there. As is often a staple at Mountain Jam, Warren Haynes came out to jam during the first set, helping to breakup "Higgins" with a mid-song jam of southern rock and blues.
Another guest hit the Mountain Stage to make an appearance. Dressed in his eye-grabbing garb for the Bowie tribute set, Marco Benevento sat with Joel Cummins during the adapted and absolute monster cover of Pink Floyd's "Breath." After the first set was over, the crowd was filled with electricity. Marco played his second set of Bowie music, which made way for the second set of Umphrey's; this second set seemed to step-up from the groundwork laid out in the first. Starting off with "40's Theme," the band moved through their second set making head-banging and fist-throwing and, of course, the Ryan Stasik-patented style of rock horns, explode throughout the crowd.
The boys finished their set with a line of "Educated Guess, "Conduit" and "Relax, Have a Thunderkiss." Surprisingly, the crowd didn't chant out the so-often-heard "We want the Umph!" chant, but they came back onstage with a certain vengeance, encoring with "Hajimemeshite" into "Bridgeless" to end the night; the perfect bookend to a perfect first night of Mountain Jam 2016.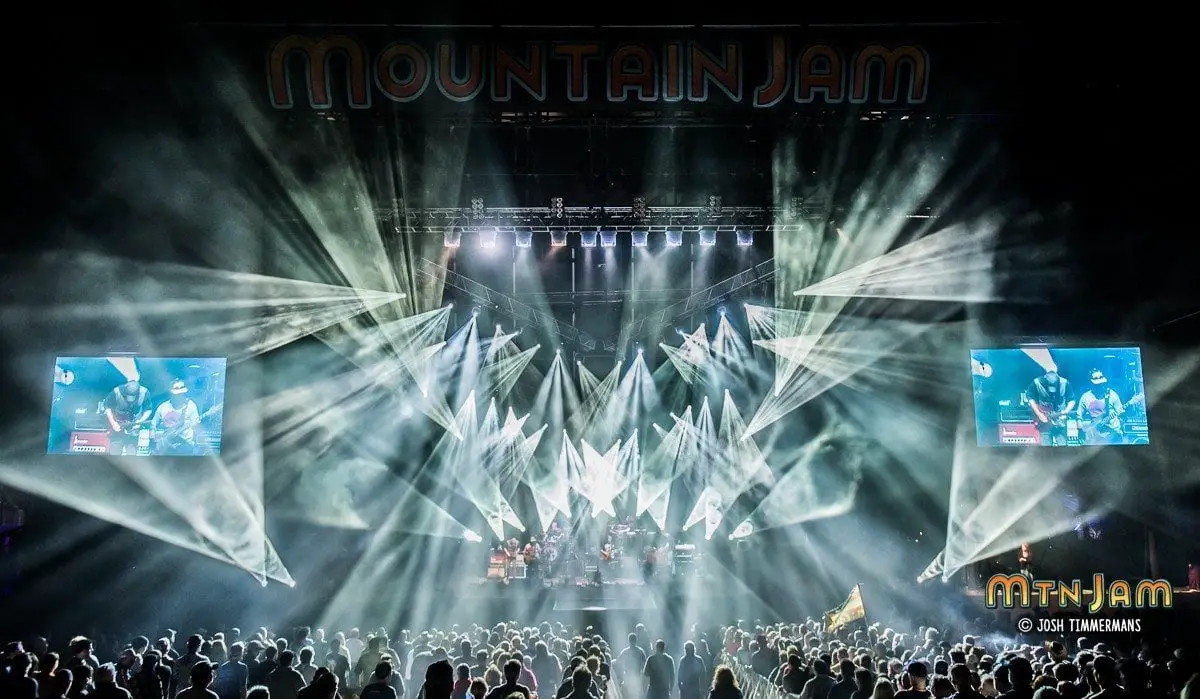 Today's lineup has some much anticipated acts throughout the day. Jay Blakesberg is personally looking forward to Courtney Barnett and Jason Isbell, both hitting the Mountain Stage in the late afternoon. Also playing today are favorites Chris Robinson Brotherhood, Wilco and Warren Haynes' own Gov't Mule. Be sure to log into the live stream, so you don't miss any part of the Mountain Jam 2016 weekend.