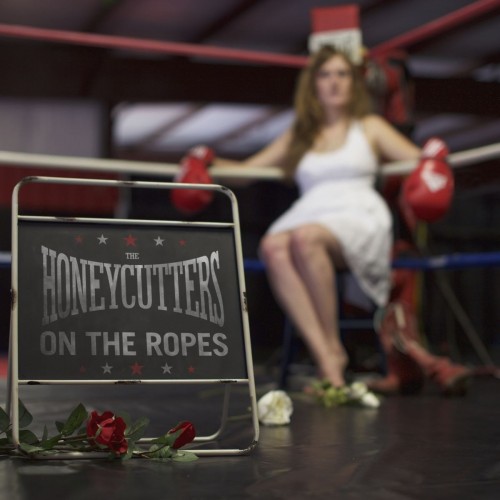 A follow-up to the chart-topping breakout album Me Oh My (2015), the Honeycutters' latest release, On the Ropes, brings a breezy soundtrack for Sunday driving down that lonely country mile.
Frontwoman Amanda Anne Platt (lead vocals, rhythm guitar) comes on strong in the record's opening title track, before lulling listeners along in "Blue Besides." It's the third song, "Golden Child," that demands full attention, with its bluesy vocals, relatable lyrics and soul-bending composition.
Throughout 12 original songs, Platt shares personal stories from the battlefield that cover the spectrum of love, loss and learning, writing "I've been a stranger here before, I've been a soldier, I've been the war, and I've done my time on the wrong side of the door, I've been peaceful, I've been wild, I've been a Golden Child." She's down-to-earth in her delivery of tell-it-like-it-is advice ("hang up that halo and get by with the rest of us, let those wings go to rust…you're not taking any chances, you're looking for that easy answer") from one strong-headed woman who's "not hanging up my spurs, I'm just telling you I've learned."
Although not as mountain as Gillian Welch, the Hastings-On-Hudson native and Skidmore College graduate's sweet, natural vibrato is a refreshing sound coming out of the songstress' current base of Asheville, NC. And accompanying bandmates, Rick Cooper (upright, electric bass), Josh Milligan (drums, vocals), Matt Smith (pedal steel, electric guitar, dobro) and Tal Taylor (mandolin), are the perfect mixer for a polished concoction of rock and country elements with a sprig of rural Appalachia.
From swingy, borderline pop-twang in "The Handbook" to steady rock in "Back Row," highlighted by harmonica (played by Platt's father, Mark) and electric guitar, to the slouchier slide and mandolin in "Useless Memories" to the trimmer distortion in "Ache" that makes the raw emotion feel real, and a jaunty, shimmery cover of Leonard Cohen's "Hallelujah," it's all here, before the record is capped off with a dusty picture of gunslingers and barroom girls in "Barmaid's Blues."
The Honeycutters have surely made something out of nothing with their fourth studio album, On the Ropes (out now through Organic Records); it's alternative Americana at its finest, and Platt's sincere songwriting is the gravy on the biscuits.
Key Tracks: Golden Child, Back Row, Ache, Hallelujah
https://soundcloud.com/user-123099651/sets/on-the-ropes