What began as a senior project for high schooler Diggy (Elijah) Lessard has transformed into a celebrity event at Woodstock Day School.
This month, a star-studded cast of actors, musicians and the like will perform in "Modern Vaudeville" to benefit the Kingston school's music program. The one-night only event is scheduled for Sun., May 22 at 7 p.m. at BSP Lounge Kingston.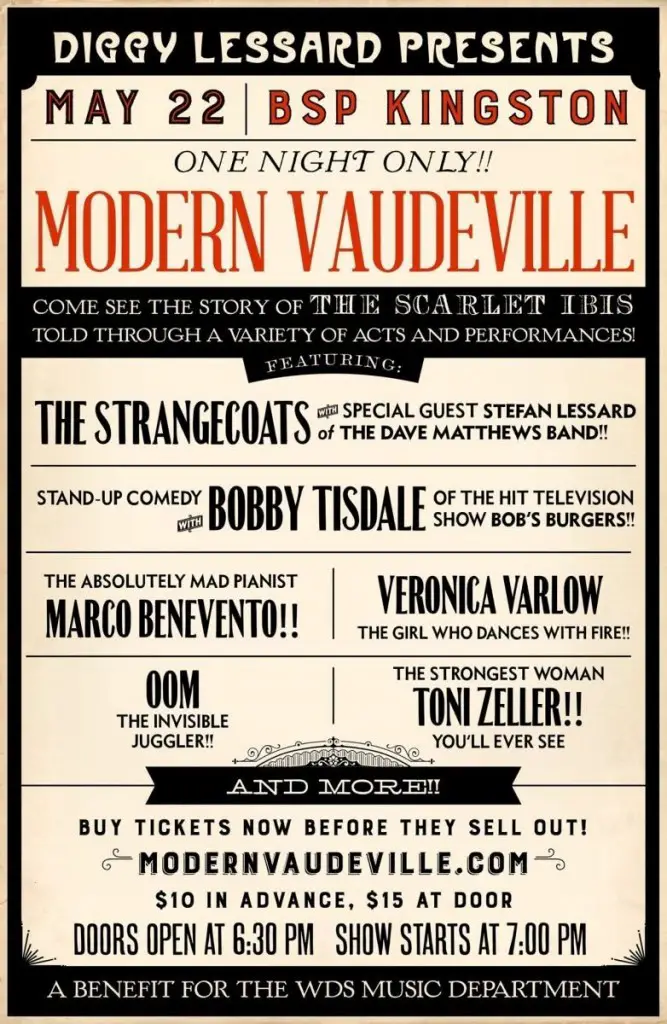 Lessard has plans to attend Sarah Lawrence (Class of 2020), and created the original theatrical production as part of his WDS graduation requirement. The show has garnered guest stars like Diggy's father, bassist Stefan Lessard of the Dave Matthews Band, as well as Bobby Tisdale of Bob's Burgers and the Hudson Valley's own Marco Benevento. Other featured performers include burlesque artist Veronica Varlow, Ripley's Believe It Or Not magician Albert Cadabra and the Strangecoats. More well-known names are expected to be added to the lineup, too.
"Modern Vaudeville" is based on the short story "The Scarlet Ibis," which Diggy Lessard read in 10th grade and was immediately drawn to its theme of "brothers and the fierce love between siblings." The variety show will be a staging of art forms from circus to comedy to dance, music, magic and drama.
"I have such a huge connection and passion for performing," Lessard said in a press release. "And I wanted to put on a unique and special show. My parents introduced me to this genre of entertainment and I was hooked."
When creating his project, Lessard set a fundraising goal of $20,000 with creative sponsorship perks for local businesses like original advertisement jingles starring the Strangecoats. The collective house band includes drummer Jason Bowman (Five Points Band), Peter Dougan (WDS music teacher), Will Bryant (Connor Kennedy/Gene Ween Does Billy Joel), Amy Helm, Simi Stone, singer/songwriter Elizabeth Mitchell (Ida), Acacia Bowman (Five Points Band), Lisa Green (co-founder of The Paul Green Rock Academy) and Lessard's father, Stefan, along with fellow Rock Academy students. So far, several thousand dollars' worth of sponsorships have already been sold.
Tickets for the PG-13 "Modern Vaudeville" show are $10 in advance and $15 at the door and can be purchased online here. Check out this rehearsal video for a 15-second preview of "The Scarlet Ibis."