Metal Church was born at a time when the hair was long, the denim was tight and the music was loud. In 1984 the band dropped their eponymous debut album and coming up on March 25th they will be releasing their 11th studio album, "XI" with the iconic Mike Howe. That's right, folks! He's back! Howe decided to come out of his 20 year retirement, after guitarist and mastermind, Kurdt Vanderhoof reached out to him last year to rejoin the band.
Howe was nice enough to take some time to talk with me before they headed out on the road; we dove into why he retired, the tour, the new album and much, much more. Don't forget New Yorkers, Metal Church is at BB Kings next week, March 28!
Cie Martin (CM): Hi Mike, great to speak with you again. Let's jump right in, shall we? You left Metal Church over 20 years ago and haven't been heard from since, I even read that you had passed away of a heart attack in 2013, so I think probably one of the biggest questions everyone has been wondering is where have you been and what have you been doing for the last 20 years?
Mike Howe (MH): Yeah, I know some French magazine came up with that somehow. Obviously, that was totally false. I don't know where that came from. (Laughs)
So, I dropped off the radar because the record business really disappointed me, things were changing, grunge was coming up and we were getting ignored. We were not businessmen, we were musicians and like a lot of [other] bands we just wanted to write songs and play metal. You really have to be business minded or you'll just get tramped on and left behind, I think that was our major problem. One small example, the cover of "Hanging In The Balance" was just a huge embarrassment to me and I hated it, it was forced on [us] and that was kind of the last straw. So I took a clean break and stepped away in 1994, with a proud feeling of what we had done so far, something I could keep in my back pocket for the rest of my life, and I wanted to step away before it got ugly. So, I got married, had children and lived the American Dream, we were just doing what everybody else was doing. I had my own little business, and had a couple boys, you may have seen I brought my older boy with me on the [Monsters of Rock] cruise, which was a great time for me, not only playing the cruise, but having my son with me was very important. So, now that they are older, I don't have to dedicate every second of my day in raising them. I have a little bit more free time and then Kurt called me and proposed coming back.
CM: The Monsters of Rock Cruise, was that the first time your son has seen you perform since you rejoined Metal Church?
MH: Yes, it's the first time he's seen me perform ever in my lifetime other than on the Internet.
CM: That's amazing! What was that like for you?
MH: It was amazing; there are no words to describe it! There's your son that you've raised and loved your whole life and you're getting to share something from when you were young. I just don't know how to describe it. It was a beautiful thing for me.
CM: Did you ever think Metal Church would be playing a rock and roll cruise to the Bahamas?
MH: No, never! Bassist, Steve Unger said in an interview, if Metal Church could, we 'd buy our own ship, cruise to every port and play off the boat! That would be awesome.
CM: Needless to say, you had a great time on the cruise?
MH: Aw man, when Kurdt first proposed the idea and because of my younger days and my experiences with fans, I had my doubts about doing it. I love the fans and I love interacting with the fans, but when I was younger I was a little more stressed about it. I consider myself grateful and when I meet fans I want to give all I can to them, it's hard to walk away from them and take care of yourself. I would be the one that would stand there for hours and then it would drain me. So I thought, we're going to be on a boat with all the fans, all day long, [for four days] that might be hard for me. It turned out to be the exact opposite, it was so great for me and they [the fans] were so gracious and didn't want to bother me. I was like, "You're not bothering me, this is awesome, you're giving me love and I'm here, give it to me!" It turned into something that was healing and spiritual for me and I really loved it.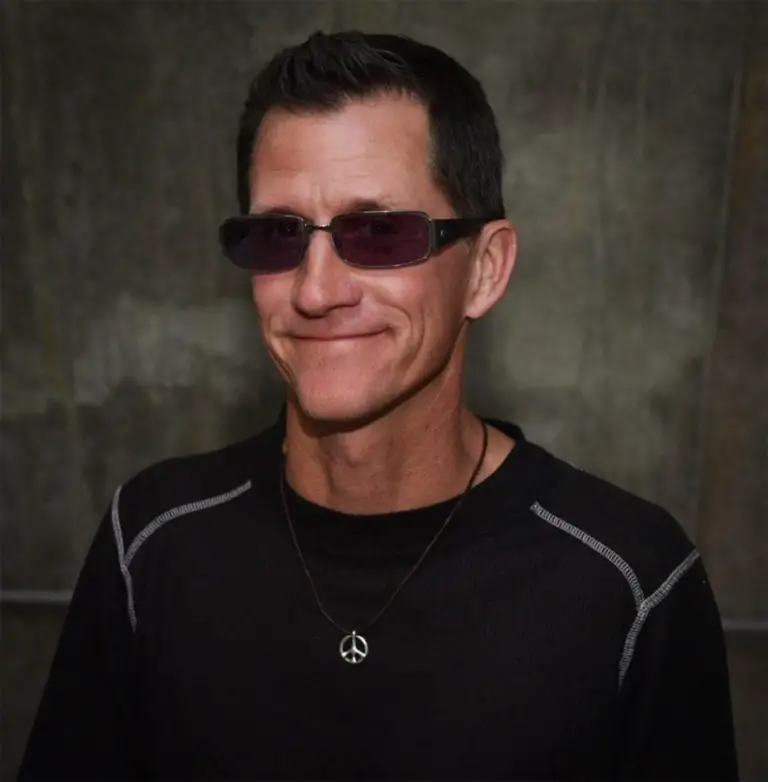 CM: Explain to me your process on re-joining, especially based on everything you just said about how you were disillusioned and let down by the music industry. I know you exchanged some demos over the Internet but I'd love to hear about the process.
MH: It was many conversations with Kurdt. We were Drop-boxing and sharing music, so I had to really step up my game technologically speaking. I built myself a little soundroom in the garage so I could have a workspace [to create] and send things back to Kurdt. A lot of the conversations were about not getting together for the nostalgia of it, because I'm not a person that looks back, I like to look forward. We are very proud of what we have and the catalog that we have, we really needed to see what kind of songs we could write and what kind of album we could come up with and whether or not my voice was still there. So these were all considerations we had. Kurdt was inspired by the possibility of me coming back, so he could write in the vein thinking about Mike Howe's voice and the way we used to write. So, he sent me songs and at the first listen, I was blown away. I was like, "Kurdt Vanderhoof is still the master of heavy metal riffs that are original." It was a great start.
We went back and forth, heading in the right direction and after we got a bunch together, we decided it was time to get together in Kurdt's studio in Aberdeen and it was awesome. It was like we never stopped talking to each other, our old friendship was still the same, it was like we were 20 years old again, getting together, having fun and writing music. We [also] talked about the state of the record company and about how we now can have full control of everything we do, the way we write and the way we want to be heard. We have a great record company now, Rat Pak Records, they are in full support of us. We can call Joe [O'Brien], the president, if we have concerns, we can talk directly to him, which in the past we just got lost in big record labels where you couldn't even speak to someone who was in actual control of your career. So to reiterate, the biggest thing for us was being able to write, record and present an album of material that represented us and who we are today from beginning to end without any external pressures, timelines or anything like that and that's exactly what we did. We are very happy about this and it's allowed us to relax, be big kids again and enjoy the process.
CM: And make magic again…
MH: For us it was magical because we were just enjoying what we were doing and that helped our creativity.
CM: I read that Kurdt was sort of 'done' with Metal Church and you coming back was a gamechanger for him?
MH: Well, that's how he presented it to me, "Now that Ronny [Munroe] is gone, I can't fathom looking for a 4th singer, it's not gonna happen, so if you're not going to do this with me then I'm hanging up Metal Church forever." I feel really grateful to Kurdt, he helped me discover Metal Church. He produced the band I was in, "Heretic" and he's the one that said, "Mike, I think you'd be a good fit for Metal Church, what do you think?" He brought me in, gave me a chance and then we became writing partners. I feel very grateful to him.
CM: If I can comment, I think your voice is better now than it was then.
MH: I understand that and I kind of agree. It's a maturity, a relaxation, the power is still there, but it's a little more controlled and I have control of my emotions and I know what I want and that does lend to a difference to my voice.
CM: How is it different being back onstage now as opposed to years ago?
MH: Well, it's a whole new band, so I have to get used to all the new members. These are great players I'm with and I feel very honored to be playing with them. The other aspect is Kurdt and I have never actually been in a band together, we've just been songwriting partners, so this is a great thing for he and I to be onstage together! And the third aspect is 'maturity with age' thing. You go onstage, you're not as frantic, you're not as stressed or anxiety ridden as you were when you were 20 something, so you can relax and enjoy the ride, so that's a big thing for me.
CM: Let's talk about the album, first of all, the video "No Tomorrow" is amazing and that location is amazing!
MH: Well we lucked out. I'm just chalking this up to the gods of metal. Our record company said they knew a guy in Seattle, he was young but he wanted to do it, we had a low budget so. We found this location 20 minutes from Kurt's house, an old nuclear facility that they rent for movie shoots and things like that. So, we went in, did the best we could and it turned out great.
CM: Tell me about putting the new album together and if there are any particular tracks that are your favorite.
MH: Well, "No Tomorrow" is the first out because that was the one I felt was most complex, his [Vanderhoof] riffs are amazing, he's a monster riff writer and I think he's one of the most underrated songwriters out there. He stringed together riffs in a song format, sent them to me, then I just sang out melodies that came from me, then some lyrics came out, some worked, some didn't. Then a theme came out like "No Tomorrow". It was all very natural, we didn't want to think too much, we wanted to be spontaneous and organic (Laughs)… you know, organic, man!
Kurdt writes different styles of metal, it's complex and you can hear different things, but still in that heavy metal vein. "It Waits" is a song I really like a lot, it starts out slow and builds up
, I love songs like that. "Reset" the first track is very important to me it's a straight forward, slam your face song with a hook and it's the story of our lives. Reset turn the page in our own age, now we hit the button to reset. That kind of tells you where we are at right now.
CM: A fun question; what was your first concert?
MH: Wow, my first concert my brother took me to see was J. Geils. Have you ever heard of J. Geils?
CM: Yes, like the J. Geils Band, "Centerfold"?
MH: Well, "Centerfold" was their downfall. (Laughs) They were a rock band before they became this pop weird thing. I knew them when they were a full house band; a 10 piece blues rock band that rocked the house. And then he took me to see Nazareth and Foreigner and bands like that. Finally, the one that changed my life was Judas Priest, the Screaming for Vengeance Tour, that's when I started playing metal. I had a rock band when I was 15 years old in Detroit. We would do all the Judas Priest songs, AC/DC, a little bit of Saxon and Def Leppard; the early Def Leppard. I wanted to be Rob Halford mixed with Bon Scott, the power of Halford and the attitude of Scott, so I emulated both of those guys.
CM: I'm sure you've met Rob Halford?
MH: Well, a life long dream of mine came true when I toured with Judas Priest, Motorhead and Alice Cooper on the Operation Rock and Roll Tour. One of my favorite stories of my career was touring with Rob [Halford], we went back to Detroit and played a shed there called Pine Knob, which is where I saw J. Geils. Anyway, my whole family came down to see the show; my Mom, my Dad, sisters, cousins. My Mom knew Rob Halford was a hero of mine and asked me if she could get a picture with him. I said, "I don't see why not, I'm sure he would." So after our show, I went back to the Meet and Greet area, I see Rob Halford across the tent talking to some reporters, I went over and said, "Can you do me a favor, my Mom asked if she could have a picture with you because she knows how much I idolized you?" He said, in his British accent, "You know Mike, your Mum is just like me Mum, she saw me and she came right over here and asked for a picture." As I'm asking him, I look over at my Mom across the way, she looked like a little girl who got caught with her hand in the cookie jar. She's just so sweet.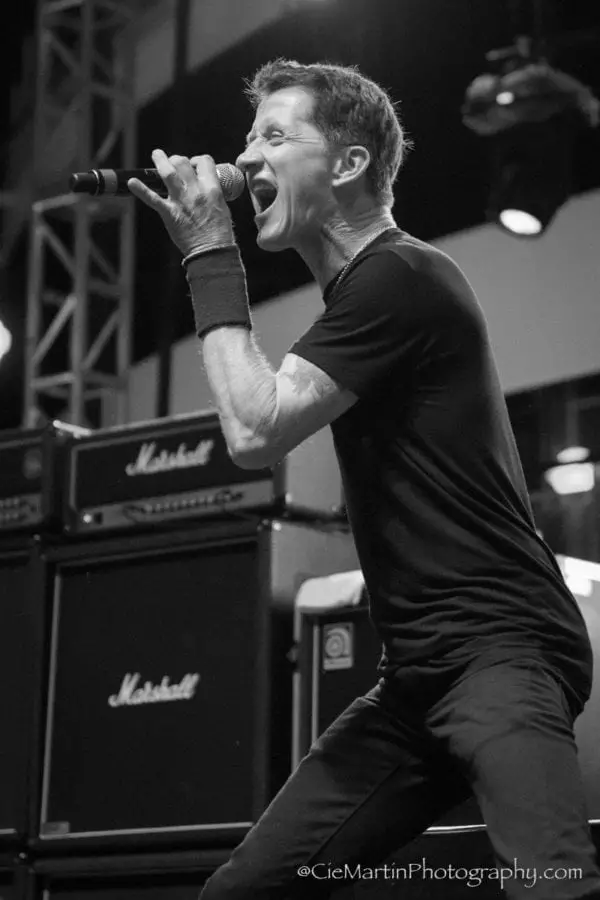 CM: That's such a great story, I love it. So, who would you like to tour with now?
MH: Wherever Kurdt Vanderhoof is touring that's where I'd like to be! (Laughs) We've got ourselves pretty booked right now with the East coast and then festivals in Europe, so we are booked through the summer. After that, we will just take it as it comes, live in the moment and just see what offers come in.
Don't forget Metal Church will be at BB Kings in NYC on Monday, March 28th. You don't want to miss the return of Mike Howe and the riff master, Kurdt Vanderhoof! Get tickets here! The Church will also hit Rochester's Montage Music Hall April 9.