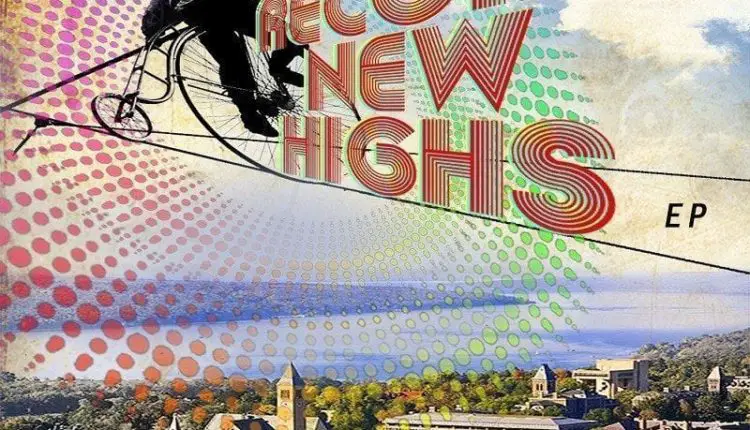 In the years 1998 and 2003 a collaboration of musicians assembled to record 3 songs.  Lead by David "Solid" Gould, formerly of John Brown's Body, Record New Highs features artists such as Brian Wilson (Anna Koogan, Johnny Dowd), Nate "Silas" Richardson (10 Ft Ganja Plant, Black Castle, Sim Redmond Band), Mark Berney (Itzhak Perlman, formerly of the Skatalites), Jhakeem Haltom (Thousands of One), and Craig Akira Fujita (Pressure Cooker, 10 Ft. Ganja Plant).
The EP's 3 songs, "Unity," "Duva Duva," and "Rebirth" are explored inside and out; they are first displayed in their original form and then represented with slight variation with either a dub style or with a DJ to give a subtly different tone.  When these songs were created and recorded Gould didn't feel that it was the right time to bring them to bear.  Instead, he waited 13 years to finally give the public a taste of his and Record New Highs' eclectic and jazzy ambient tones.  According to the collaborative's website, Gould had "been patiently waiting for the right time to release this debut EP."  He decided that in January the time had finally come. Keep an ear out for more innovative sounds from Record New Highs, as there are plans of fresh releases in the near future featuring the melodic and percussive sounds of the West African inspired tongue drum.
This EP is available on Bandcamp to listen to and purchase, and is available for streaming on Spotify.  To get a taste of these "new" eclectic recordings check out both "Unity" and "Unity DJ Style" below.
[embedyt] http://www.youtube.com/watch?v=Bu2k7gJi7VM[/embedyt]
[embedyt] http://www.youtube.com/watch?v=HzSDOxxjTqI[/embedyt]