With the Water Street Music Hall getting shut down just last week, fans of the hard rock and heavy metal community have been busy trying to get their precious venue back up and running. What some of those fans may not realize is that there's another awesome venue in Rochester that's not afraid to host metal shows. That venue is Anthology and they're helping keep metal coming to Rochester, and on Monday, March 7th, Anthology hosted 80's thrash metal legend Testament.
The night's lineup consisted of two other bands, Voice Of Valor and Slikk Wikked. The opening support surely got the crowd ready for Testament. Slikk Wikked, who took the stage prior to Testament set the bar high. This young metal band had the crowd going wild with circle pits and moshing right off the start. The entire band had a great stage presence that lead them to get a lot of attention from the crowd. Their set was highlighted by their vocalist who joined the crowd and moshed while the band played an Anthrax cover of "Caught In A Mosh."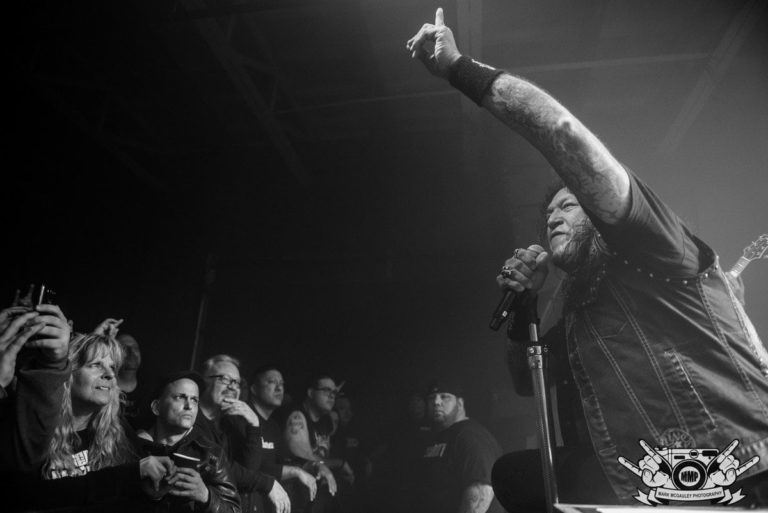 Coming to Anthology for an "off-date" from their tour with Slayer, Testament was ready to rip through a full setlist and give fans a kick-ass show. The night started with "D.N.R"' off of their album The Gathering. From that first song, the floor was a whirlpool of fans for the rest of the evening. The band didn't waste too much time between songs which was good because it didn't let the energy escape the room. Lead singer Chuck Billy did take the time to express his gratitude for the Rochester support and talked about all of the times they've played in the city. One of the best things to watch at a Testament show is the shredding guitar action by guitarists Alex Skolnick and Eric Peterson. Together, these guys create something not many other bands can produce. Rounding off the band's lineup are Gene Hoglan on drums and Steve DiGiorgio on bass. These guys combined really create something special when it comes to their live shows.
Fans who came out to Anthology were treated to a setlist mixed with tracks from seven different albums. With both old and new music throughout the night, different generations of fans had something to truly enjoy. Tracks like "Native Blood" and "Rise Up" which are off their latest release, Dark Roots of Earth, sound absolutely killer live. Not only do their new songs kick-ass live, but Testament takes their older tracks like "Over The Wall" and "The Haunting" and makes them even better then they were in 1987.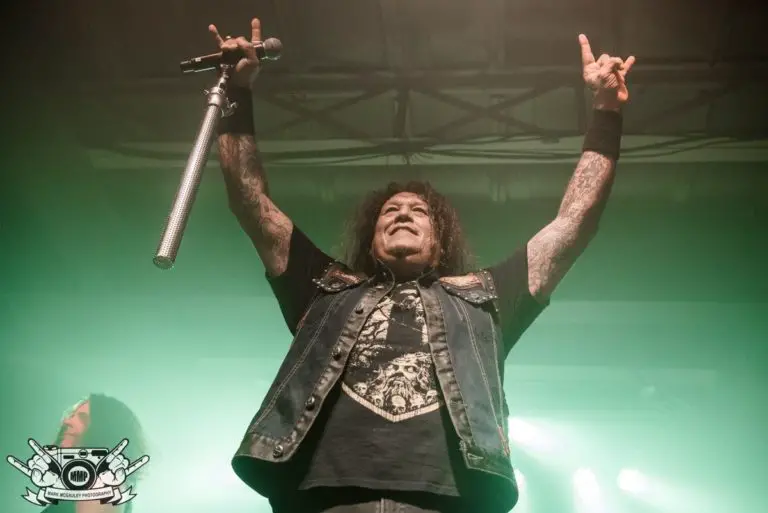 The night wasn't all business for Testament, as they took the opportunity to sing happy birthday with the crowd for their tour manager. After this quick little break of metal, Chuck and the guys finished the night off with the song "The Formation Of Damnation", which is the title track off their 2008 release. Testament fans can look forward to their upcoming release The Brotherhood Of The Snake, which is due out sometime this year. The first single from the album should be hitting airways sometime in the next few weeks. The direction of the album is said to be heavier and faster than their last album, Dark Roots Of Earth. If Chuck Billy's words hold true, it will be another masterpiece from Testament who just seem to keep getting better with age. If any Testament fans missed out on Monday's show at Anthology, look forward to them being on the road in support of their upcoming album later this year.
To stay up to date on all Testament news, album updates and tour dates, click here for their Facebook page. To visit their website click here.
To check out Anthology's upcoming events calendar, head over to their Facebook page here. Also, visit their website Anthology Live.
Testament Setlist: D.N.R. – Legions Of The Dead – Over The Wall – Rise Up – Dog Faced Gods – The New Order – The Haunting – Practice What You Preach – Into The Pit – Native Blood – 3 Days In Darkness – Disciples Of The Watch – More Then Meets The Eye – The Formation Of Damnation