In celebration of 22 years on tour, the live musical revue of In The Mood is coming to Syracuse this March.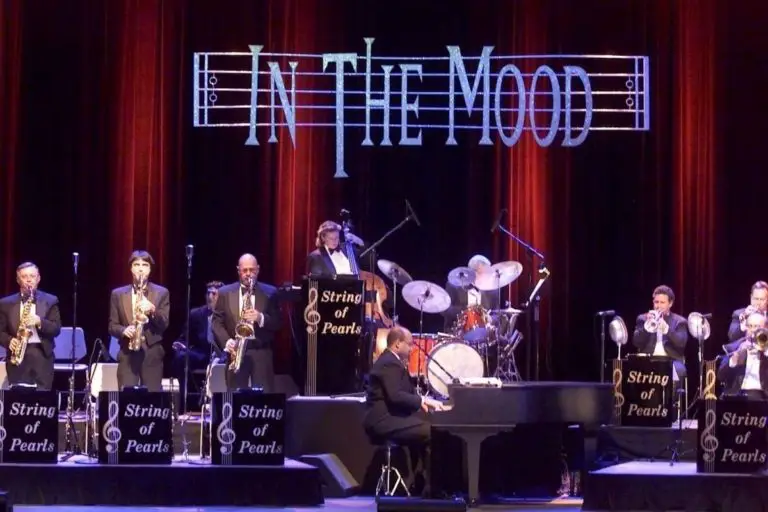 With a cast of 19 and a 13-piece big band orchestra (the String of Pearls), the fully staged show features more than 50 popular 1940s numbers, including "Boogie Woogie Bugle Boy," "Well Get It," "Sing, Sing Sing," "On The Sunny Side of the Street," "Chattanooga Choo Choo," "Tuxedo Junction" and "Moonlight Serenade."
Fans of American big band music will appreciate the show's brassy singing and dancing in tribute to Swing Era icons like Glenn Miller, the Andrews Sisters, Tommy Dorsey, Artie Shaw, Harry James, Erskine Hawkins, Benny Goodman and Frank Sinatra and many others.
According to the official press release, In The Mood "pays homage to America's greatest generation who fought WWII. It was a time when Americans listened and boogie woogied to up-tempo Big Band rhythms and danced cheek-to-cheek to intimate ballads. Experience the swing, the rhythm and the jazzy, sentimental and patriotic music of this pivotal time in America's history."
Created by Bud Forrest, the ever-evolving production was selected by the National Archives in Washington, D.C., as part of the 50th anniversary commemoration of WWII; the cast was also chosen to perform at the 53rd Presidential Inauguration Ball.
In The Mood – A 1940s Big Band Music Revue returns to the Oncenter Crouse Hinds Theater March 30 for performances at 2 p.m. and 7:30 p.m. The touring musical will make an additional stop in New York State on March 31 at Shea's Performing Arts Center in Buffalo. Tickets are on sale now.
2016 In The Mood Tour:
3/30 – The Oncenter Crouse Hinds Theater, Syracuse, NY
3/31 – Shea's Performing Arts Center, Buffalo, NY
4/12 – Coronado Performing Arts Center, Rockford, IL
4/14 – Victory Theatre, Evansville, IN
4/17 – Lexington Opera House, Lexington, KY
5/3-8 – Bucks County Playhouse, New Hope, PA