Bluegrass music may not be what's on the radio, but the attendance at this past Saturday's Greensky Bluegrass and Horseshoes and Hand Grenades show in New York City showed a healthy dose of support for one of the roots of what we've come to know as Americana music. With both bands visiting the East Coast from Michigan and Wisconsin, there was no local draw but definitely a packed house. Neither one had graced the stage of the Irving Plaza theater, but there was no sign of discomfort or unease from the opener or headliner.
Although most of the crowd were there for Greensky Bluegrass, Horseshoes and Hand Grenades were welcomed with a positive turnout early on. The five-piece acoustic outfit ran through their unique blend of bluegrass and country that brought bands like Trampled By Turtles and Old Crow Medicine Show to mind. One thing that sets this group aside from anyone else is their utilization of the harmonica and accordion in their arrangements. The fiddle blends well with the handheld instrument to deliver a strong high-end sound. Personal highlights came with covers of Pink Floyd's "Time," and Bob Dylan's "Don't Think Twice It's Alright," where they successfully turned two classics into their own sound.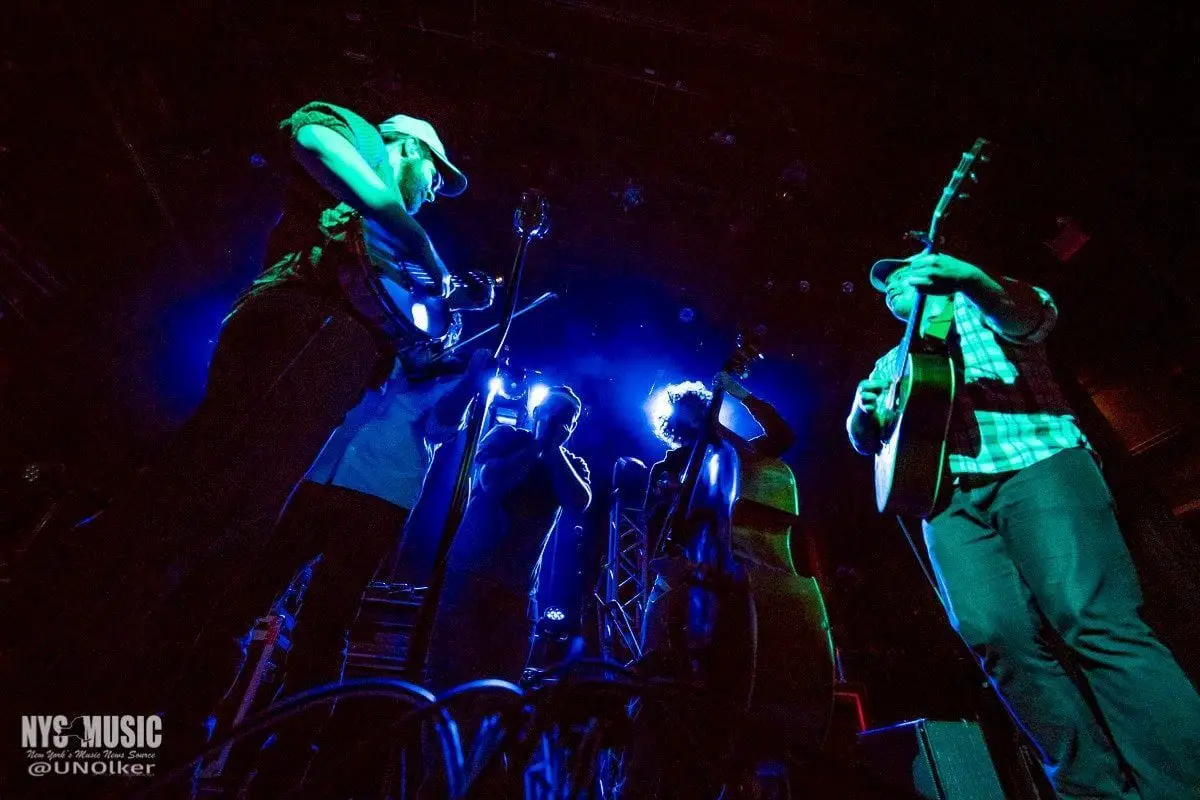 Kalamazoo's Greensky Bluegrass took to the stage for two sets of well thought out and executed mayhem, running through early staples, showing off new work, and paying homage to their inspiration by taking on songs like Billy Joel's "Big Shot," Bruce Hornsby's "King Of The Hill," and the Allman Brothers' "One Way Out." Known for their playful covers and heartfelt originals, this band can go from dead serious to bouncing off the walls in a matter of one jam in between two songs.
The smooth and familiar vocals of mandolinist Paul Hoffman layered with the crisp southern sound from guitarist Dave Bruzza are even more powerful when blended. Fan favorites like "Dustbowl Overtures," "Just To Lie," and "Don't Lie" came in the first set, with the latter two taking off with instrumental exploration. Set two followed up with unique heavy hitters like "No Idea," "Georgia Mail," "Old Barns," before closing out the second half of the show with "Leap Year." Their encore of the Greensky original "Forget Everything" was followed with the Allman Brothers cover, just a few blocks away from where the old Fillmore East used to be.
Despite Horseshoes and Hand Grenades being new to the area, it's safe to say that they made a few fans at Irving Plaza thanks to the guys in Greensky Bluegrass. As the jam-grass brigade from Michigan continues to increase in venue size, it begs the question of what's next, and where the green sky ends and the bluegrass begins.