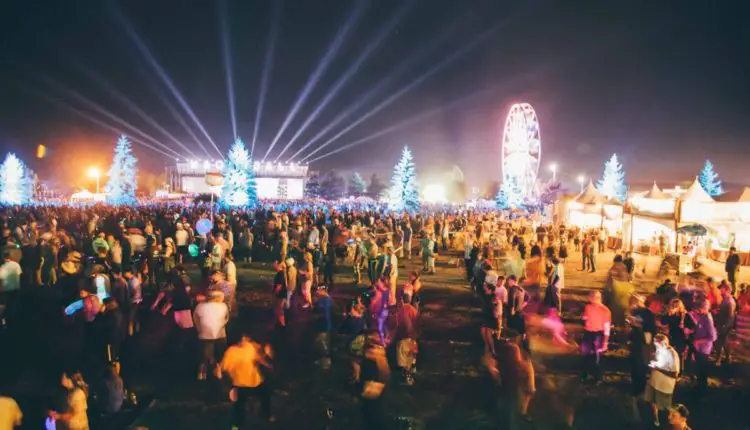 Best of NYS Music 2015: Staff Picks for New York State Festivals
Nothing compares to experiencing live music. But when it comes to packing up and leaving the world behind to immerse in a weekend of musical debauchery with a community of like-minded souls, well, that's the stuff that dreams are made of for music festival fans.
From one-band to multi-artist events and crowd sizes from 2,000 to 50,000, New York State hosts a bevy of festivals annually in some of the most beautiful settings imaginable, and let's face it, our state knows how to throw a proper fest, as it is ingrained in New York's rich musical history having put on one of the biggest rock festivals of all time, Woodstock. Here we've rounded up our favorites from 2015, so sit back, relax and relive some of the festival magic that happened throughout the Empire State this year, because we all know what it's like to experience those post-fest blues.
Best Small Festival: Buffalove and Disc Jam
The third installment of Buffalove Music Festival saw a venue change from Cole Farm, Panama, NY, to North Fork Music Park, Warsaw, NY, with the new location offering four stages, a private beach, disc golf and wooded-area camping, and a record attendance that doubled previous years. With an impressive lineup including Kung Fu, Pink Talking Fish, Funktional Flow, Particle, Formula 5, Mister F, Space Junk, Dopapod, Aqueous and Aquapod, the three-day June 2015 festival created to celebrate Western New York's emerging music scene was one for the books, according to Jen Foster and Thomas Sgroi:
Buffalove came through. Co-founder of Buffalive Productions and Founder of Buffalove Cody Conway clearly had one goal in mind: keep the energy as high as possible. Every single band had heads turning and jaws on the ground. There was never a lull, never a band that just played to fill space. Every minute was dance-worthy. If you missed out this year, we can highly recommend you don't make that mistake next year. Without any problems or unruly attendees, this festival made its mark at North Fork Music Park in Warsaw, NY. The amount of talent coming out of Upstate New York is only paving the road for more incredible shows. Buffalove, you certainly were lovely."
Another summer fest that saw a venue change was the fifth annual Disc Jam Music Festival, which moved from Massachusetts to New York State—and promoters recently announced that the event will return to Gardner's Farm in Stephentown for its sixth year in June. Throughout four days of music, camping, disc golf and Flow Tribe, festivalgoers experienced live performances from more than 50 acts, including Lettuce, Electron, Dopapod, Aqueous, Brightside, Kung Fu, Consider the Source, Cabinet, Soule Monde, Roots of Creation, Formula 5, The Hornitz, Soul Rebel Project, Broccoli Samurai, Krewe de Groove and Relative Souls. According to Dave DeCrescente, the festival's last day culminated with a "healthy dose of guest sit-ins" with jamband Twiddle, noting that:
One of the highlights of the set was the massive guest sit in with DJ Honeycomb, James Woods, and Joe Davis from Formula 5, Scott Hannay of Mister F and Todd Stoops for the ultimate mega jam on "Apples." The Disc Jam Flow Tribe was out in full force with fire spinners and hooping entertainers that were almost as mesmerizing as the music. The weekend ended just as it started, with mind blowing music and a close knit community who continue to make the Disc Jam Festival special. Tony Scavone and crew did a suburb job of organizing the 5th annual Disc Jam with a new location but still the same friendly, loving festival experience that keeps fans coming back each year."
Best Mid-Size Festival: Catskill Chill
While Catskill Chill is speculated to make a move to Lake George in 2016, the festival's last waltz at bucolic Camp Minglewood in Hancock, NY, this September was a success, selling 5,000 tickets, according to Chill promoter Dave Marzollo. Headlined by moe. who kicked off their fall tour at the festival and including other bands like Lotus, Zappa Plays Zappa, Lettuce, Twiddle, Turkuaz, Dopakuaz plays Studio 54 and The Motet, the sixth annual installment of Catskill Chill featured on-site cabin rentals, daily yoga, live art, a farmer's market, craft and food vendors, a communal bonfire nightly and an open mic. The three-day event was packed with guest sit-ins and collaborations like Dopapod and Turkuaz joining forces to play as Dopakuaz, which Chill organizer Josh Cohen noted is the type of community mindset that sets this festival apart from others its size or larger by creating an environment where rising bands can experiment and grow in a unique setting:
Point is that when comparing us to larger festivals, we're at this cool stage attendance-wise where in many band's cases we have the best 'music' out there in our prime slots. I love tons of bands who've been around since the '90s or earlier but there's nothing like seeing musicians in their youthful stages, when creativity is just exploding and you can feel it dripping off the stage as opposed to later-in-their career bands who are playing mostly songs they first wrote and fell in love with decades earlier."
Best Large Festival: Magnaball
It's no surprise that Magnaball takes the cake for this category. During late August more than 30,000 phans invaded Watkins Glen International race track for Phish Festival 10. And while the three-day event took place at the site of their 2011 Superball IX festival, this time around the setup featured many upgrades, including local and regional food vendors, the five-course restaurant Festival Ate, MagnaWater Program, speciality Phish-themed cocktails and coveted craft beer from Lawson's Finest Liquids and Hill Farmstead. (And let's not forget to mention the interactive Glurt Institute, Drive-In movie theater, JEMP Record Store and cornhole tournament.) The Vermont quartet majorly delivered throughout the weekend's eight sets busting out rare tunes like "Mock Song" and jamming out typical breather ballads such as "Prince Caspian" to uncharted territory, but perhaps one of the highlights was the Saturday festival tradition of performing a late-night set, which according to Pete Mason raised expectations for future secret sets:
Magnaball's foray into the history of Phish's special festival sets was the Drive-In Jam and it raised the bar while putting forth a performance on par with the 'Storage Jam,' if not exceeded this established upper echelon of improvisation. On a 183-foot movie screen, a wide array of visual treats combined with a progressively growing ambient jam that eclipsed the Lemonwheel by a longshot and morphed into a full on jam for 50 minutes. The Drive-In Set raised the bar for surprise performances and gave fans a treat after the music on the main stage ended an hour prior."