When you think of music and New York City, many big names come to mind. Depending on your age and musical tastes you may think of George Gershwin or Cole Porter, Lou Reed or The Ramones, Jay-Z or Alicia Keys. For sure all those names are among the tapestry of our shared musical legacy; but any list of important musicians in New York's history should also include Kurt Masur.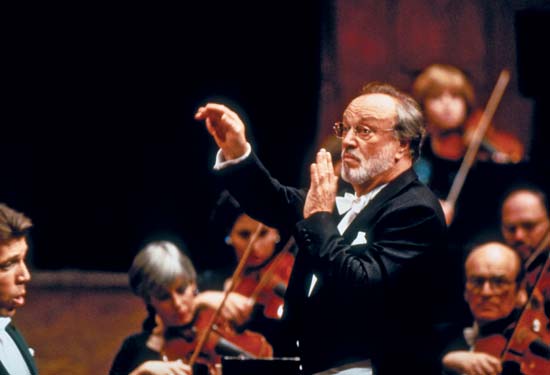 Like so many others who have shaped the ever-evolving artistic landscape of New York, Kurt Masur — pianist, conductor, and music impresario — came here from somewhere else. Born in Germany, this powerhouse in orchestral music rose from the desolate grayness of the Cold War to become a beacon of light helping to resurrect the once great New York Philharmonic to its proper place as the preeminent American music ensemble.
On September 11, 1991—a date exactly a decade later that would become synonymous with NYC— when Masur took control as Music Director, he had been guest conducting the orchestra for nearly ten years. At that time, the NYP was at a precarious point in its history. Popularity was waning and the previous directors, namely Pierre Boulez and Zubin Mehta, weren't clicking with the fan-base or more importantly, charitable donors. Both of these Maestros were brilliant conductors, but like a great athlete that comes to the Yankees and falters under the big spotlight, they weren't what the New York audience wanted.
Meanwhile, across Lincoln Center's plaza, Director James Levine had Luciano Pavarotti and Placido Domingo to lure music fans to the Metropolitan Opera, and legendary dancer Mikhail Baryshnikov had led the American Ballet Theatre to huge success. With so much high-level competition so close, this faltering NY institution needed a change.
Orchestras are only as strong as its core members. To attract and retain a group of the most talented musicians on the planet, an orchestra must maintain its reputation. It was because of this uncertainty that many top-tier conductors turned down offers to replace Mehta. At the time, Masur wasn't the first choice, wasn't the popular choice, or the flashy choice. Over the next decade, however, with him in charge, he proved to be the best choice.
It was his hard work, dedication to rehearsal, and the orchestra's respect for him that made him successful. But this wasn't a foregone result. He had to overcome his player's reluctance to change, petty infighting, and not a few unkind words from early critics. Worries that his choice of repertoire was too safe and traditional were soon overshadowed by the unparalleled quality that his orchestra brought that repertoire to life. What he lacked in showmanship he made up for in passion. Soon, this champion of the traditional classical music cannon quieted all his naysayers. Although it has been widely reported that he often clashed with the NYP Executive Director, and that ongoing feud led to his eventual dismissal (Masur admitted as much in an interview with Charlie Rose- May 21, 2002).
The eleven years spent at the helm were arguably the best years the orchestra experienced since the golden years of Leonard Bernstein (1958-1969). The orchestra traveled extensively making yearly excursions around the world, including the Philharmonic's first trip to mainland China. Possibly the most notable performance abroad was the February 26, 2008 performance in Pyongyang with the landmark concert being broadcast internationally on CNN, and North Korean Television and Radio. This was an unprecedented cultural event between the U.S. and North Korea.
This act of diplomacy through music was not the first for Masur. As a non-communist East German living in Leipzig it took a level head, a strong reputation, and of course his musical talents to be allowed to travel abroad during this time. When tensions were at a high level during the years before the dissolution of East Germany, Masur often risked his own safety and career by defending street musicians under attack by the Stasi police. Several times he acted as mediator and calming voice when pro-democracy rallies threatened to get violent.
Despite this turmoil, Masur never forgot his ties to the place of his birth. When you lived in the same city as Bach, why would you? His career-long mastery of German masters like Beethoven, Brahms, and Bruckner made him popular among the purists and that was clearly his forte. His best recordings with the Philharmonic include these greats as well as Dvorak, Mahler and Schumann.
A sure highlight of his career was the first performance by the Philharmonic after the attacks of 9/11. What the New York Times called "His finest hour" was an emotional and poignant rendition of Brahms "German Requiem," in honor and memory of those lost during the previous week's disaster.
Always the teacher, Masur made a point to keep close contact with the notable music conservatories in New York. He alternated visits each year with the Manhattan School of Music and Mannes College of Music where he conducted each school's orchestra in live performances. To be sure, these events were life changing to many students taking part. It was between rehearsals for one of these concerts that I was lucky enough to meet him myself while attending Mannes in the mid 90's. Despite his serious countenance that was often mistaken for a strict demeanor, he was friendly and extremely generous on person-to-person level. Those of us fortunate to see that side of him, even briefly, will remember his warmth.
Besides working in New York, Mr. Masur was the principle conductor with the London Philharmonic, The Director of The National Orchestra of France, awarded membership to the Royal Academy of Music, honored with untold accolades and prizes, and performed with every major solo artist from Yo-Yo Ma to Pavarotti. He was a man of the world, but like anyone who makes it big in this town, he will be remembered forever for his time in New York City.
Kurt Masur died on December 19th, 2015 finally succumbing to Parkinson's disease. He lived a full and musical life. Bravo Maestro, Bravo!