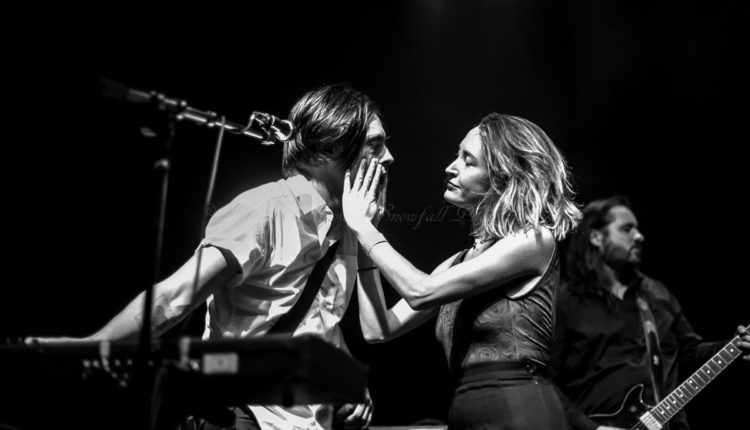 It was a chilly night in Buffalo When July talk came to town this past Saturday; but Canadian locals are used to the harsh temperatures. They came in full force with an incredible lineup. July Talk is not a stranger to Buffalo, NY. We were graced with their presence Edgefest at the outer harbor this past September. It's safe to say that July Talk has one of the most unique forms of stage presence that I have ever seen: full of jokes, hair pulling, screaming, climbing, general insanity, and some…suggestive gestures.
Fay's composed confidence and subtle playfulness on stage created an interesting juxtaposition to Dreimanis' jerky, energetic movements and the two combined formed a balanced and exciting performance that only July Talk could deliver. Right off the bat, the on stage chemistry between lead singers Peter Dreimanis and Leah Fay grabbed attention and refused to simmer down throughout the whole set. Aside from all the joking and mischief, every song was expertly delivered and professionally performed. The show rocked hard and loud, the contrast between Peter Dreimanis' growling vocals and the delicate poppy sounds of Leah Fay worked together to perfectly propel the message of the songs forward.
Opening up for July Talk was San Diego's bluesy rock band Little Hurricane. band was well received and garnered great responses to songs like "Trouble Ahead" "Shortbread" and "Haunted Heart" the duo's rich sound emanated all along Town Ballroom and making for a nice way to warm up and drink before the nights headliner.
The openers of the night were part of two Cow garage but solo acts. It was not expressed as to why the whole band was not there. The openers had acoustic sets and the songs were witty and related to everyday life and events. This drew in the audience from the beginning. They were solid openers and I`d love to see them again as a whole band collectively.
[FinalTilesGallery id='531′]