There are moments in one's life that will stay with them long after the music has stopped. The third and 2015 edition of Hulaween once again curated a festival experience for the ages. One that will be stuck in festival goers minds for a long time to come, until next year that is.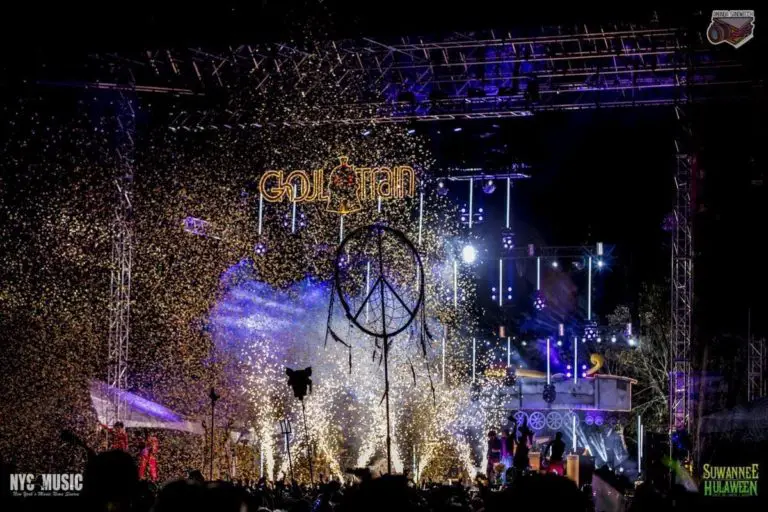 The third installment of Suwannee's Hulaween Music and Arts Festival brought many new faces to Spirit of the Suwannee Music Park in Live Oak, FL. Having grown to over 21,000 attendees this year, it was the largest festival ever thrown at the site since it began hosting. Not without some slight growing pains, long lines on Friday for ticketing and entrance into the event quickly gave way to smiles and wide eyed amazement of what was in store for the weekend.
Hosted once again by The String Cheese Incident, Hulaween brought many other big name musical acts to the party, some for their first appearance at Suwannee. With a total of seven sets over the course of the weekend, including their Halloween "Ghoul Train" cover set featuring Wu Tang's Gza acting as Don Cornelius, plowing through crowd favorites such as "Brick House," "Boogie Man," "Car Wash," and "Dance to the Music," SCI held nothing back, whipping revelers into a dancing frenzy at every opportunity.
\A highlight at the Amphitheater Stage Friday was undoubtedly Primus, getting the crowd started with "Those Damn Blue Collar Tweakers," they left it all on stage with favorites like "Mr. Krinkle," "American Life" and the coveted "Jerry Was a Race Car Driver." Their set was not without Les Claypool's usual witty banter with the crowd, as well as some less usual songs like "Jilly's on Smack" and "Salmon Man."
Pretty Lights played to a majority of the attendees Friday night interspersing some new music into a set chock full of his trademark energetic glitch hop, with horns and keys aplenty. A highlight at the Amphitheater Stage on Saturday was Suwanee virgins Odesza who harnessed the crowd's energy and magnified it into an incredible set of danceable electropop and chillwave grooves leaving everyone in a breathless sweaty heap by the end of their set. With many festivals opting for a relaxed schedule on Sunday's to encourage a relaxed crowd, Hulaween had other plans.
After a tight bluegrass set by SCI on the main stage, the skyrocketing Griz took the amphitheater by storm announcing that it was the "Funkiest party in the galaxy until Lettuce takes the stage." Hit after hit had a packed amphitheater crowd bouncing and gyrating until it appeared to form into one massive dancing organism. After String Cheese played their final set, Lettuce indeed brought the funkiest set of the weekend, playing new material off of their fourth studio album Crush. Many were seen looking for their jaws on the ground afterwards.
Closing Hulaween down were none other than livetronica pioneers Sound Tribe Sector 9. Once again the main concert field was packed with fans drawing from energy reserves to dance their hearts out for one finale set of music.
The expansion of Spirit Lake brought many new art exhibits and interactive sculptures, as well as the return of exhibits from previous years. With some stellar performances by Manic Science (Manic Focus X Break Science) and The New Mastersounds at the Spirit Lake Stage, the art wasn't the only selling point.
Silver Wrapper Productions and The Spirit Of Suwanee Music Park have outdone themselves, once again. Time will tell if it's possible to bring together a more impressive line up, a more perfect lay out, or a more incredible all around music and art experience together in one gorgeous package.