NYSMusic is excited to announce our coverage of the third annual Hulaween, a three-day music and camping festival held at Spirit of Suwanee Music Park in Live Oak, Florida. Presented by Silver Wrapper and Purple Hat Productions, Hulaween 2015 is headlined by Colorado's very own String Cheese Incident, who will be playing seven sets over the weekend.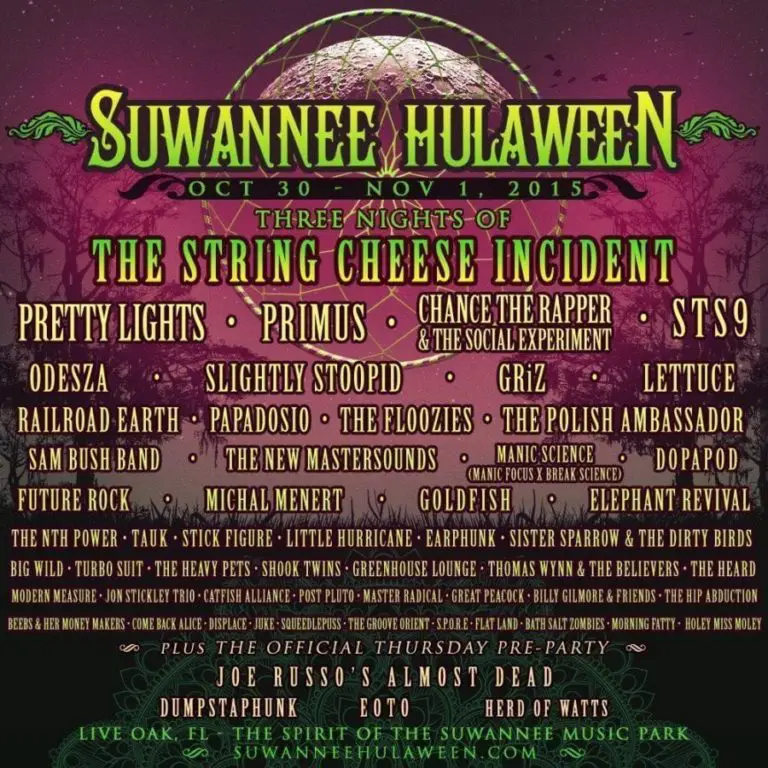 The festival hosts more than 50 artists over three days, including Pretty Lights, Primus, Odesza, and STS9. For those looking to start their weekend early Hulaween is throwing a pre-party on Thursday, Oct. 29 — including New York's esteemed Joe Russo's Almost Dead, the eclectic electronic improv duo Eoto, as well as funk stalwarts Dumpstaphunk. Other notable New York acts include surging funk legends Lettuce, who's looming album release is highly anticipated, the tight dance grooves of Dopapod, Brooklyn's own Break Science in collaboration with Manic Focus to create "Manic Science" and the soulful funky licks of Sister Sparrow & the Dirty Birds.
As north easterners hunker down and prep for winters onslaught, Spirit of the Suwanee is bustling with activity in October, beckoning to the north to flee south and join the Southerners for one last hurrah in the sunshine. Often touted as a magical, even mystical place, Suwanee boasts a devoted fan base that borders on extended family from its ability to bring people together and cultivate an atmosphere of unfettered fun in a temporary communal setting.
Festival goers should be excited for an extended version of "Spirit Lake," an experimental collage of multimedia metalwork, paintings, sculpture, light projections and live performances that transforms the primal forest into a vivid psychedelic dreamscape. Held on Halloween weekend means costumes. Hulaween's costume theme is "Ghoul Train" a blend of the late '70s hit show "Soul Train" and "Monsters" or "The Addams Family". Be sure to get in the spirit and dress to impress.
There aren't many places that cultivate a communal feel quite like Suwanee. To celebrate that, Hulaween is once again hosting an Ultimate Campsite Contest. Giving fans and their #HULACREW a chance to build their own theme based campsite, a celebrity committee of judges will scope the campsites Friday evening and choose their favorite site. The entire campsite will receive Werewolf VIP upgrades on the spot (up to 8 people per campsite). The upgrade includes discounted beer and liquor drinks, VIP indoor bathrooms, VIP viewing areas at the main stage, VIP swag bag, complimentary massages and complimentary golf cart shuttle service throughout the park at designated VIP stops.
For a sneak peek at the full schedule go here and don't forget to pace yourself and make it to the Silent Disco, which will run from 2am to 5am on Friday and Saturday, featuring a variety of  electronic  artists  including Vlad the Inhaler, Prophet Massive (aka Jason Hann of SCI), MZG and Unlimited  Aspect among others.
For Hulaween goers traveling from out-of-state, keep in mind a brand spanking new program will offer Scoobie Shuttle Buses to and from Jacksonville International Airport. One way tickets are $35 and include all taxes and fees, on-sale through Elevate at suwanneehulaween.com.
Tickets & Ultimate Incident VIP Packages are on-sale now. To join the wait list for cabins, golf cart rentals and RV hook-ups, please contact SOSMP at +1 (386) 364-1683.