In support of Rattle That Lock, David Gilmour at first had only announced four U.S. dates. Ticket demands quickly prompted second dates at each of those four cities. Some exciting news has come that Gilmour has added a third NYC date. He will take to the much smaller than MSG space of Radio City Music Hall on Sunday, April 10 making it the first of his now three nights in NYC. Tickets go on sale Thursday Dec. 3 at 10 am on Ticketmaster. Special presale times are listed on Ticketmaster.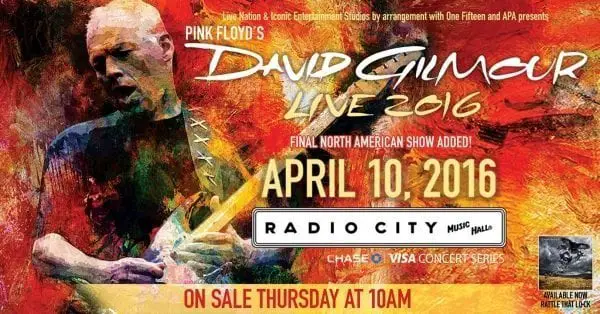 The renowned guitarist behind Pink Floyd announced a new solo album last week, Rattle That Lock, and a four North America tour dates which went on sale the next day. The extraordinary response to that ticket sale brought about second chances for people to partake in the limited opportunity.
Rattle That Lock is Gilmour's first solo album since his 2006 release On An Island. Along with the announcement came a preview of the album with the title track hitting the internet.
The song deviates slightly from elements used on his previous solo album and the final two Pink Floyd releases, The Division Bell and The Endless River, where he was the driving creative force. It calls back a bit to his older solo works, which brings speculation about what we might — or might not — hear when the album debuts on Sept. 18.
Gilmour's first four tour dates garnered a lot of hype, with tickets for the Madison Square Garden show becoming slim pickings soon after they went on sale. High hopes became grounded as Gilmour announced four more dates to make each of his stops a two-night affair.
He will now play Madison Square Garden on April 11 and 12, 2016. Tickets for the just-announced April 12 show go on sale in less than a week, starting at 10 a.m. on July 27. As with last week's ticket sales, every ticket buyer for the newly announced shows will receive a copy of Rattle That Lock.
Tickets are available through Ticketmaster and Gilmour's website.
From Gilmour's Facebook page:
Due to phenomenal demand David Gilmour has added four extra North American dates. In support of new album 'Rattle That Lock', these will be David Gilmour's first North American concerts in more than a decade. Tickets go on sale on Monday 27 July and ticket buyers will be among the first to receive the new album, as every ticket purchased online will include a 'Rattle That Lock' CD.
David Gilmour Tour Dates:
3/24/16 – Hollywood Bowl – Los Angeles, CA
3/25/16 – Hollywood Bowl – Los Angeles, CA (new)
3/31/16 – Air Canada Centre – Toronto, ON
4/01/16 – Air Canada Centre – Toronto, ON (new)
4/04/16 – United Center – Chicago, IL (new)
4/08/16 – United Center – Chicago, IL
4/11/16 – Madison Square Garden – New York, NY
4/12/16 – Madison Square Garden – New York, NY (new)
Gilmour is touring several European cities this September and October including five shows at the Royal Albert Hall. Unfortunately, these European stops are all sold out.
While Gilmour only released a one-song teaser, he has shared the track list for Rattle That Lock:
1. 5 A.M. (Gilmour)
2. Rattle That Lock (Gilmour/Samson/Boumendil)
3. Faces Of Stone (Gilmour)
4. A Boat Lies Waiting (Gilmour/Samson)
5. Dancing Right In Front Of Me (Gilmour)
6. In Any Tongue (Gilmour/Samson)
7. Beauty (Gilmour)
8. The Girl In The Yellow Dress (Gilmour/Samson)
9. Today (Gilmour/Samson)
10. And Then… (Gilmour)
http://www.youtube.com/watch?v=eHP7l0EaouM