On Friday, May 15, Swedish melodic death metal pioneers, In Flames, brought their special brand of heavy metal to Buffalo. The crowd was treated to a powerfully diverse setlist, which covered the majority of the band's extensive discography. In Flames was joined by Maryland's djent authorities, Periphery, and Massachusetts' metal sons, All That Remains.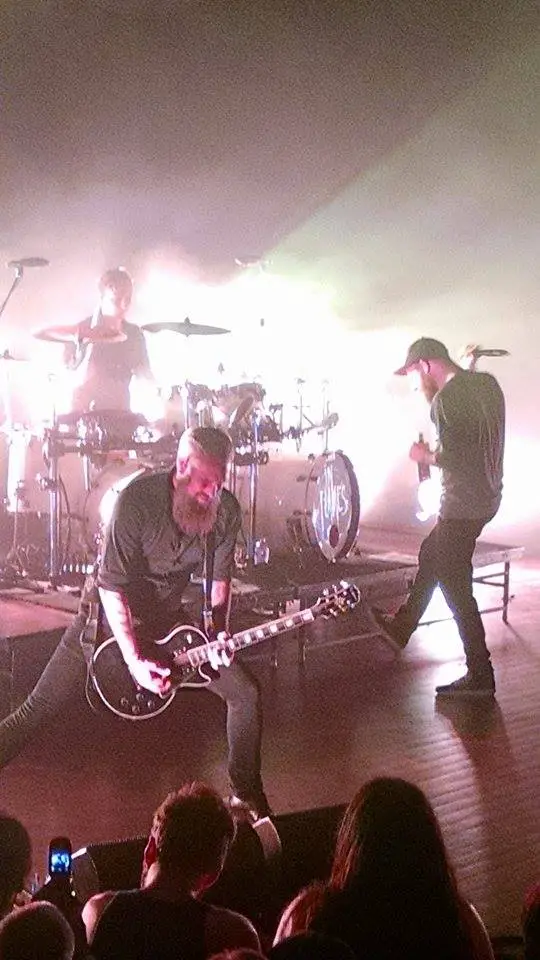 Periphery took to the stage first and instantly got the crowd moving with a few beloved tracks from earlier in their discography. Their crushingly heavy sound, laced with choppy breakdowns and intricate overlays, forced their diehard fans to get the mosh pit going right from the start. However, the general consensus from the first few rows of fans was disappointment in Periphery's song selection, since the rest of their set consisted of all new material from their newest albums, Juggernaut: Alpha and Juggernaut: Omega. 
It seemed as though all the fan-favorite songs had been left behind for this tour, but as an opening band, Periphery's stage presence made up for it tenfold. These guys know how to have fun and how to get the crowd involved. One lucky fan even got the privilege of being the lead man in a circle pit, orchestrated by Periphery's lead vocalist, Spencer Sotelo.
All That Remains followed and got a great response from the still-growing crowd. Vocalist, Phil Labonte had a lot to say about the negative feedback their last few albums have been getting. "A lot of people say they don't like us anymore because our new stuff isn't heavy enough, but we're in the band and they're not," he commented, right before the band started a powerful ballad with mostly clean guitars and singing. Diehard ATR fans were delighted after hearing the tracks, "This Calling" and "Six" from their cult classic album, The Fall of Ideals, but for the most part, the crowd was divided between ATR's fans of old and new. It was easy to tell the two groups apart. Older fans looked bored half the time, but the majority of the crowd mostly newer fans loved the entire set and emotionally sang along with every lyric. Either way, ATR had a lot of energy and a tight sound, keeping the whole crowd head banging the entire time.
Afterwards, In Flames took to the stage and dominated. They opened with 'Embody the Invisible', a cult favorite track from their 1999 album, Colony. Other cult favorites followed such as, 'Clayman' and 'Bullet Ride' from IF's year 2000 release, Clayman. Aside from those three 15-plus year old tracks, the rest of the set covered a lot of musical ground. They made sure to play 'Cloud Connected' from the album, Reroute to Remain, and 'Take This Life' from the album, Come Clarity. Both of those songs get a lot of criticism from older fans, but they also carry a lot of weight. 'Cloud Connected', released in 2001, was the first song to get the band serious Western exposure in mainstream US metal, while 'Take This Life', went on to appear in a version of Guitar Hero after its 2006 release.
In Flames receives a lot of criticism the world over, mainly because of their drastic change in sound after getting noticed in North America in the early '2000s, but there wasn't a single miserable expression worn during their set this past Friday night. Vocalist, Anders Friden kept the crowd entertained with his witty personality and at one point, initiated the first of many crowd surfers. He also pretended to not realize he was in Buffalo. "Don't be offended if I accidentally say Boston a few times," he joked about halfway through the set. It also happened to be IF bassist, Peter Iwers's birthday, so as he is a huge hockey fan, the band got him a Buffalo Sabres jersey autographed by every member of the three bands playing that night and presented it to him on stage. Needless to say, the sea of Buffalonians loved every second of it.
IF's latest album, Siren Charms, was the main focus point for the set, but they also included tracks from the albums, A Sense of Purpose and Sounds of a Playground Fading. They closed the night with 'My Sweet Shadow', a synth driven fan favorite from the album, Soundtrack to Your Escape. 'My Sweet Shadow' was a brilliant closer and scored IF a loud, roaring ovation as the outro faded out. Afterwards, fans darted to the guard rail in the hopes of catching a guitar pick or a drumstick before the guys respectfully disappeared backstage. It was a fitting end to a successful night, as In Flames did what they always do best: They left their fans wanting more.
Rest assured In Flames, Buffalo, NY can't wait for your next visit.