Music Festival season is swinging into full gear as we speak. New York, in particular, is known for hosting a large number of festivals. Making its way to the top this year is Disc Jam. It has one of the hottest lineups, featuring some of the most talented up and coming artists, as well as some very well established bands. With more than 50 artists there is a lot to choose from. This article features a low down of 10 sets that should not be missed. If this piques your interest click here for the full lineup/tickets.
10. Spiritual Rez
Spiritual Rez is that luxurious feel good music that feels like sunshine. When dub reggae goes deep, that, is Spiritual Rez. This is the set to be at if you want to feel free, so come mix around.
9.Formula 5
Don't miss New York State's own Formula 5. These up-and-coming musicians released a live album in April.  It is proof that they are generating tight sounding live performances chock full of ascending melodies and improvisation.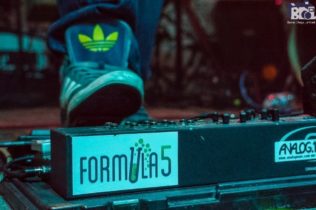 8. Bells and Robes
Bells and Robes is an electronic music duo coming out of Gainesville, Fla., whose sound is lush and kickback. They released a new EP in April of this year. Stocked with new material, they will try quenching the never-ending thirst for good livetronica.
7. Mister F
Mister F describes themselves as neat & clean, hard & dangerous. This young band of experienced musicians is the offspring of members of Timbre Coup and Capital Zen. I'll say it myself: Mister F has been on fire, pleasing crowds all up and down the east coast and in parts of the Midwest. This is a set you do not want to miss.
6. Phutureprimitive 
Phutureprimitive has been producing electronic music since the 90's. His musical approach incorporates fuzzy bass lines and organic soundscapes. His music is known to enter into another realm of reality.
5. Twiddle
With a passionate crowd and hailing from nearby Castleton, VT, Twiddle has been making waves in the past two years, pe/king all across the East coast, Colorado and making for a fantastic NYE show courtesy of Disc Jam Presents. Don't miss their two sets!
4.Pink Talking Fish
Pink Talking fish plays a combination of Pink Floyd, The Talking Heads and Phish by finding commonalities in grooves of these three musical powerhouses. This is them making a return to Disc Jam and they do a good amount of playing around the Northeast so some are likely to have experienced Pink Talking Fish and will catching the set. If not, make it a fresh experience.
3.Lespecial
Lespecial released a new album in April of this year. Their sound is wildly different with each song, giving Lespecial's sets an unexpected feel. The multitude of flavors could allow for the set to be cohesive with Disc Jam vibes.  This set is guaranteed to be exciting.
2.Electron
Who doesn't love a supergroup? Electron Brings together Aaron Magner and Marc Brownstein, of the Disco Biscuits, with Mike Greenfield, of Lotus, and the talented Tommy Hamilton, of Brothers past. This band is an occasional side project that has been happening off and on for over a decade, making this a rare and formidable occasion.
1.Lettuce
Twenty years of experience has allowed Lettuce to become a staple of the live music scene. Lettuce is known for their old-school sound combinations but also their vision to take funk music out of the box. Featured as one of headliners, Lettuce will be flooding the sound waves with music that is soulful and sure to manifest good feelings inside the body.  Don't miss out!
Of the lineup, those which have not been listed in this article include Kung Fu, Dopapod, Consider the Source and Twiddle. This is a beautiful lineup and tickets are indeed still available right here. Hope to see a lot of shining faces at the 5th annual Disc Jam Music Festival!