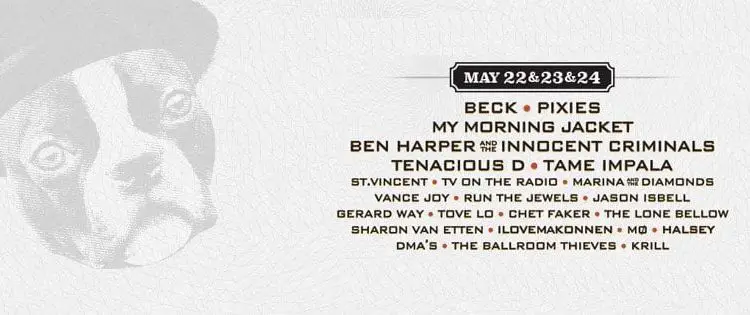 Forget trudging out to a field in the middle of nowhere to see a string of your favorite musicians at a festival. Boston Calling has all the music you want, and in an easy-to-reach urban setting that also lets you explore one of the best cities in the Northeast while you're at it.
And oh, by the way, it's got a sweet lineup including My Morning Jacket, Beck, the Pixies, Tenacious D and TV on the Radio.
Boston Calling will be held for the third time at City Hall Plaza – in the center of Boston – this Memorial Day weekend. The festival allows for re-entry, so festival-goers can hang out in downtown Boston while taking breaks from some great music.
On Friday, May 22, Sharon Van Etten takes the stage at 6:30. Tame Impala will play at 7:45, and Beck starts at 9:25. All acts will appear on the same stage.
Saturday will be headlined by My Morning Jacket and also includes Ben Harper and the Innocent Criminals, St. Vincent, Marina and the Diamonds, Gerard Way, Tove Lo, Run the Jewels, Mo, DMA's and Krill.
Sunday's lineup is headlined by the Pixies, and they will be joined by Tenacious D, TV on the Radio, Vance Joy, Jason Isbell, Chet Faker, The Lone Below, Ilovemakonnen, Halsey, and the Ballroom Thieves.
On Saturday and Sunday, the sets shift between two stages, and sets don't overlap, so attendees can catch every minute of music.
Gates open at 6 p.m. Friday and noon Saturday and Sunday. Music ends each day promptly at 11 p.m. Organizers recommend taking the T to Haymarket or State Street stations, then entering at the main entrance on Congress Street. For those who choose to drive, organizers offer a discount to the Government Center parking garage at 50 New Sudbury St.
Don't forget to wear comfortable shoes for lots of dancing and walking. Dress in layers, and be prepared for any weather — the event is rain or shine.
A variety of Sam Adams beers,  Angry Orchard hard cider and Wicked Wines will be for sale. Food and non-alcoholic drink vendors will consist of Chipotle Mexican Grill, Tasty Burger, The Chicken and Rice Guys, Arancini Bros, Dean's Concessions, Roxy's Grilled Cheese and Burgers, Alltown and Polar Beverages. Concession booths are spread throughout the festival.
Tickets, including a few VIP options, are still available online. All ages are welcome, with children aged 10 and younger getting in free.
Organizers recommend those who don't have accommodations arranged yet should check out Ames Boston Hotel. It's steps away from the festival and is an award-winning, chic boutique hotel that attracts artists and celebrities.
There will be another fall Boston Calling Sept. 25-27, and organizers will announce the lineup at the May festival. Those who attend the spring edition will get a discount on a pre-sale for the fall fest starting May 26. Last year's fall festival included The National, The Hold Steady, Lorde, Nas and the Roots, among others.
[youtube http://www.youtube.com/watch?v=HsHHaTYdy_o]
Boston Calling is also hosting block parties every Thursday until Sept. 17 from 5 to 8 p.m. in Dewey Square, on Summer Street at Downtown Crossing.