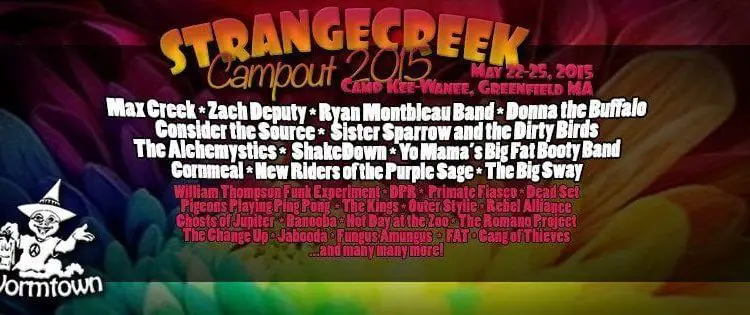 The StrangeCreek Campout will return to Camp Kee-Wanee in Greenfield, Mass., over Memorial Day weekend for the 13th consecutive year. Put on by Wormtown Trading Co., StrangeCreek features more than 50 acts this year, led by Max Creek, Ryan Montbleau, Sister Sparrow and the Dirty Birds and Consider the Source on multiple stages. Other notable attractions include late-night sets, a Silent Disco and special cabin performances.
Jeremiah Hazed, winner of the Worcester Battle of the Bands, will perform a special late-night set on the Woods Stage. The fire spinning performers who go by, FIREWORMZ, will spin fire every night.
The StrangeCreek tribe and all the music lovers who come together in Western Massachusetts do a great job of creating a family atmosphere amongst all festival goers new and old. There is a family camping area as well as a kids cabin and teen scene. The landscape of Camp Kee-Wanee is known for its wooded camping area where the festival goers can dwell between sets, covered by the shade during the day, before exploring under the shadowy canopy at night.
A portion of ticket proceeds will benefit Camp Kee-Wanee. StrangeCreek also supports Strangers Helping Strangers, a non-profit that runs a food drive at over the weekend.
For a full look at the lineup click here.
Gates open at 9 a.m. on that Friday morning. Tickets are still available.