For 34 years the Blue Note Jazz Club has been cramming this small, railroad style club, full of music enthusiasts, shoulder to shoulder and back to back. The late night groove series which showcases local up-and-coming artists (such as Natalie Cressman) across many genres from funk to R&B, was the perfect place for this blend of classic jazz melodies fused with everything from Bossa Nova to Indie Rock.
Natalie Cressman (trombone, lead vocals) and her band, Ivan Jackson (trumpet, vocals), Mike Bono (guitar), Jonathan Stein (bass), Samora Pinderhughes (keys), and Mark Whitfield Jr. (drums) combined their musical talents and influences to walk us through a Pandoras Box of uptempo beats and traditional jazz.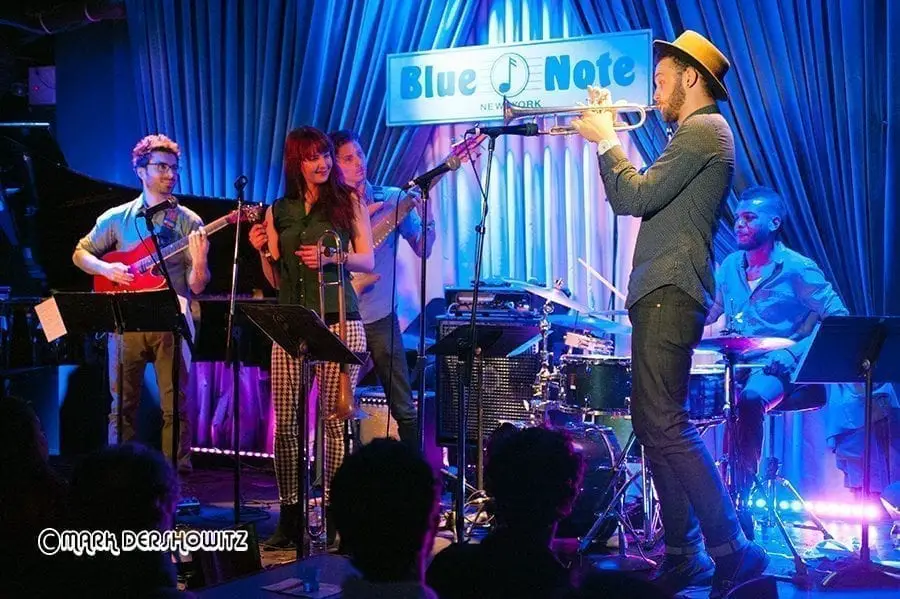 The night began with "Motherless Child" reminiscent of a blend of Brazilian Jazz and Samba featuring a powerful solo by Jackson and an opportunity for the entire band to show off their talent while Cressman conceded to the side stage to let them shine.
On "Stolen Bells" Cressman and Jackson started off showcasing the cohesion of the small horn section while Pinderhughes forewent the grand piano to take us for a ride on his Nord. Cressman showed off her vocals for the first time of the evening on "Fortune's Fool" off of her 2014 release Turn The Sea giving way to a lengthy piano solo by Pinderhughes on the soft and gentle tune. "The Unknown" gave Cressman a chance to further captivate the audience with her singing, then transporting the audience  to a 1960's jazz club full of hepcats with the retro composition "You'll Never Know". Jackson then took the lead on both vocals and trumpet for a cover of Bon Iver's "Blindsided" penned by Justin Vernon before Cressman lead us into the passionate melodies of "New Moon" with her captivating range.
Being performed for the first time live, "Traces" was driven by Stein laying down the rhythm on his seven string bass while Cressman and Jackson showed us what great chemistry can do for a tune while Jackson's backup vocals only accentuated Cressman's lead, giving the audience the feeling this was a song they have played a hundred times before. The young band leader returned to her horn for the lead on "Turn The Sea" the self-titled track off of her 2014 album. The band led the late night jazz fans on an improvisational jam and stretched out "Fallin" with Jackson driving it home with his phenomenal trumpet work. Bono was given a chance to showcase his guitar play with extended solo's on Hanne Hukkelberg's "Do Not As I Do" before turning back to Cressman's crooning on "Warm Winds". This late night at NYC's most historic jazz club was driven to a close with "Stolen Away" an upbeat number alternating back and forth between guitar riffs and trombone, featuring Bono and Cressman playing off each other, leaving the fans wanting more.
You can catch Natalie Cressman next with Jesus On The Mainline at Brooklyn Bowl on April 28, tickets available here or with her full band at MAYfest a Music Art and Yoga festival May 22-24 in Cold Spring, NY, purchase your tickets here.
*Photos By: Mark Dershowitz