April 18, 2015 was a celebratory day for music in America.  Not only was it National Record Store Day throughout the nation, it also was the 30th Annual Rock & Roll Hall of Fame Induction Ceremony. Each year the Rock and Roll Hall of Fame, located in Cleveland, Ohio, honors musicians and those in the music industry with the highest accolades possible.  For the last thirty years, artists have come home to this regal glass structure to accept recognition from an industry and loving fans, and add their names to the glass wall.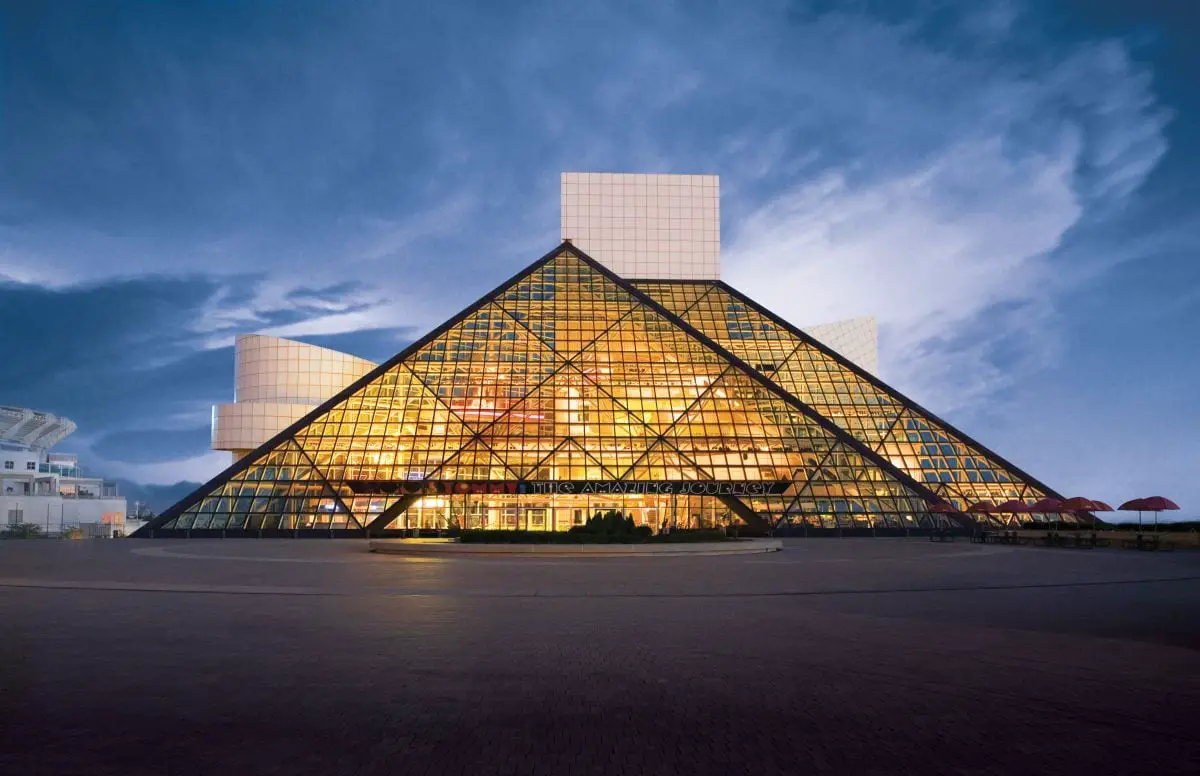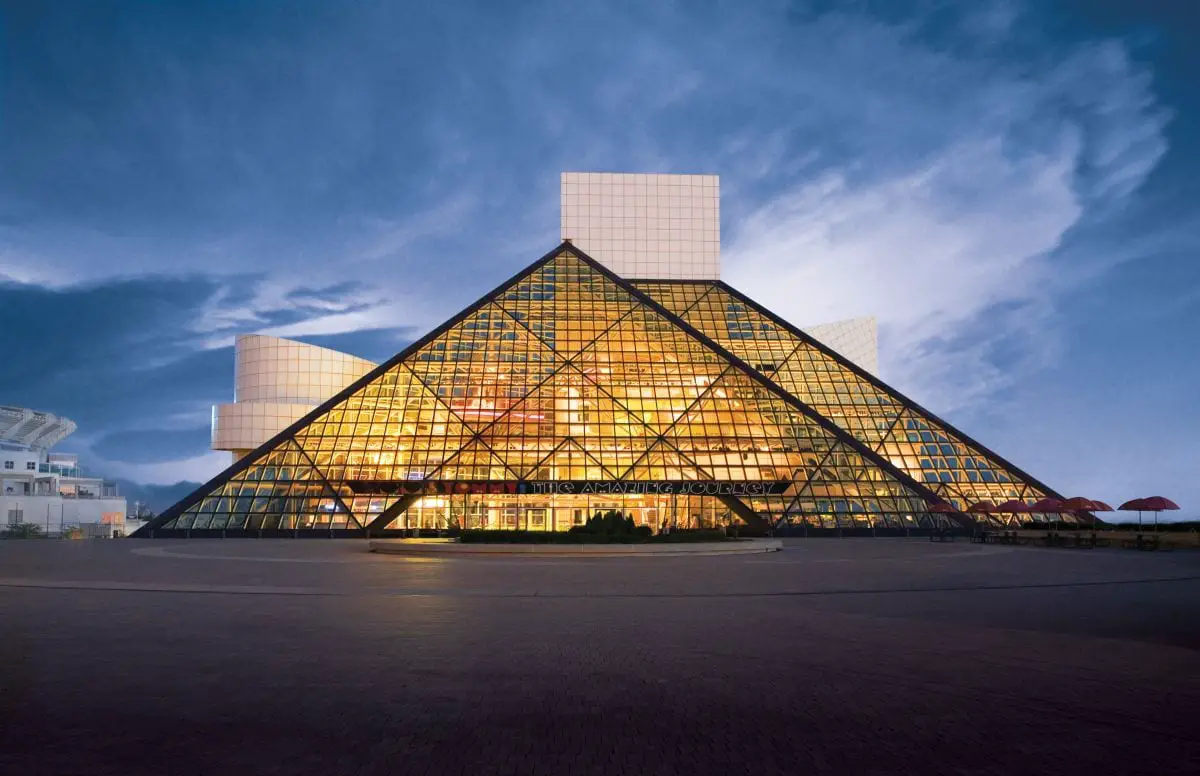 Recently, I ventured on a journey to this mecca of sorts to see and experience the destination of the Rock & Roll Hall of Fame.  This amazing glass sculpture erected on the banks of Lake Erie, stands majestically.  The architectural design of the facility matches the creativity of those it honors.  Designed by renowned architect I.M. Pei, "it is a composition of bold geometric forms and dynamic cantilevered spaces..anchored by a 162-foot tower. The tower supports a dual-triangular-shaped glass "tent" that extends (at its base) onto a 65,000 square-foot plaza, providing a dramatic main entry facade".  The building is spectacular.  Its 55,000 square feet of exhibition space and administrative offices encapsulates the vitality of rock and roll and becomes a worthy accommodation to house all the memories of where the innovation of music and rock and roll began here in America.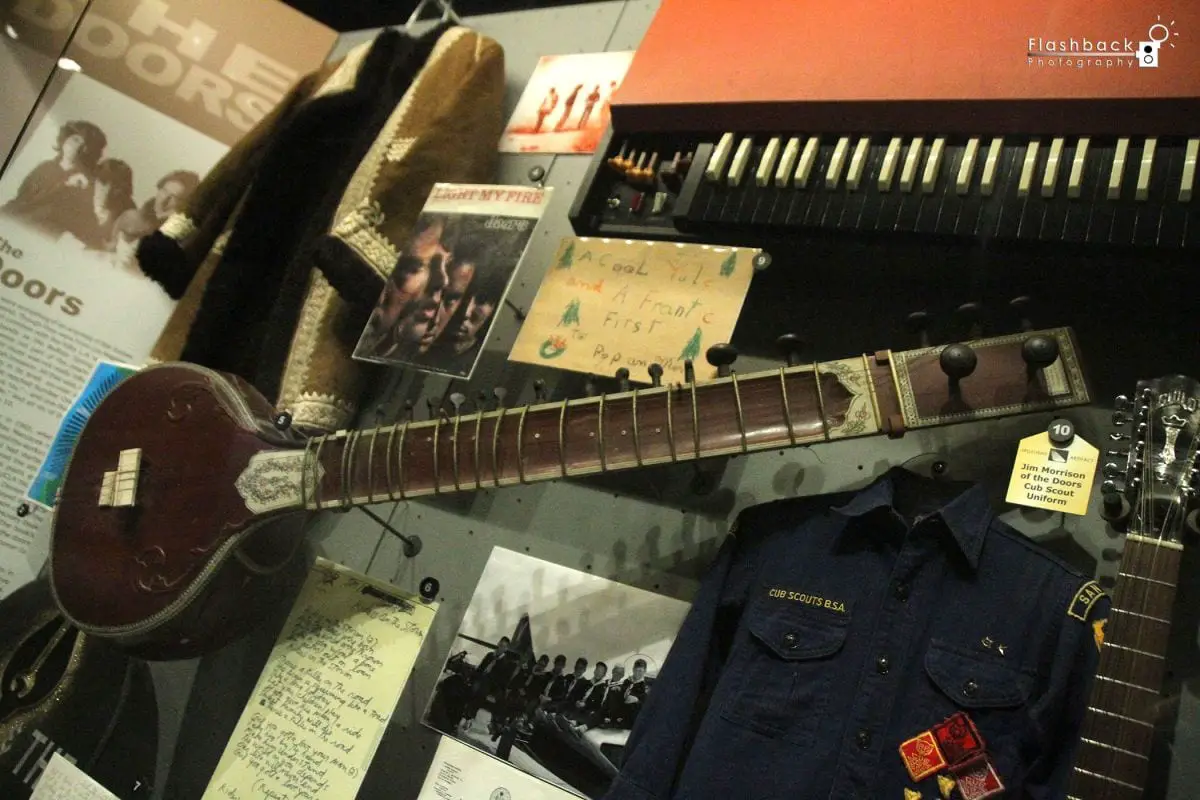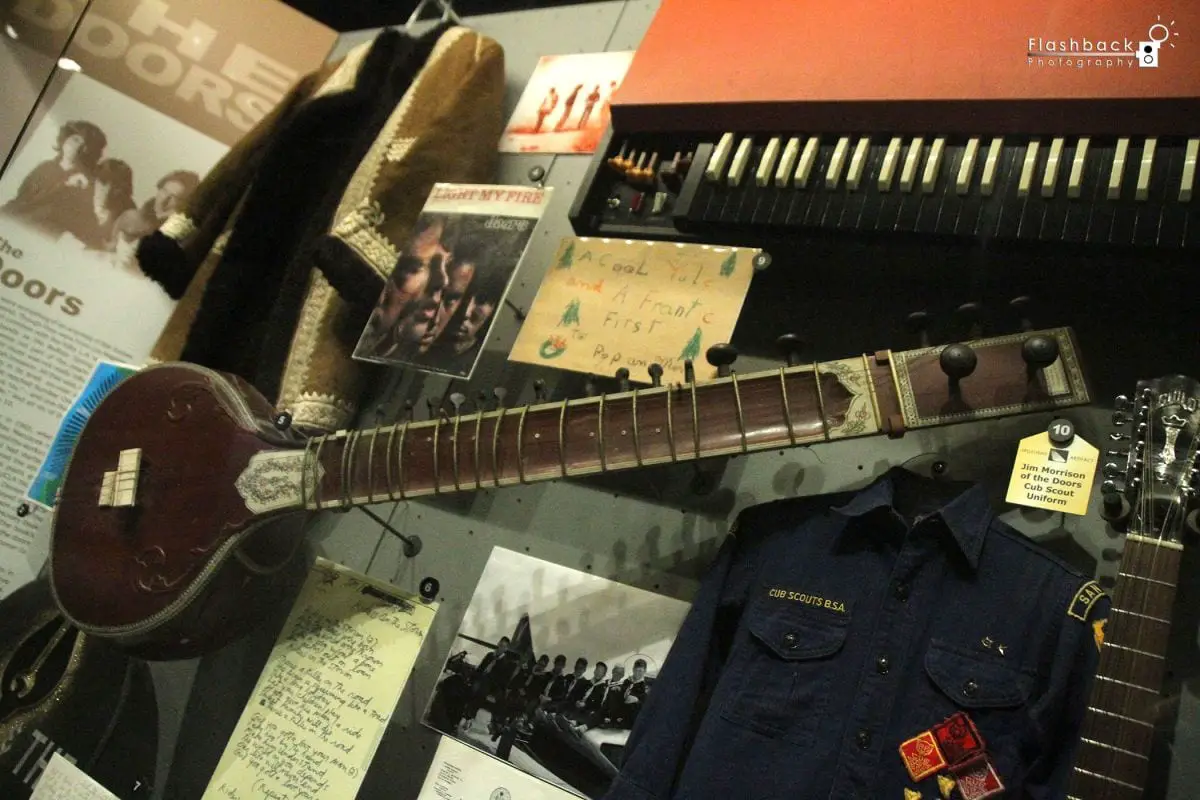 Welcomed by the staff, and given a quick overview of upcoming exhibits and projects to look forward to in the very near future, I was sent on my way like a kid in a candy store to view each and every square inch.  I immediately was greeted with photos and music of the great Louis Armstrong, Nat King Cole, and so many other legendary musicians who made a footprint on music history in an exhibit of "The Roots of Rock". As I listen on the most high quality apparatus, it transformed me back into the times when the juke joints were hopping and the nightclubs were popping.
This road of discovery of American music was paved out splendidly in the "Cities and Sounds" exhibit.  I felt as though I was traveling along a pathway of how it unfolded over the course of time.  It shared details along the way of how rock and roll wasn't always socially acceptable (what?!!), and how rock and roll itself made a journey of diversification from the sounds of Hank Williams Jr. and Ray Charles, to Elvis and Hip Hop legends.  While along the way sharing tangible pieces to help visually transcend there.  It demonstrated an evolution of musical instruments, the means in which music was brought to listeners, as well as featured those iconic voices on the radio we came to know personally.  In exhibits outlining these DJ's and these mediums of music, you couldn't help think of how far we had come since it's inception.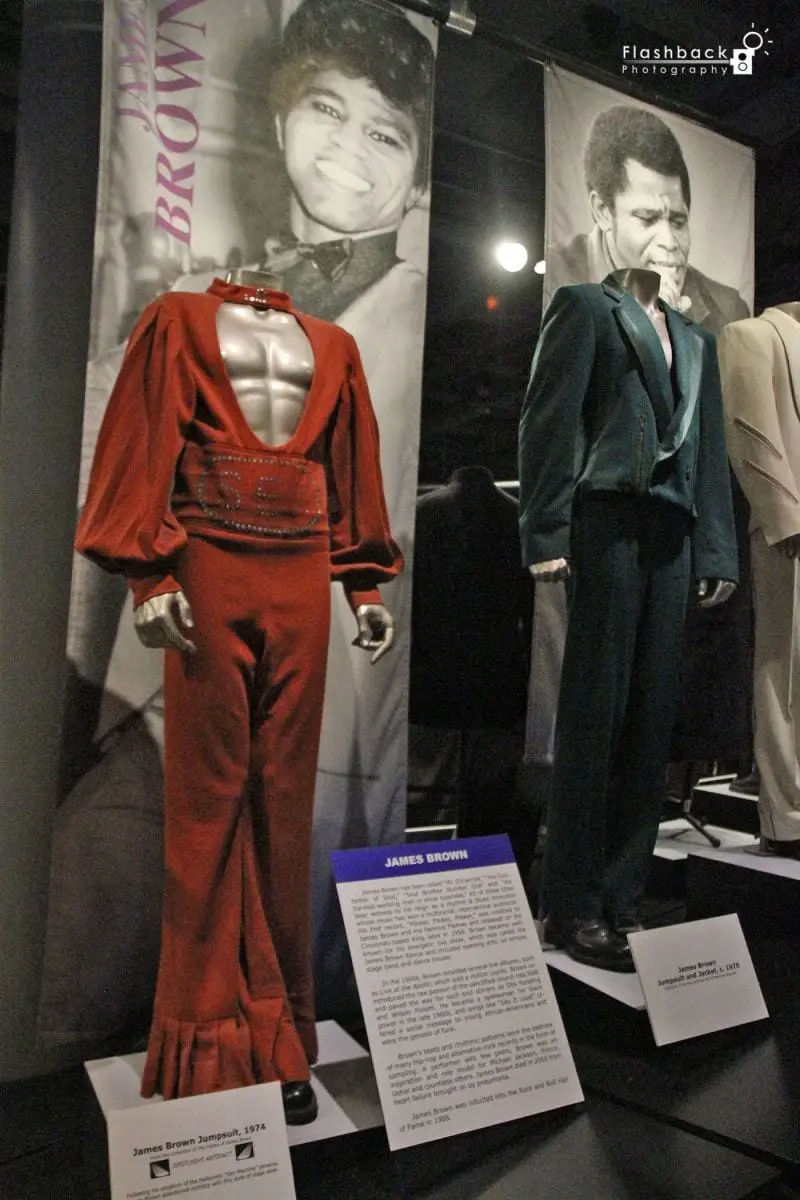 Your path took you through cities that spawned unique sounds and started cultures of their own.  First stop, Memphis with Johnny Cash, then off to Detroit and the Motown sound.  After that, you hop across the pond to London (Liverpool) where the Beatles and Hermans Hermits introduced us to a new culture of the English influences.  Making our way back to the west coast we saw San Francisco in the 1960's and influences of artists like the legendary Santana, before making our way down to LA where we are greeted with Stevie Nicks, Momma Cass, the Eagles, and Linda Ronstadt.  As we travel down these pathways of "Cities and Sounds", we see a new focus of life emerging not only in the cities in which these artists  came from, we also see a transcendence of sounds throughout the years and how they evolved and took bits and pieces of other genres to create unique sounds.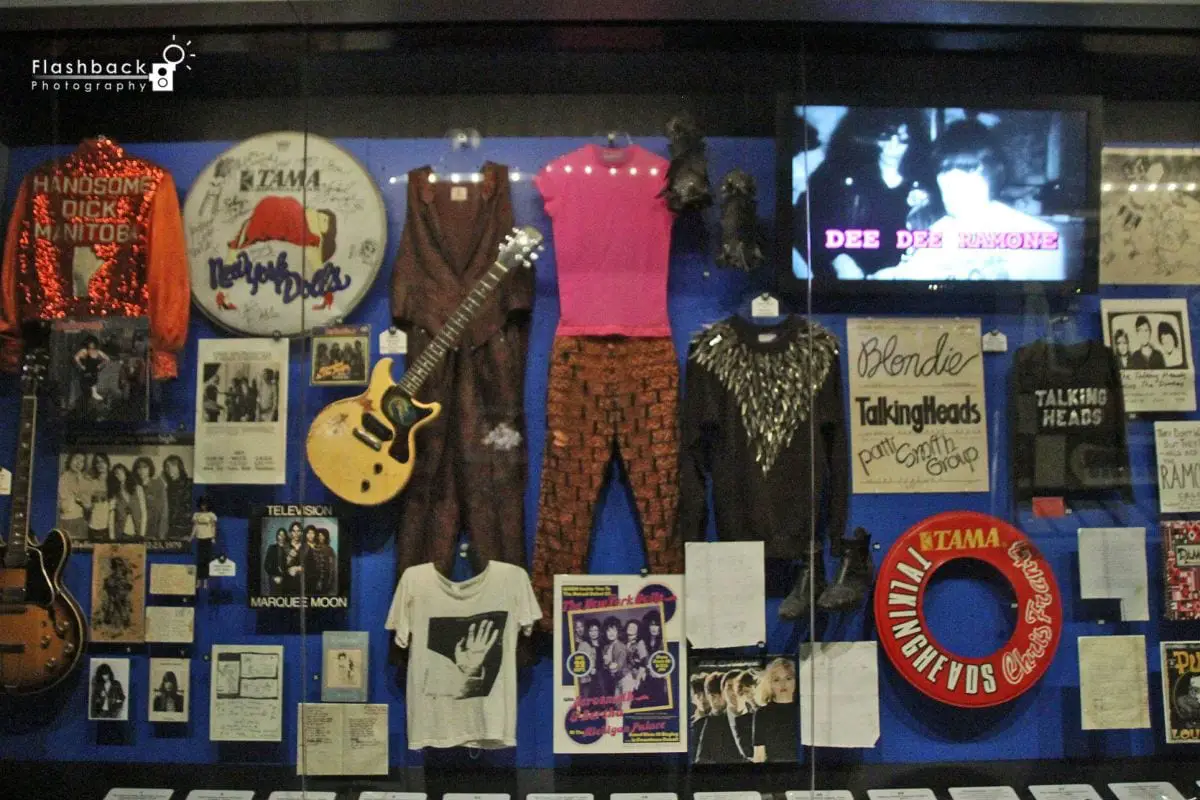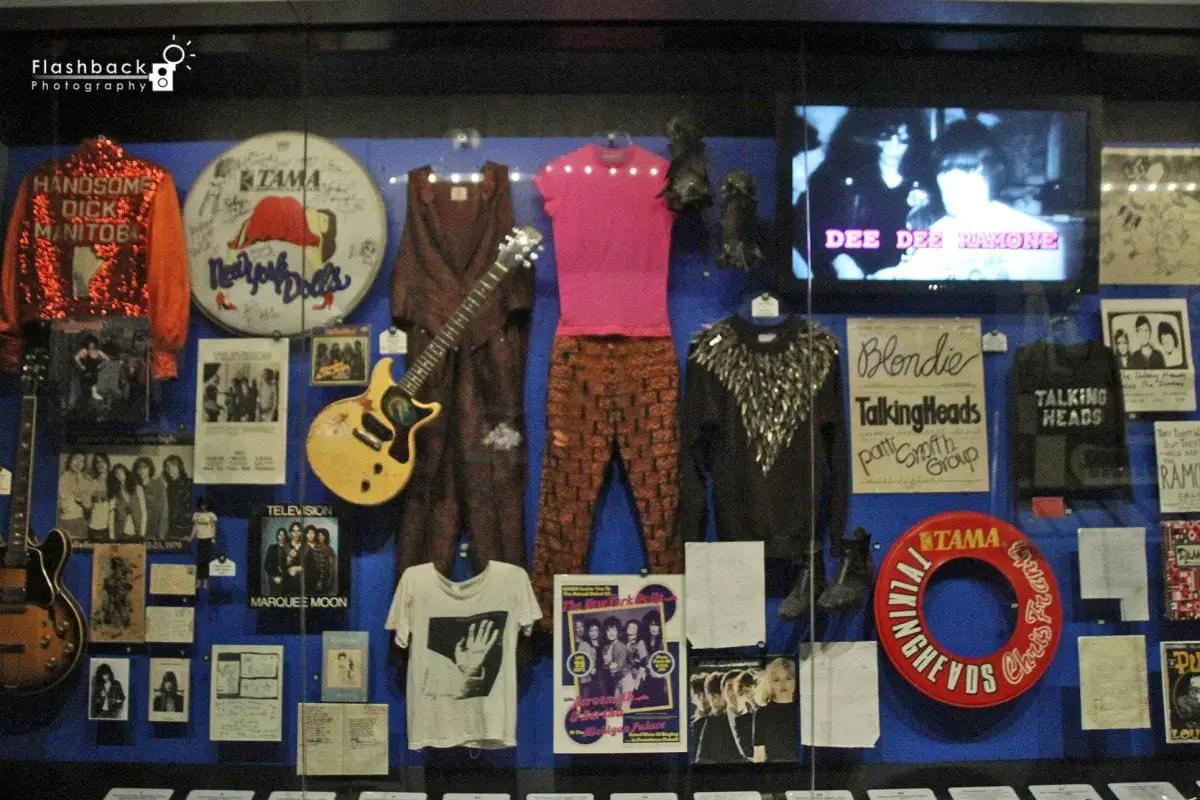 London in the '60s and London in the '80s brought us whole new experiences with artists.  The sounds of the '60s coming from Liverpool and London from the Beatles had evolved to the newer sounds of artists from both London and New York such as The Ramones, Blondie, The Sex Pistols, and Adam Ant.  We also saw drastic changes as we go from sounds of Otis Redding and the R&B flavors, to the '80s and '90s with hard rock hair bands like Alice Cooper, AC/DC, to a whole new sound with Seattle's grunge invasion of Nirvana, Pearl Jam, and Alice in Chains.  These were sounds like nothing else we had ever heard before.  I really enjoyed "The Music of Cleveland and The Midwest" exhibit, featuring musical stars such as Devo, Kansas, and Eminem to name a few.  Musicians come from all over and to celebrate those from your hometown is so important.  This demonstrates to those who may wish to pursue a musical career that those from your hometown had the same dream, went after it, and achieved it.  As I reflected on all that I had seen while traveling through all the wonderful exhibits of the "Cities and Sounds" I felt as though I truly had transcended through time to gather an appreciation of how music had evolved in America.  This ground floor exhibit space absolutely laid the foundation necessary to take in the rest of the museum while highlighting musical greats like Elvis, Jimmy Hendrix, The Beatles, Rolling Stones, The Doors, U2, and so many more.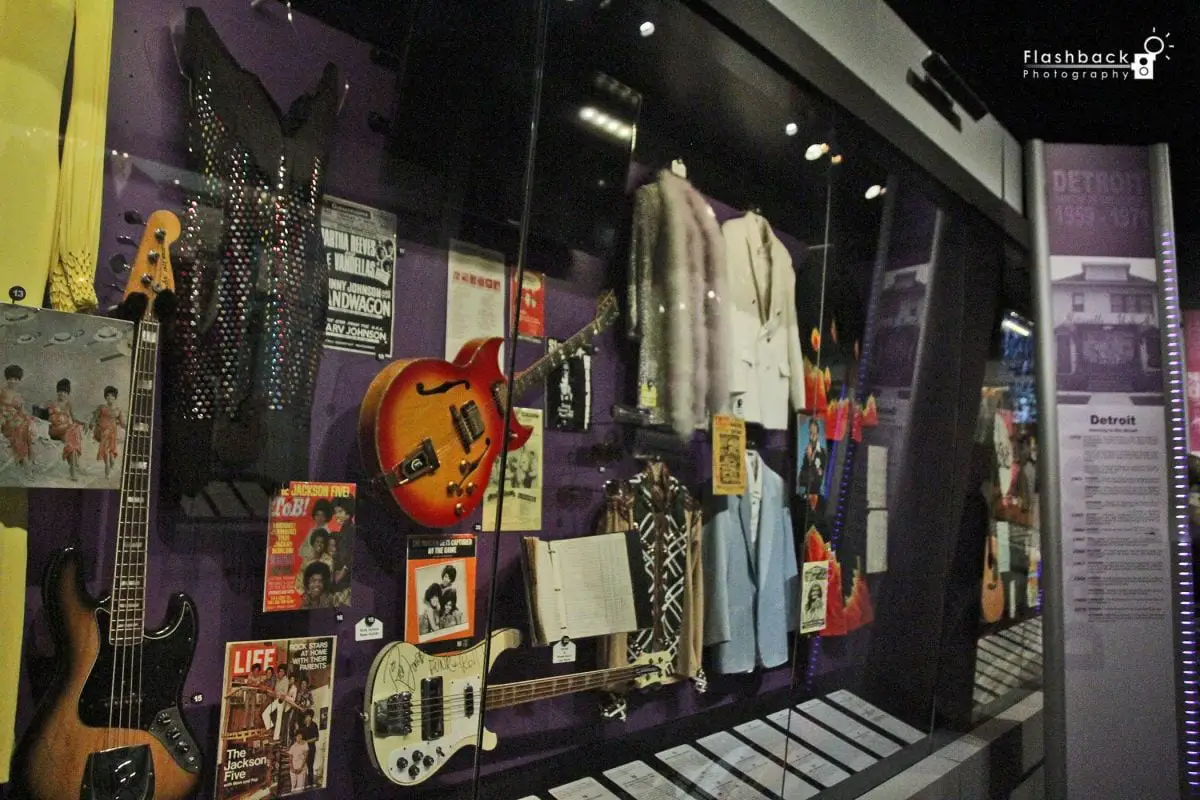 One of the newest exhibits that I was super excited to take in was the "Paul Simon Words & Music" exhibit.  Narrated in the fist person by Paul Simon himself, we learned first hand his musical journey while viewing and hearing the his story, his music, and his artifacts.  To stand there and hear Paul Simon as I meandered through the memorabilia that included original writings, special photographs, a Grammy, and so much more gave me a very personal experience with this exhibit.
As a child of the '60s, '70s, and '80s, I went through an entire process of musical transition from albums and single LP's, to 8 tracks, cassettes, and then CD's.  I also was from the generation that first experienced MTV; you know, the channel that used to focus solely on music and music videos.  One of my favorite exhibits was "Video Killed the Radio Star".  As you see below, this exhibit truly demonstrates our generation of videos.  As I sat there with my son and his friends I couldn't help but keep saying, "I remember that one, and that one…and that one."  Those of you that were with my generation will truly appreciate this exhibit as some of the most memorable videos flash upon a multitude of screens giving you visual overload.
As a musical photojournalist, the next area that truly excited me was the "Rolling Stone Magazine exhibit.  Iconic covers of musical legends papered the walls here, igniting my dream once again to one day work for this iconic magazine.  As we veer away from written news in today's day and age, these covers, this medium of musical news, becomes so much more important to us as it may one day disappear altogether.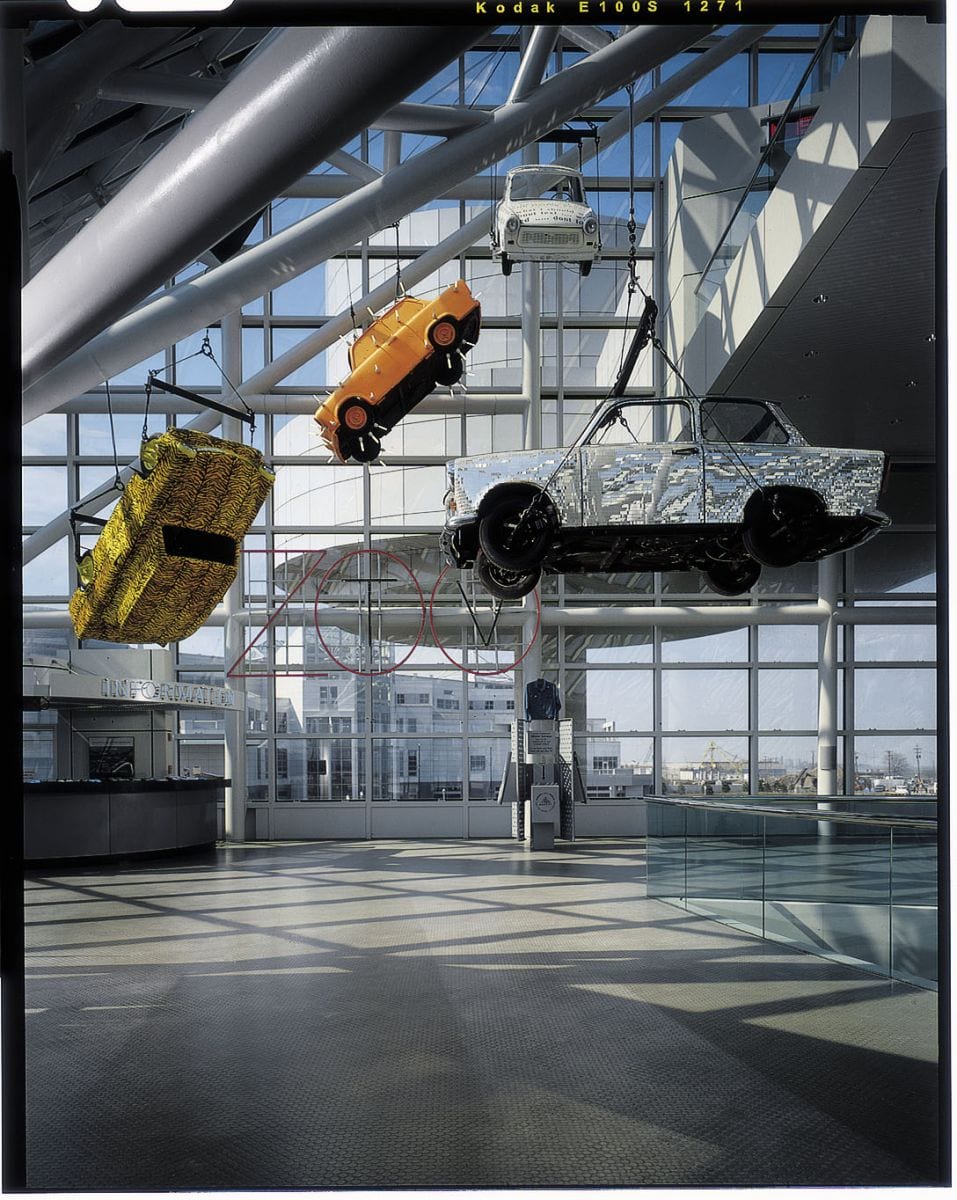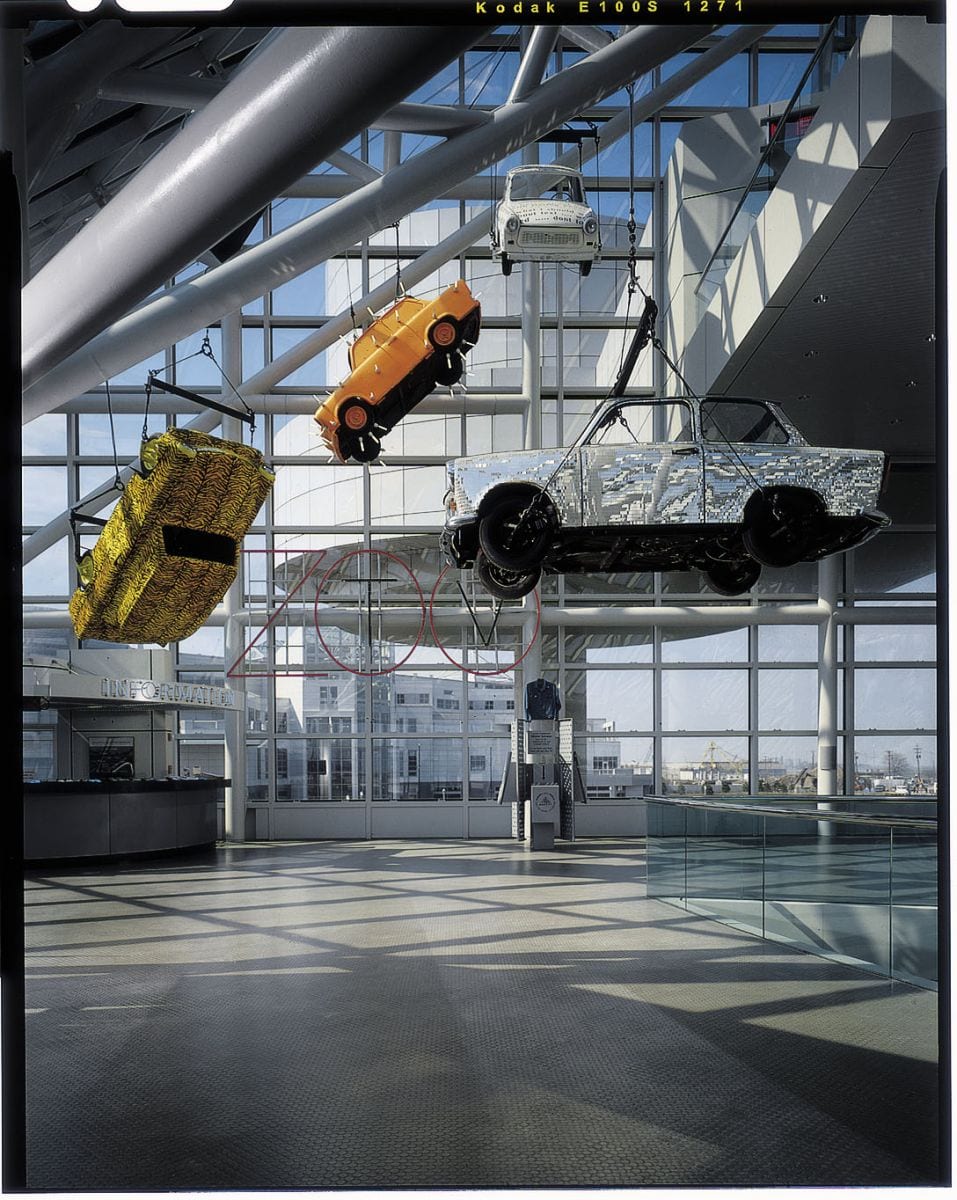 As we continued to move upward, you can't help noticing the large Phish-furter flying high above you, or the cars dangling from the rafters above.  This spectacularly open space creates areas and light for your eyes to constantly take in something amazing that had such cultural significance.  As I came off the escalator on the third level, my musical senses became tingley as this is the floor in which all the Inductees are recognized.  It must be a music journalist super power of some sort.  Not sure what to expect, I was totally blown away by this exhibit and could have stayed there all day looking at the numerous famous signatures on the walls of those that have been inducted into the Hall of Fame over the course of the last thirty years.  To me, it was the perfect way to highlight these greats visually.  Spectacularly done, for spectacular individuals.
Finally making my way up towards the top of the museum, we unfortunately couldn't go up to levels five and six as they were preparing those floors with new upcoming exhibits.  At that point I was so blown away with what I had already experienced, that I felt that level four was the cherry on top of this musical cake of a day. Here I experienced music as part of an exhibit as I stood below "The Wall", an exhibit dedicated to Pink Floyd's song "The Wall".  This monstrous exhibit brought you right into the song as it played in the background, and as you made your way through the walkways underneath a gigantic creature, you found the lyrics to sing along to the song. Epic.
As I completed my tour of the Rock & Roll Hall of Fame, I couldn't help feel proud of American music and the history that surrounds it.  I knew immediately that I would definitely come back, and not just because they had a new exhibit scheduled to open "Herb Ritts: The Rock Portraits", that would be featuring some of the unpublished works of rock and roll photographer Herb Ritts.  Not because my son's music program would be soon visiting to perform on the stage within.  I just knew that one visit couldn't possibly be enough to truly take it all in and digest it.  I needed several visits, I needed more time, I needed to come back to celebrate our national innovations of Rock & Roll, R&B, Jazz, Blues, Country, and all music that is truly an American.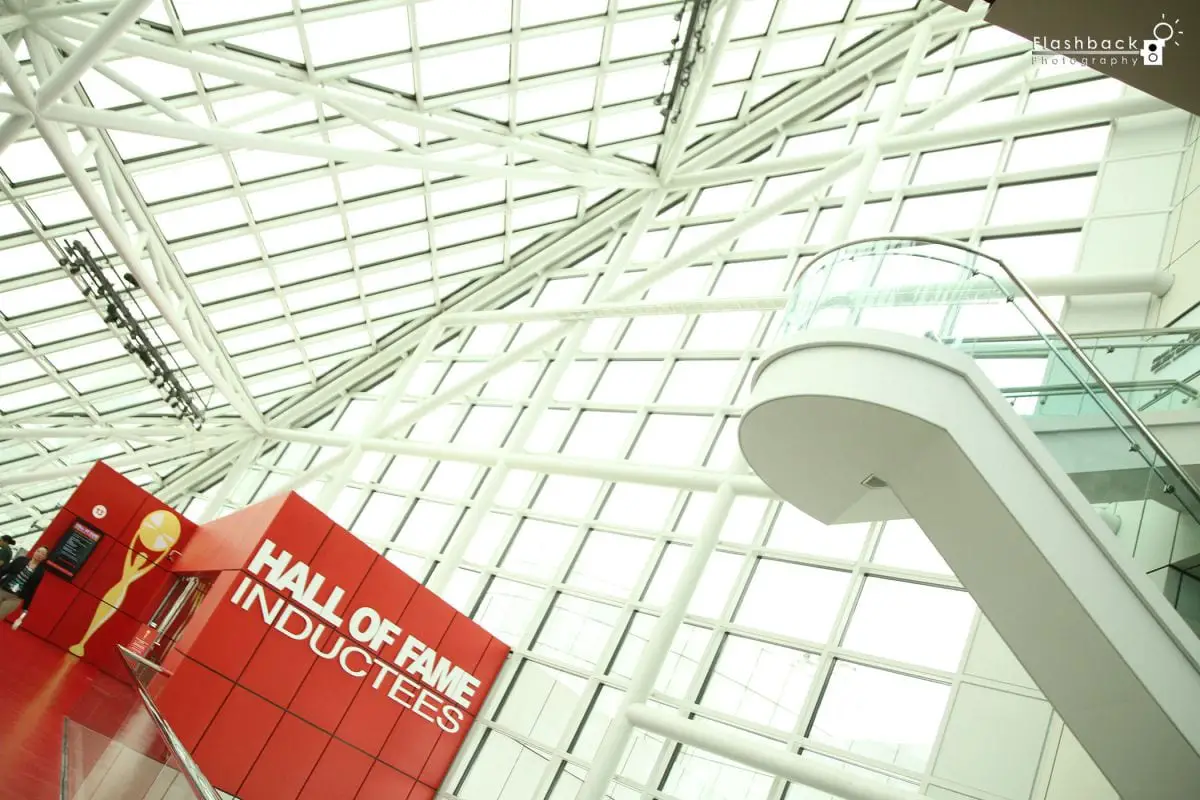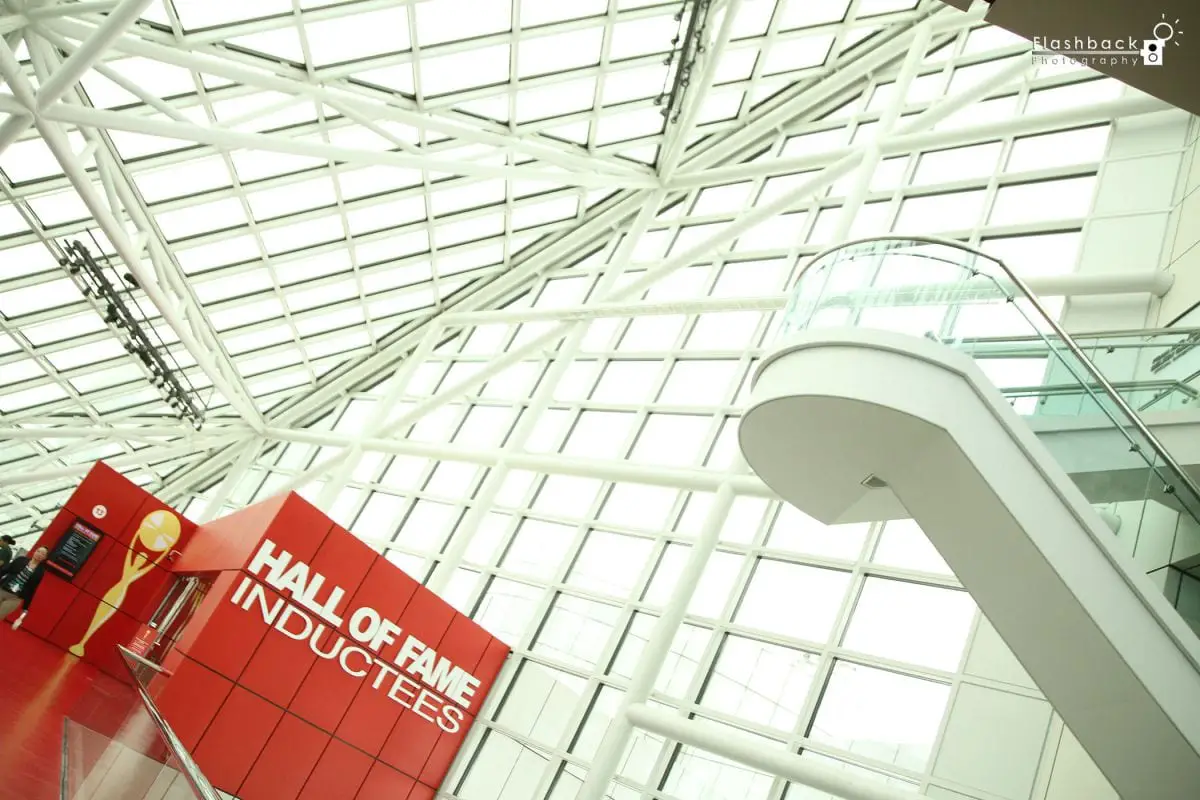 As I write this article a few months have passed since my visit and I purposely waited to tell you my story as I knew that the 2015 Rock & Roll Hall of Fame Inductions were quickly approaching and I wanted to share with you an experience and not just report on an event.  The 2015 Rock & Roll Hall of Fame Induction Ceremony is now in its 30th years and this years inductees were once again among the elite in their fields and genres sharing their talents over a course of their lifetimes to their fans that couldn't get enough.  Last night's event was spectacular, and the stage was peppered with the who's who in the musical community paying tribute to those inductees.  Those in attendance of the sold out event enjoyed amazing performances by Miley Cyrus and Joan Jett & The Blackhearts, Zac Brown and Tom Morello, Beck and Karen O., Leon Bridges, Green Days Billie Joe Armstrong, John Mayer, Gary Clark, Jr., and Bill Withers and John Legend.  Presenters included Miley Cyrus inducting Joan Jett & the Blackhearts; Paul McCartney inducting Ringo Starr; Stevie Wonder inducting Bill Withers; Patti Smith inducting Lou Reed; Peter Wolf inducting the Paul Butterfield Blues Band; Fall Out Boy inducting Green Day; John Mayer inducting Stevie Ray Vaughan & Double Trouble, and Steve Cropper inducting the "5" Royales.  Our sincere congratulations to all the Inductees from NYS Music.
If you have been on the fence as to where to go for a quick day trip, an extended weekend trip, or a full fledge vacation, I strongly urge you to take in the Rock & Roll Hall of Fame and Museum. Located in downtown Cleveland, this family friendly, walking city boasts not only this spectacular museum, it also has a rich cultural history and plenty to keep you busy. I suggest though that first thing on the list however must be a full day planned at the Rock & Roll Hall of Fame and Museum so that you have plenty of time to meander and read each and every piece there.  This amazing state of the art facility, successfully brings to you not only "stories of the people, artifacts and events that shaped rock and roll — through Museum exhibits, materials in the Museum's Library and Archives, traveling exhibitions, and a wide array of innovative educational programs and activities", it also brings to the community musical festivals, educational programming, and concerts year round.