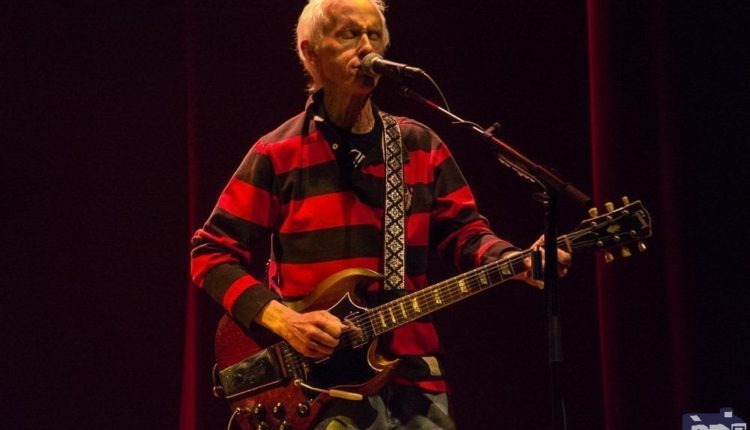 Robby Krieger Celebrates 50 Years of The Doors at The Egg
The Doors were one of the biggest acts all over the world from 1967 to 1971, but the tragic death of Jim Morrison put a halt to that. The music still resonates with a lot of people and Robby Krieger is making sure fans can celebrate the band's music this year, since it is the 50th anniversary of them first getting together. Wrapping up this leg of the tour at The Egg, Robby and his band tore through two hours of Doors hits and rarities to the delight of the crowd.
Robby let loose on his guitar throughout the evening whipping the crowd into a frenzy with his great solos on songs such as "Moonlight Drive", "When the Music's Over" and "Maggie M'Gill". About half way through the concert he played an extended stunning version of "Spanish Caravan." His band were spot on with the music all night, while his son Waylon honored the lyrics with his best take on Jim Morrison. Near the end of the show, a good portion of the crowd flocked to the front of the stage to get an up close look at the band while they played their last few songs. Ending the night with "Light My Fire," Robby, with a smile from ear to ear, thanked the crowd for coming and celebrating the great music.
Set: Break On Through (to the Other Side), People are Strange, Not to Touch the Earth, Moonlight Drive, Horse Latitudes, Wild Child, Peace Frog, When the Music's Over, Spanish Caravan, Alabama Song (Whiskey Bar), Five to One, Riders on the Storm, Touch Me, Wishful Sinful, The WASP (Texas Radio and the Big Beat), LA Woman
Encore: Maggic M'Gill, Light My Fire
[FinalTilesGallery id='145′]