Never miss a Sunday Show. Especially when Sunflower and the Seeds is opening at Brooklyn Bowl's Jam Jar. It appears this seven-piece rock band from New Jersey gets tighter each time they play together and on this particular Sunday, the lucky seven's seemed to be rolling. The band is comprised of Kyra "Sunflower" Schenck (vocals/acoustic guitar), Brittany Beckett (vocals), Victor Cornette (guitar), Karlee Bloom (keyboards), Joe Harris (bass), and Joe "Big Daddy" Huster (drums).
They kicked things off with "Sweet E" and "Trippin" that really showcased Schenk's great pipes and Cornette's fast paced guitar play. Beckett accompanied Schenk on the lead for an ensemble rendition of The Beatles' "While My Guitar Gently Weeps." Natalie Cressman (trombone, TAB) joined on stage for S&TS's "Back Home" which was highlighted by a length and pungent solo. The band never lost a step and charged through "Harvest" > "Texar" with the same high octane spirit they had carried so far before being joined once again on stage by Cressman for a cover of The Who's "Eminence Front" before the band rounded out the set with one more original tune "Moving."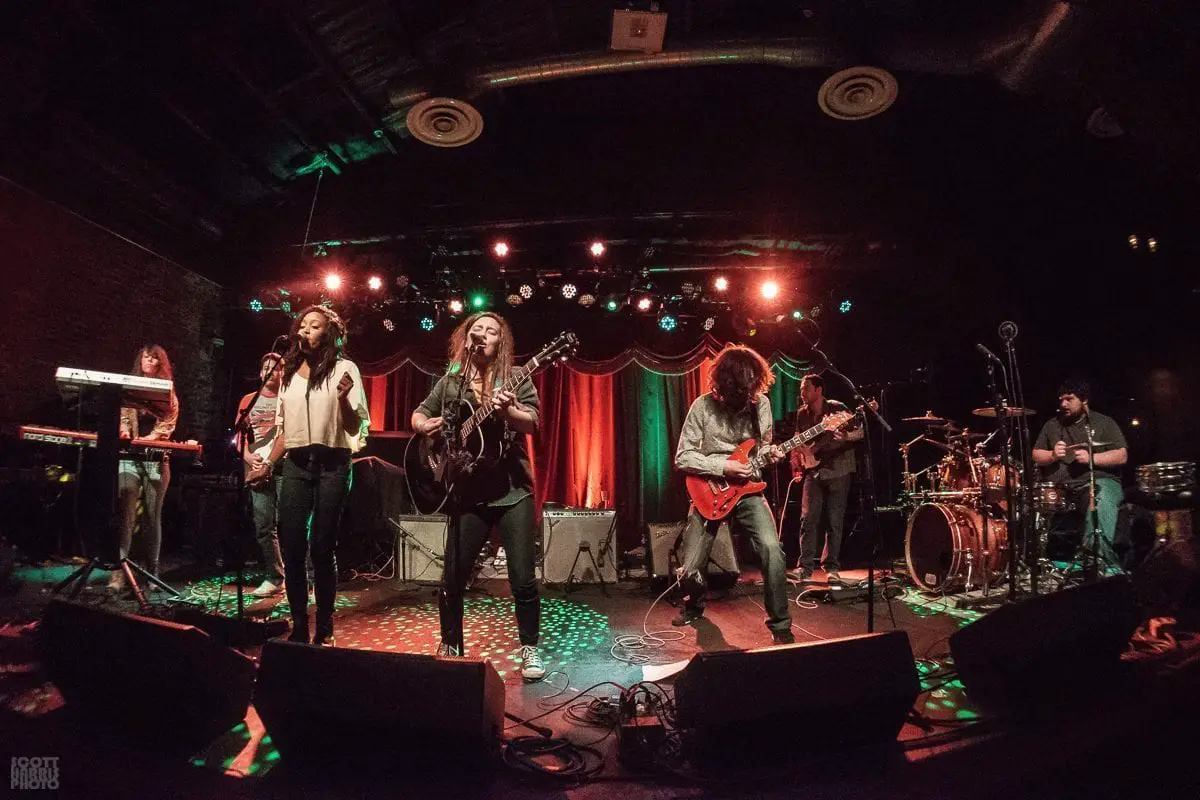 Tweed brought their high energy, livetronica sound from Philadelphia for a set of multi-layered, psychedelic dance music. AJ DiBiase (guitar/vocals), Joe Vela (drums), Jon Tomczak (synth/ vocals) and Dan McDonald (bass,/vocals) combined create a fresh genre they call jamchronica. Their heavy synth effects hypnotize as the progressive rock melody thrashes you on the dance floor. Tweed's precision is key as the mood switches from interstellar swirl to dirty funk with continuous vocal harmonies.
Formula 5, a four piece jam band from Albany made up of James Woods (bass), Greg Marek (drums), Mike McDonald (keys) and Joe Davis (guitar) closed it out. Musically they are very talented and kept true to form in the "Phish" landscape of heady jams, space jams, and bliss jams. This set was highlighted by Elise Testone (vocals) and Natalie Cressman (trombone) sitting in on "Trampled Underfooot" with Elise's crushing vocals and Natalie's triumphant trombone solo. Then the band kept the crowd moving and the pace up with originals "Excalibur" and "Pedro" before seguing into crowd favorite Men At Work's "The Safety Dance" which was highlighted by Mike McDonald. The band closed out the night with a stretched out jam that kept the set closing "Nu-Gen" going late into the night.