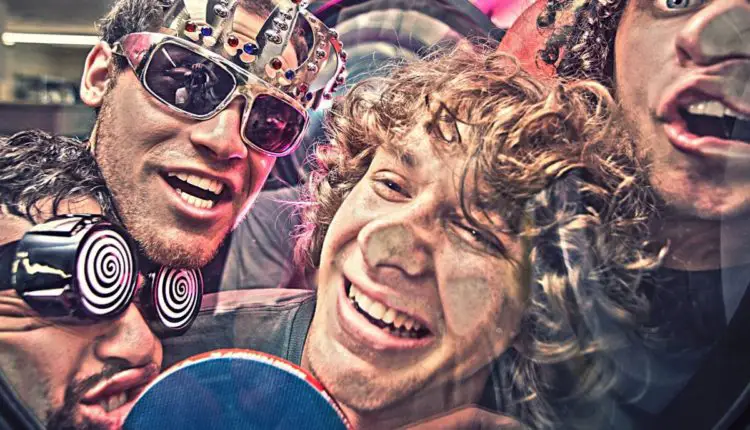 Pigeons Playing Ping Pong are bringing their own unique brand of funk to Brooklyn Bowl on April 1, and who knows what type of antics these birds are going to break out on April Fools Day. Based out of Baltimore, MD the Pigeons have been hard at work on the road, following the 2014 release of their aptly named sophomore album Psychology. Greg Ormont (vocals, rhythm guitar), Jeremy Schon (guitar, vocals), Ben Carrey (bass, vocals), and Alex Petropulos (drumagic, electro-swag) came up with the name of their band from a BF Skinner video shown in a college psychology class. Pigeons Playing Ping Pong will be supported by Shwizz and Aqueous. Ormont took time out of his busy electro-funk tour schedule to answer some questions for me:
Graig Adler: How long have you been on tour? When does it end? How many dates? When's the last time you've been "home"?
Greg Ormont: We just finished a 27-day tour and returned home this Sunday. Brooklyn Bowl is only one of two shows this week before we take off the weekend after a super busy March.
GA: What has been your favorite venue so far? Which venue are you most excited to play?
GO: Brooklyn Bowl is definitely up there. We also love playing the 9:30 Club in D.C., the Fox Theater in Boulder, CO, among many others. I'm most excited for festival season. I'm also interested in seeing New
Mountain in Asheville, NC for the first time; I've only heard great things so far.
GA: Who is the best/worst driver in the band?
GO: That's a touchy subject… let's just say we're all terrible drivers.
GA: What do you listen to while driving from city to city?
GO: On my last drive, I put on some Mitch Hedberg standup, followed by full albums of Sly and the Family Stone, Snarky Puppy, Deaf Scene, MGMT and Steely Dan.
GA: What's your daily schedule like? How much time do you spend driving? Practicing? Writing new music?
GO: That depends on where we're coming from and where we're headed, but generally we wake up, grab local food and hit the road for 3-7 hours to soundcheck, where we'll load in, soundcheck, grab dinner, rest up and rage a show. Sometimes we practice during soundcheck if timing and situation permits, and sometimes we practice in a friend of a friend's house on our off days on the road, like we did in Lawrence, KS this
past Tuesday.
GA: If you could play in any venue/city in the country what would it be?
GO: Red Rocks, Madison Square Garden, does JamCruise count as "the country?" If yes, then also: the moon.
https://www.youtube.com/watch?v=vGazyH6fQQ4
GA: We all know things happen on a long tour like this, what's the worst thing that's happened so far?
GO: Last Monday, we were supposed to play in Lawrence, KS with Consider the Source, but their trailer's wheel fell off or something and they couldn't make it. So we just played two sets without them, turned out
okay for us. If it's not our van troubles, it's another band's trailer troubles…
We actually had a really smooth tour this month. Perhaps the worst thing to happen was visiting New Orleans on our day off… We all fell in love with the city and did not want to leave, ended up staying a little too long and had to drive 27 hours straight to Colorado to make it to our sound check on time. But we made it! With no time to spare.
GA: What band currently touring do you compare yourselves to or draw the most inspiration from?
GO: I'm not one for comparisons… we do our own thing. We see so much live music though, so I guess we combine elements of all the acts we see… that said, I personally draw a lot of inspiration from Phish and Lotus, as well as Soulive, Snarky Puppy, the New Mastersounds, the Talking Heads and many more. But I have huge ideas, and haven't seen them performed by anyone else yet. Les Claypool gets kind of close to what I'm thinking, but in his own way…
GA: Have you had the chance to collaborate with any other artists/bands while on tour? Who was your favorite?
GO: We had the great Tom Hamilton (American Babies, JRAD, Brother's Past) sit in on guitar during our late night set at AURA Music Festival and we had the phenomenal Joey Porter (Juno What, The Motet) crush the
keys in Denver and Boulder, CO. Both guys are tremendous musicians and awesome people, and they both sat in perfectly. Joey was particularly funky and meshed effortlessly in our musical pocket; it was like he had played with us 100 times. I'd love to have either gentleman come do it again if we're in the same room.
We also had a fantastic sit-in on a Sunday show in Frisco, CO by a young traveler named Gina Sobel, who showed up with her flute and threw down some high-quality jazz-funk riffs over two of our songs. Nothing says, "Never miss a Sunday show" quite like a surprise guest flutist… and she killed it! I believe there are some clips of her sit-in on YouTube, as well as Joey Porter's and Tom Hamilton's performances with us this month.
GA: Who writes your setlists? How do you decide what you're going to play night in and night out?
GO: Our guitarist Jeremy Schon pens most of our set lists, and then we discuss it as a group and make any changes we see fit, prior to the set. Jeremy keeps a running document of every set we've ever played, so he can see what we played at our most recent shows in the area to keep the next show different and interesting for that crowd. Once we're on stage, however, anything goes. We often cut songs on the fly, or insert new ideas based off the mood, and generally go with the flow.
GA: As festival season approaches, which festival are you most excited about?
GO: Domefest!! We throw our own festival every year and I'm always most excited for it. It's the ultimate gathering of our fanbase, The Flock, and we invite all of our favorite band-friends to play and enjoy the
weekend. We love watching Flockers meet each other for the first time, especially when they're from different parts of the country. We've seen best friends meet and new romantic relationships form at Domefest, which is an amazing symptom of live music; we love bringing people together. This year, Pigeons Playing Ping Pong is playing three nights, along with performances by Yo Mama's Big Fat Booty Band, The Heavy Pets, The Mantras, BIG Something and many more amazing rising acts on May 28-30 at Trip's Farm in Terra Alta, WV. Domefest is where fans discover their new favorite band, and bands find their new die-hard supporters; it's a beautiful, absolutely raging weekend.
I'm similarly excited for All Good, which was my first major festival attended. Playing for that crowd on that stage will be a dream come true for most of us. I'm also super pumped for a few major festivals that we haven't announced yet… as well as Summer Camp, which I'm told is too fun.
 Tickets are still available and can be purchased
here
.