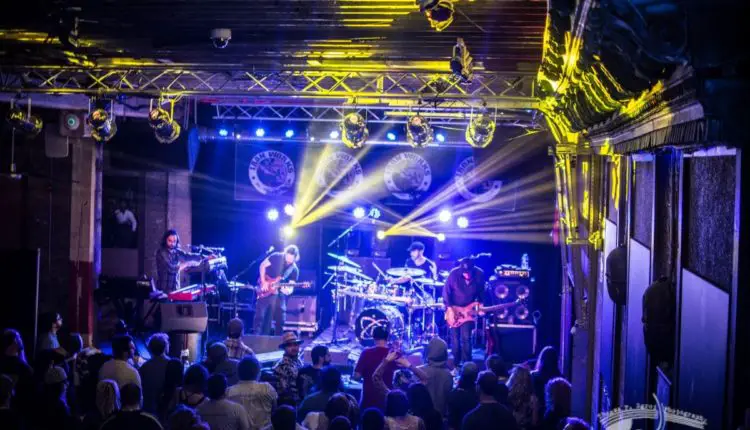 Although it may have been the first day of spring, the weather didn't seem to know that. People were walking briskly to escape the cold and get into Putnam Den where it's always hot and always a guaranteed good time. As the night started off there were more people huddled around the TV watching college basketball, but fans were about to be treated to another form of "March Madness" in the entity known as Particle.
Greenhouse Lounge, a trio out of Jacksonville, FL started the night off spitting pure fire – these three guys exemplified livetronica. While using samples and homemade beats covered with the sounds of the live band, there was little that could stop the groove. The two were so intertwined at some points it was difficult to tell which was the loop and which was the band, a skill very few have mastered but the boys were spot on, and it drew the crowd from the TVs to the front of the stage. They were getting down to the unmistakeable sound that may be the future of the genre. A perfect way to kick off the night for the Particle party that was about to ensue.
Particle came tearing out of the gate, with Ben Comb shredding his guitar and raising all the energy until everyone was up dancing and flowing to the fast paced groove. Bassist Clay Parnell and drummer Allen Aucion were the perfect back drop, keeping the rhythm solid and following along with the guitar which eventually lead into a keyboard solo from Particle's leader Steve Molitz. The contrasting sounds he made with the keys were mind blowing – to the point that some of the audience had to stop and listen in wonder to work out where these amazing sounds were coming from. The pattern of drum and bass heavy rhythms continued as Ben and Steve swapped leads.
Although Particle are know for the instrumental jam, they are not a one dimensional band by any means. Ben Comb did more than shred the guitar, he also sang, which is no easy task when the beats are going so fast. He was also able to keep his voice in range and, impressively, in time. This mixture of sounds progressed from Pink Floyd to a Siberian saber dance. The proof was in the music that there is very little Particle can't do.
[FinalTilesGallery id='116′]