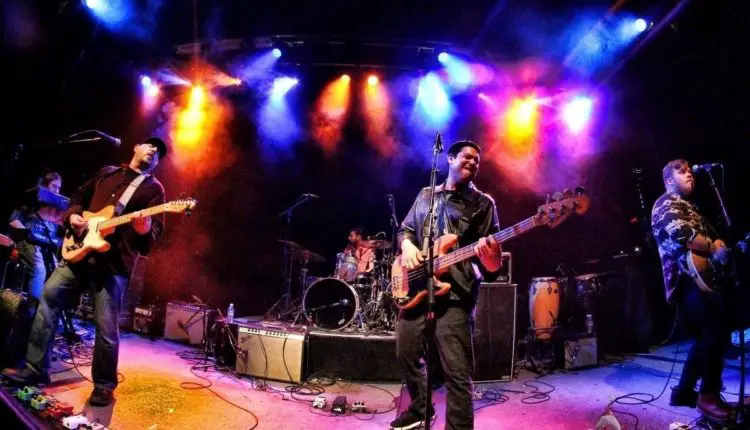 Trucking across the country with their fourth studio album "Steady" on their shoulders, Giant Panda Guerilla Dub Squad will be dropping by the Westcott Theater on March 21, to resurrect a night of deluxe reggae spirit for Syracuse.  Steady was released in september of 2014, debuted at #1 on the Billboard Reggae chart, #1 on iTunes Reggae Chart, and is the Rochester, NY based quintets' first collaboration with Easy Star Records.
The GPGDS, as many fans know them by, have been writing, recording, and performing music since 2001 while they were still in high school. The band played local and regional shows, while focusing on performing live for the next few years. In 2005, friends and fans began taping their live shows for fun and sharing their progress with the live music community, which quickly built up a national fan base accompanied by continuous touring schedules.    Their hard work and success have nursed a rising career, which we are in store for this week and may even hear some new material from their upcoming album (due out in May), titled Bright Days!  Bringing with them to celebrate, are an extraordinary crew of  musicians, the High Hopes Band from Boston, MA and fellow Rochester, NY group Danielle Ponder and The Tomorrow People as special guests.
With their Spring Steady Tour under way since March 12, the 20 date tour includes major highlighted events such as the California Roots Festival and Arise Music Festival in Colorado.  This run of shows will also bring the Upstate New York natives back home to Ithaca on April 9, Albany the following evening, and Buffalo on April 11. Saturday, March 21 the band will play the Westcott Theater in Syracuse with special guests Danielle Ponder & The Tomorrow People, High Hopes Band. Doors open at 7PM and the show starts at 8PM. This is an all ages show, tickets are $15 in advance and $18 day of the show.
Websites:
http://www.highhopesreggae.com