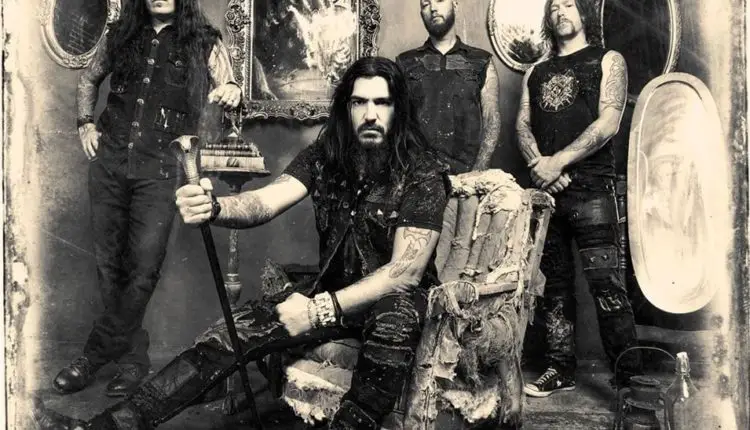 Going against the grain on what most metal bands are doing as far as touring these days, Machine Head is currently taking the bold approach and doing an "Evening With" headlining with no openers whatsoever, in support of their latest album Bloodstone & Diamonds, arguably one of their best to date, and easily the best metal album of 2014.  Rob Flynn and the boys stopped at the Town Ballroom in Buffalo last Thursday night for the second time in three years, setting for what was an unforgettable night.
The bodies piled into the venue long before Machine Head hit the stage.  By showtime, the crowd kept chanting "Machine Fucking Head! Machine Fucking Head" was nonstop during the whole show, The band stormed the stage opening with "Imperium."  Machine Head, although are getting up there in age, were performing like if they were in their prime – hungry and vicious.  Their stage presence and energy have NEVER been better.  They are giving their fans their money's worth and putting other bands on notice.
Machine Head has gone through a slight lineup change since they appeared at the Town Ballroom back in February 2012. New bassist Jared MacEachern replaced Adam Duce this past year, so the big question is, does MacEachern fill the void?  Adam Duce was a monster on the bass, but also had remarkable backing vocals to go with Flynn's vocals.  So when Duce was fired, I was saddened, and wondered how MacEachern could pull this gig off.  And I will say I was blown away by MacEachern's stage presence, skill, backing vocals were amazing! He has much more range than Duce had (although Duce does sound a lot like Flynn) but he pulled off vocal harmonies, grunts, growls, and sings VERY well, so he adds such a new and killer dynamic to Machine Head's live show that they never had before.  Dave McClain was a fiend behind the kit, and playing all those songs in a long set is no easy task.  And lead guitarist Phil Demmel rifts and solos are unmatched.  And his flying v Randy Rhoades black polka-dot guitar was gorgeous to look at.  But vocalist guitarist Rob Flynn is the unquestionable all-star and leader of the band and no one anchors the band better, or gets the crowd psyched like no other.  The most fascinating thing to watch on stage is watching Flynn and Demmel exchange guitar solos, as well as their harmonizing guitar solos…. it is such a spectacle to behold on stage.
As far as their set, they gave the fans what they deserved with a two-hour and fifteen minute set – with no intermission.  We heard new songs like "Now We Die" and "Sail Into The Black"  and were also treated to classics like "Old" and "Ten Ton Hammer."  But really gave me a pleasant shock, early into their set, Machine Head played their nu-metal anthem "From This Day" for the first time in 13 years and the crowd went absolutely bananas.  They managed to play at least one song from every album from their 20 year catalog.  Closing with the unforgettable song "Halo" afterwards, not one person left this show disappointed. Machine Head told the crowd they will come back and said that they will do "evening with" again. It's safe to say that Machine Head gave the fans their money's worth and are truly a force to be reckoned with.