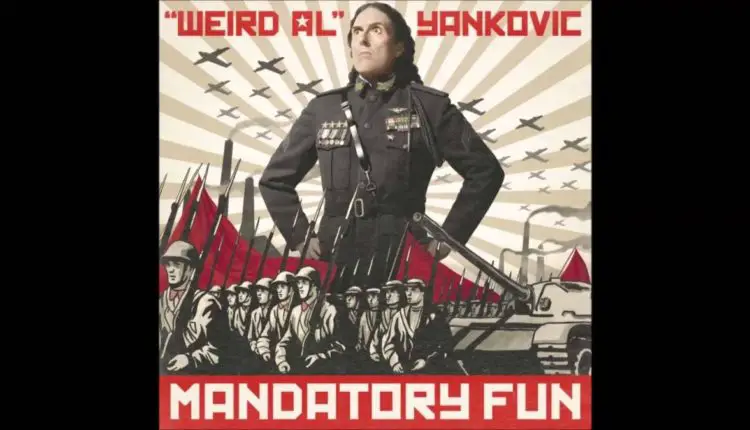 'Weird' Al Yankovic Announces 'Mandatory Fun' Worldwide Tour
Break out your Hawaiian shirts and bring the kids along because 'Weird' Al Yankovic is embarking on a World Tour starting May 12 in Las Vegas, NV!
Al's latest album, Mandatory Fun, charted at the top of Billboard 200 for the first time ever, a hallmark achievement for the king of musical parody. Yankovic will bring his energy-filled show and multiple costume changes across America, Canada, Western Europe and eventually Australia and New Zealand. New Yorkers can look forward to catching the tour on July 11 in Albany at The Palace Theatre, July 14 at Turning Stone Showroom in Verona (read Jim Gilbert's review from Al's 2013 visit) and July 15 at University of Buffalo at the Center for the Arts. See below for on sale dates and visit Weirdal.com and his Facebook page for updates.
PLANET HOLLYWOOD


LAS VEGAS, NV

PRE-SALE BEGINS 1/27 @ 10AM LOCAL TIME

PLANET HOLLYWOOD


LAS VEGAS, NV

PRE-SALE BEGINS 1/27 @ 10AM LOCAL TIME

PLANET HOLLYWOOD


LAS VEGAS, NV

PRE-SALE BEGINS 1/27 @ 10AM LOCAL TIME

PLANET HOLLYWOOD


LAS VEGAS, NV

PRE-SALE BEGINS 1/27 @ 10AM LOCAL TIME

PLANET HOLLYWOOD


LAS VEGAS, NV

PRE-SALE BEGINS 1/27 @ 10AM LOCAL TIME

BRADY THEATER


TULSA, OK

PRE-SALE BEGINS 1/27 @ 10AM LOCAL TIME

HUDSON PERFORMANCE HALL


OKLAHOMA CITY, OK

PRE-SALE BEGINS 1/27 @ 10AM LOCAL TIME

HARD ROCK LIVE – HARD ROCK HOTEL AND CASINO


BILOXI, MS

PRE-SALE BEGINS 1/27 @ 10AM LOCAL TIME

RYMAN AUDITORIUM


NASHVILLE, TN

PRE-SALE BEGINS 1/27 @ 10AM LOCAL TIME

HORSESHOE TUNICA – BLUESVILLE


ROBINSONVILLE, MS

PRE-SALE BEGINS 1/27 @ 10AM LOCAL TIME

BLOOMINGTON CENTER FOR THE PERFORMING ARTS


BLOOMINGTON, IL

PRE-SALE BEGINS 1/27 @ 10AM LOCAL TIME

MURAT THEATRE AT OLD NATIONAL CENTRE


INDIANAPOLIS, IN

PRE-SALE BEGINS 1/27 @ 10AM LOCAL TIME

SOARING EAGLE CASINO AND RESORT


MOUNT PLEASANT, MI

PRE-SALE BEGINS 1/27 @ 10AM LOCAL TIME

JACOBS PAVILION AT NAUTICA


CLEVELAND, OH

PRE-SALE BEGINS 1/27 @ 10AM LOCAL TIME

PALACE THEATRE


GREENSBURG, PA

PRE-SALE BEGINS 1/27 @ 10AM LOCAL TIME

WILBUR THEATRE


BOSTON, MA

PRE-SALE BEGINS 1/27 @ 10AM LOCAL TIME

WILBUR THEATRE


BOSTON, MA

PRE-SALE BEGINS 1/27 @ 10AM LOCAL TIME

CAPITOL CENTER FOR THE ARTS


CONCORD, NH

PRE-SALE BEGINS 1/27 @ 10AM LOCAL TIME

FOXWOODS RESORT CASINO


LEDYARD, CT

PRE-SALE BEGINS 1/27 @ 10AM LOCAL TIME

GOVERNOR'S BALL MUSIC FESTIVAL


NEW YORK CITY, NY

AMERICAN MUSIC THEATRE


LANCASTER, PA

PRE-SALE BEGINS 1/27 @ 10AM LOCAL TIME

CARPENTER THEATRE AT RICHMOND CENTER STAGE


RICHMOND, VA

PRE-SALE BEGINS 1/27 @ 10AM LOCAL TIME

FILENE CENTER AT WOLF TRAP


VIENNA, VA

PRE-SALE BEGINS 1/27 @ 10AM LOCAL TIME

PIER SIX PAVILION


BALTIMORE, MD

PRE-SALE BEGINS 1/27 @ 10AM LOCAL TIME

ROANOKE PERFORMING ARTS THEATRE


ROANOKE, VA

PRE-SALE BEGINS 1/27 @ 10AM LOCAL TIME

SANDS BETHLEHEM EVENT CENTER


BETHLEHEM, PA

PRE-SALE BEGINS 1/27 @ 10AM LOCAL TIME

KOKA BOOTH AMPHITHEATRE


CARY, NC

PRE-SALE BEGINS 1/27 @ 10AM LOCAL TIME

OVENS AUDITORIUM


CHARLOTTE, NC

PRE-SALE BEGINS 1/27 @ 10AM LOCAL TIME

CHASTAIN PARK AMPHITHEATRE


ATLANTA, GA

PRE-SALE BEGINS 1/27 @ 10AM LOCAL TIME

FRAZE PAVILION


KETTERING, OH

PRE-SALE BEGINS 1/27 @ 10AM LOCAL TIME

MIDLAND THEATRE


NEWARK, OH

PRE-SALE BEGINS 1/27 @ 10AM LOCAL TIME

PALACE THEATRE


LOUISVILLE, KY

PRE-SALE BEGINS 1/27 @ 10AM LOCAL TIME

CAESARS WINDSOR – THE COLOSSEUM


WINDSOR, ON

, CANADA

PRE-SALE BEGINS 1/27 @ 10AM LOCAL TIME

CHICAGO THEATRE


CHICAGO, IL

PRE-SALE BEGINS 1/27 @ 10AM LOCAL TIME

PEABODY OPERA HOUSE


ST. LOUIS, MO

PRE-SALE BEGINS 1/27 @ 10AM LOCAL TIME

ARVEST BANK THEATRE AT THE MIDLAND


KANSAS CITY, MO

PRE-SALE BEGINS 1/27 @ 10AM LOCAL TIME

ORPHEUM THEATRE


WICHITA, KS

PRE-SALE BEGINS 1/27 @ 10AM LOCAL TIME

HARRAH'S HOTEL AND CASINO – STIR COVE


COUNCIL BLUFFS, IA

PRE-SALE BEGINS 1/27 @ 10AM LOCAL TIME

MYSTIC LAKE CASINO – MYSTIC SHOWROOM


PRIOR LAKE, MN

PRE-SALE BEGINS 1/27 @ 10AM LOCAL TIME

SOUTHERN KENTUCKY PERFORMING ARTS CENTER


BOWLING GREEN, KY

PRE-SALE BEGINS 1/27 @ 10AM LOCAL TIME

PEACE CENTER FOR THE PERFORMING ARTS


GREENVILLE, SC

PRE-SALE BEGINS 1/27 @ 10AM LOCAL TIME

WARNER THEATRE


ERIE, PA

PRE-SALE BEGINS 1/27 @ 10AM LOCAL TIME

PALACE THEATRE


ALBANY, NY

PRE-SALE BEGINS 1/27 @ 10AM LOCAL TIME

FLYNN CENTER FOR THE PERFORMING ARTS


BURLINGTON, VT

PRE-SALE BEGINS 1/27 @ 10AM LOCAL TIME

TURNING STONE RESORT CASINO – SHOWROOM


VERONA, NY

PRE-SALE BEGINS 1/27 @ 10AM LOCAL TIME

UNIVERSITY AT BUFFALO – CENTER FOR THE ARTS


BUFFALO, NY

PRE-SALE BEGINS 1/27 @ 10AM LOCAL TIME

HAMILTON PLACE THEATRE


HAMILTON, ON

, CANADA

PRE-SALE BEGINS 1/27 @ 10AM LOCAL TIME

CASINO RAMA – ENTERTAINMENT CENTRE


RAMA, ON

, CANADA

PRE-SALE BEGINS 1/27 @ 10AM LOCAL TIME

OTTAWA BLUESFEST


OTTAWA, ON

, CANADA

PRE-SALE BEGINS 1/27 @ 10AM LOCAL TIME

CENTENNIAL HALL


LONDON, ON

, CANADA

PRE-SALE BEGINS 1/27 @ 10AM LOCAL TIME

CASINO NOVA SCOTIA – SCHOONER SHOWROOM


HALIFAX, NS

, CANADA

PRE-SALE BEGINS 1/27 @ 10AM LOCAL TIME

CASINO NEW BRUNSWICK – THE CENTRE


MONCTON, NB

, CANADA

PRE-SALE BEGINS 1/27 @ 10AM LOCAL TIME

MAINE STATE PIER


PORTLAND, ME

PRE-SALE BEGINS 1/27 @ 10AM LOCAL TIME

THE ZEITERION PERFORMING ARTS CENTER


NEW BEDFORD, MA

PRE-SALE BEGINS 1/27 @ 10AM LOCAL TIME

COMMUNITY ARTS CENTER


WILLIAMSPORT, PA

PRE-SALE BEGINS 1/27 @ 10AM LOCAL TIME

TENNESSEE THEATRE


KNOXVILLE, TN

PRE-SALE BEGINS 1/27 @ 10AM LOCAL TIME

FERGUSON CENTER FOR THE ARTS


NEWPORT NEWS, VA

PRE-SALE BEGINS 1/27 @ 10AM LOCAL TIME

NORTH CHARLESTON PERFORMING ARTS CENTER


NORTH CHARLESTON, SC

PRE-SALE BEGINS 1/27 @ 10AM LOCAL TIME

HARD ROCK LIVE AT UNIVERSAL CITYWALK


ORLANDO, FL

PRE-SALE BEGINS 1/27 @ 10AM LOCAL TIME

RUTH ECKERD HALL


CLEARWATER, FL

PRE-SALE BEGINS 1/27 @ 10AM LOCAL TIME

KING CENTER FOR THE PERFORMING ARTS


MELBOURNE, FL

PRE-SALE BEGINS 1/27 @ 10AM LOCAL TIME

BROWARD CENTER FOR THE PERFORMING ARTS


FT LAUDERDALE, FL

PRE-SALE BEGINS 1/27 @ 10AM LOCAL TIME

FLORIDA THEATRE


JACKSONVILLE, FL

PRE-SALE BEGINS 1/27 @ 10AM LOCAL TIME

BAYOU MUSIC CENTER


HOUSTON, TX

PRE-SALE BEGINS 1/27 @ 10AM LOCAL TIME

MAJESTIC THEATRE


SAN ANTONIO, TX

PRE-SALE BEGINS 1/27 @ 10AM LOCAL TIME

AUSTIN CITY LIMITS LIVE AT THE MOODY THEATER


AUSTIN, TX

PRE-SALE BEGINS 1/27 @ 10AM LOCAL TIME

VERIZON THEATRE AT GRAND PRAIRIE


GRAND PRAIRIE, TX

PRE-SALE BEGINS 1/27 @ 10AM LOCAL TIME

PARAMOUNT THEATRE


DENVER, CO

PRE-SALE BEGINS 1/27 @ 10AM LOCAL TIME

VAN DUZER THEATRE


ARCATA, CA

PRE-SALE BEGINS 1/27 @ 10AM LOCAL TIME

BRITT PAVILION


JACKSONVILLE, OR

PRE-SALE BEGINS 1/27 @ 10AM LOCAL TIME

LES SCHWAB AMPHITHEATER


BEND, OR

PRE-SALE BEGINS 1/27 @ 10AM LOCAL TIME

OREGON ZOO AMPHITHEATER


PORTLAND, OR

PRE-SALE BEGINS 1/27 @ 10AM LOCAL TIME

OREGON ZOO AMPHITHEATER


PORTLAND, OR

PRE-SALE BEGINS 1/27 @ 10AM LOCAL TIME

QUEEN ELIZABETH THEATRE


VANCOUVER, BC

, CANADA

PRE-SALE BEGINS 1/27 @ 10AM LOCAL TIME

SOUTH OKANAGAN EVENTS CENTRE


PENTICTON, BC

, CANADA

PRE-SALE BEGINS 1/27 @ 10AM LOCAL TIME

RIVER CREE RESORT AND CASINO – THE VENUE


ENOCH, AB

, CANADA

PRE-SALE BEGINS 1/27 @ 10AM LOCAL TIME

SOUTHERN ALBERTA JUBILEE AUDITORIUM


CALGARY, AB

, CANADA

PRE-SALE BEGINS 1/27 @ 10AM LOCAL TIME

NORTHERN QUEST RESORT AND CASINO – PEND OREILLE PAVILLION


AIRWAY HEIGHTS, WA

PRE-SALE BEGINS 1/27 @ 10AM LOCAL TIME

WASHINGTON STATE FAIR


PUYALLUP, WA

PRE-SALE BEGINS 1/27 @ 10AM LOCAL TIME

HARRAH'S LAUGHLIN – RIO VISTA OUTDOOR AMPHITHEATER


LAUGHLIN, NV

PRE-SALE BEGINS 1/27 @ 10AM LOCAL TIME

GRONA LUND


STOCKHOLM

, SWEDEN

ON SALE SOON

SENTRUM SCENE


OSLO

, NORWAY

ON SALE SOON

BRATTORA


TRONDHEIM

, NORWAY

ON SALE SOON

VEGA


COPENHAGEN

, DENMARK

ON SALE SOON

MELKWEG


AMSTERDAM

, NETHERLANDS

ON SALE SOON

ANCIENNE BELGIQUE


BRUSSELS

, BELGIUM

ON SALE SOON

EVENTIM APOLLO


LONDON

, UNITED KINGDOM

ON SALE SOON

VICAR STREET


DUBLIN

, IRELAND

ON SALE SOON