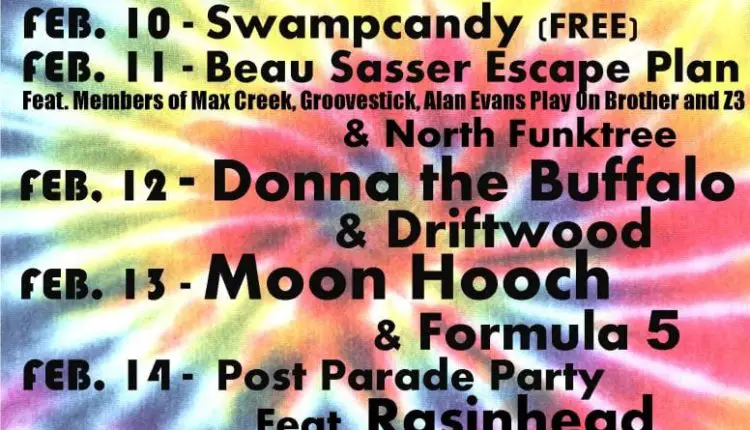 Saranac Lake's Winter Carnival 2015
The Waterhole Upstairs Music Lounge will be the place to be during the 119th Saranac Lake Winter Carnival this year. The north country tradition that leads back to the 1800s, when Saranac Lake was a healing place for tuberculosis sufferers, who sought rejuvenation. Locals relished in any opportunity to celebrate health and well-being throughout each season, the traditions continue today with a wide range of events and activities.
A definite highlight of these shows will be the Saranac Lake based, Blind Owl Band, who are returning to touring after a six month break. Fans are excited to see these hometown mountain music folks get down.
The Waterhole, located at 48 Main St. Saranac Lake, NY, has 8 nights of music planned with a style of music for everyone, during the festival Feb. 6-15. Advanced Tickets Can be Purchased at The Waterhole or by calling (518) 891-9502 or emailing waterholebooking@gmail.com
Music Line-up:
Feb 6 – The Royal Noise (Free Shows, Downstairs, 10pm)
Feb 7 – The Big Mean Sound Machine and Groovestick ($10.00, Doors 9pm, Upstairs)
Feb 10 – Swampcandy (Free Show, Downstairs 9pm)
Feb 11 – Beau Sasser's Escape Plan and North Funktree ($7.00, Doors 8pm, Upstairs)
Feb 12 – Donna the Buffalo and Driftwood ($18 Adv/ $20 Door, Doors 9pm, Upstairs)
Feb 13 – Moon Hooch and Formula 5 ($12 Adv/$15Door, Doors 9pm, Upstairs)
Feb 14 – Rasinhead (Reunion) Post Parade Party 2pm FREE SHOW, Upstairs After The Parade
Feb 14 – The Blind Owl Band and Swampcandy ($10, Doors 9pm, Upstairs)
Feb 15 – Bloody Mary Sunday with The Tim Herron Duo (2pm, FREE SHOW, Upstairs)