Hot off the brand new EP Down 4 My Ninjas, released by Firepower Records, which can be streamed below, ninja themed EDM DJ DATSIK announced the Ninja Nation Tour last night with special guest LOUDPVCK to open on select dates. The tour kicks off in Boston, MA on January 22 and will be stopping at the Terminal 5 in New York City January 24, also at Buffalo's Town Ballroom on January 28, and at the F-Shed in Syracuse on January 29.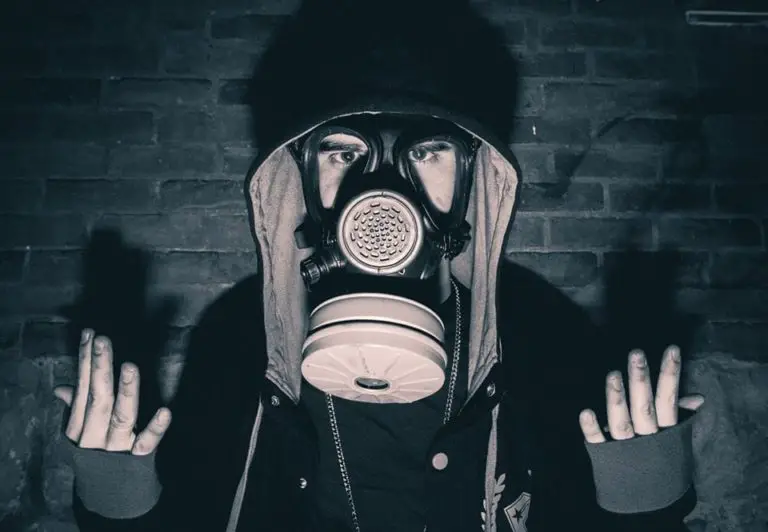 Some of the other guest on this tour will include ETC! ETC!, Kennedy Jones, Trolley Snatcha, Truth, Barely Alive, Bear Grillz, Fox Stevenson and Twine.
Tickets for the NYC show can be purchased here. For Buffalo click here. And for Syracuse click here.
The dates can be viewed below:
| | | | |
| --- | --- | --- | --- |
| Thu | 1/22 | Boston, MA | House of Blues |
| Fri | 1/23 | Montreal, QC | Metropolis |
| Sat | 1/24 | New York City, NY | Terminal 5 |
| Sun | 1/25 | Burlington, VT | Higher Ground |
| Wed | 1/28 | Buffalo, NY | Town Ballroom |
| Thu | 1/29 | Syracuse, NY | F Shed at The Market |
| Fri | 1/30 | Hartford, CT | The Dome |
| Sat | 1/31 | Philadelphia, PA | Electric Factory |
| Wed | 2/4 | Knoxville, TN | The International |
| Thu | 2/5 | Norfolk, VA | Norva |
| Fri | 2/6 | Washington, DC | Echostage |
| Sat | 2/7 | Richmond, VA | National |
| Sun | 2/8 | Pittsburgh, PA | The Altar Bar |
| Mon | 2/9 | Pittsburgh, PA | The Altar Bar |
| Wed | 2/11 | Cleveland, OH | House Of Blues |
| Thu | 2/12 | Cincinnati, OH | Bogart's |
| Fri | 2/13 | Atlanta, GA | Opera |
| Sat | 2/14 | Detroit, MI | Royal Oak Music Theatre |
| Tue | 2/17 | Chattanooga, TN | Track 29 |
| Wed | 2/18 | Urbana, IL | Canopy Club |
| Thu | 2/19 | Indianapolis, IN | Egyptian Room |
| Fri | 2/20 | Chicago, IL | Concord |
| Sat | 2/21 | Chicago, IL | Concord |
| Tue | 2/24 | Iowa City, IA | Blue Moose |
| Wed | 2/25 | Lincoln, NE | Bourbon Theatre |
| Thu | 2/26 | Milwaukee, WI | Miramar Theatre |
| Wed | 3/4 | Aspen, CO | Belly Up |
| Thu | 3/5 | Grand Junction, CO | Mesa Theater |
| Fri | 3/6 | Denver, CO | Ogden |
| Sat | 3/7 | Denver, CO | Ogden |
| Wed | 3/11 | San Diego, CA | Soma |
| Thu | 3/12 | Los Angeles, CA | Exchange |
| Fri | 3/13 | Riverside, CA | Riverside Auditorium |
| Sat | 3/14 | San Francisco, CA | Warfield |
| Sun | 3/15 | Reno, NV | The Knitting Factory |
| Wed | 3/18 | Victoria, BC | Distrikt |
| Thu | 3/19 | Edmonton, AB | Encore |
| Fri | 3/20 | Vancouver, BC | Commodore |
| Sat | 3/21 | Calgary, AB | Flames Central |
| Fri | 3/27 | Seattle, WA | Showbox Sodo |
| Sat | 3/28 | Portland, OR | Roseland Ballroom |
| Wed | 4/1 | Lubbock, TX | Wild West |
| Thu | 4/2 | San Marcos, TX | The Marc |
| Fri | 4/3 | Houston, TX | Stereo Live |
| Sat | 4/4 | El Paso, TX | Tricky Falls |
| Wed | 4/8 | Asheville, NC | The Orange Peel |
| Thu | 4/9 | Raleigh, NC | The Ritz |
| Fri | 4/10 | Charlotte, NC | Fillmore |
| Sat | 4/11 | Murfreesboro, TN | Tempt |