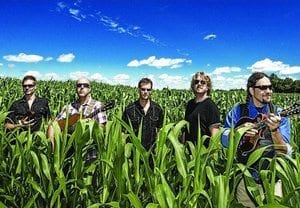 Sportsmens Tavern Welcomes Floodwood to Buffalo Saturday December 6
Upstate bluegrass rockers Floodwood will be making a stop in Buffalo on Saturday December 6 with an intimate show at the Sportsmen's Tavern. The band has been playing throughout the country at some of the biggest festivals as well as the Buffalo area in more than a few occasions. The band includes two musicians who in their normal work day consist of being pivotal roles with progressive rockers and Upstate's moe. Al Schnier (guitar) and Vinnie Amico (drums) are no stranger to the area and since forming moe. in Buffalo so many years ago always love to give it their all when back in town. Floodwood, while is very far from what moe. puts onstage still brings the same energy to the stage. As good as Schnier and Amico are, the band has some extraordinary talent in Nick Piccininni (fiddle), Jason Barady (mandolin) and Zachary  Fleitz (bass).
The show will also be pretty special as special guests John and Mary of 10,000 Maniacs. This will definitly be a show you will want to see and checkout. Tickets can be purchased through the venues website. Show starts at 9pm with tickets $17 in advance and $20 day of show.