That's right, Ween is getting a head start on the gift giving season by giving away a free download of rarities, outtakes and B-sides from the group's first four studio albums.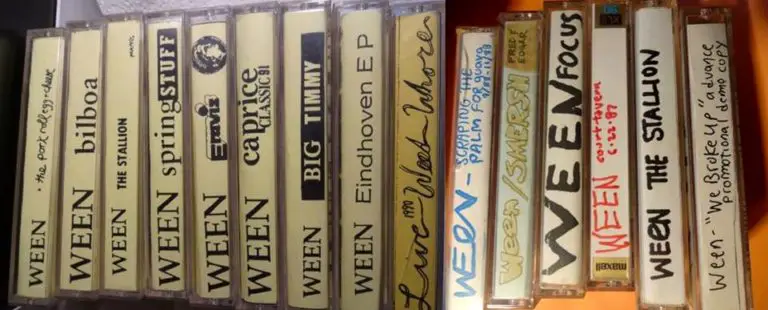 The folks working on Boongish Rising, a documentary film being produced on Ween's early years, released a statement on the film's Facebook page this past week with the following announcement:
Hello Ween fans,

Today's your lucky day… it's time for the Boognish Rising Thanksgiving 2014 Sampler CD! We have a full length CD made up of demos and b-sides from their first 4 records. All the tapes were transferred here at Boognish Rising HQ so even if there's a couple songs you've heard someplace else… these versions sound a good deal better. A lot better in fact thanks to JWB who was kind enough to lightly remaster everything and make the CD flow nicely. He also threw in some pretty artwork that's available in the dropbox folder.

Download the .aiff files from my dropbox link here which should drag easily into iTunes with the correct titles and sequence. It will also be available in FLAC format for download at Browntracker.net. Huge thanks to the generous Mike Miller who supplied the tape most of the songs came off of.

Last but not least thank you to Gene & Dean who both kindly gave their permission and corrected my track titles for this holiday treat. Tracks transferred and compiled by ChrisB.
While the download has expired, please check out this additional collection of Ween rarities.
Track List
01.Wayne's Pet Youngin'
02. Marble Tulip Juicy Tree
03. Big Baboons
04. I'm So Tired
05. Birthday Boy
06. Seconds (Pod 4-track)
07. Only The Good Will Be Absent of Greed
08. Numb To The Lung
09. Chairman of my Own Destiny
10. Wonderful Tonight
11. Big Fat Lady
12. Good Time Rhymin' Song
13. No More Tears
14. Love Will Conquer All
15. That's Poppycock!
16. Close My Eyes Forever
17. Stonehenge
18. Shalom Absalom
19. The Waxy Dribble Song
20. Spinal Meningitis
21. Baby Bitch
22. The Rift
23. Buckingham