Furthur fans who visited the band's website this morning were met with a message from the band –
To our loyal Furthur fans and members of the Furthur community at furthur.net, we'd like to thank you for a terrific ride. We'll be closing up shop at furthur.net, and heading onward. Thanks for making the Furthur community a great place to hang out, and for coming out to the shows. We'll all be keeping very busy over the foreseeable future, and it's time to let Furthur take a bow. We enjoyed the ride more than we can possibly express. You can keep tabs on Phil's activities at www.terrapincrossroads.net, Bob's activities at www.bobweir.net and all Grateful Dead news at www.dead.net "

It looks like the band that was the most recent and arguably its most successful incarnation of remaining Grateful Dead members has decided to call it a day and will be shutting down the website with no intentions of playing again. This news comes in the wake of the cancelled tour dates for Bob Weir and a recent collection of highly successful runs with Phil and Friends appearances at the Capitol Theatre in Portchester.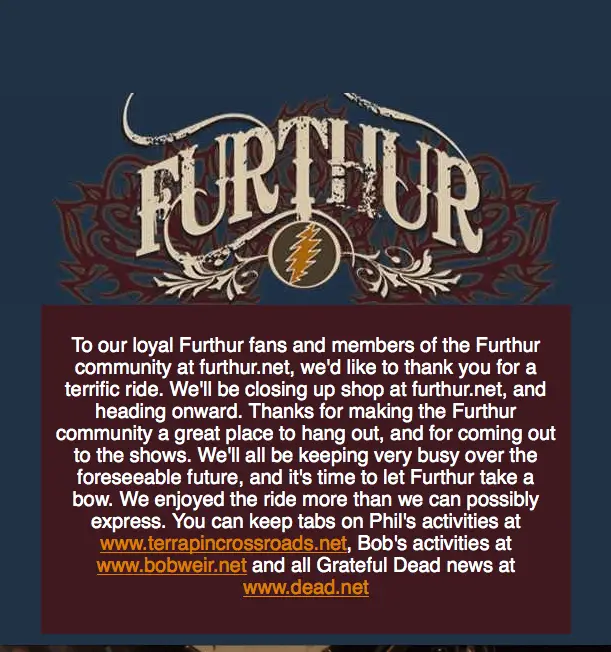 Since their start in 2009 when remaining Grateful Dead members, Bob Weir and Phil Lesh formed the band with the original lineup also including – John Kadlecik, Jeff Chimenti, Jay Lane and  Joe Russo; they have enjoyed massively successful  tours and headlined the cream of the crop festivals like All Good and Gathering of the Vibes; all well retaining the Grateful Dead scene that had been slowly dissipating after Jerry's death in 1995. The band was named for the famous touring bus used by Ken Kesey in the '60s. While Furthur played a large portion of the Grateful Dead catalogue, they did also put their own spin on things by covering songs from bands like the Beatles and Pink Floyd.
As sad as we are to see this band take its final bow, many feel blessed to have had the opportunity to see Weir and Lesh come together with new members to re-create the music of the Dead. They will be missed.