Aqueous have more than cemented their reputation as a powerful, young band on the rise with the release of their new album Cycles, which was officially released on October 21. The new album features a collection of heavy-hitting material full of raw emotion and supremacy. One of the most impressive aspects about this band's range is their uncanny ability to seamlessly drop into a thick, heavy, pocket funk groove with such conviction. The aggressive direction of the music can turn on a dime and take the listener on a full ride of different directions as each member complements the overall sound flawlessly. The band seems to be intertwined on a much deeper level than sheer talent, they seem to have a much more appreciating understanding of their craft and each other's role as one unit. Having already developed a reputation for themselves around the festival circuit, Aqueous are currently juggling a nice touring schedule that lead up to their album release party in Buffalo on October 25 at the Buffalo Iron Works.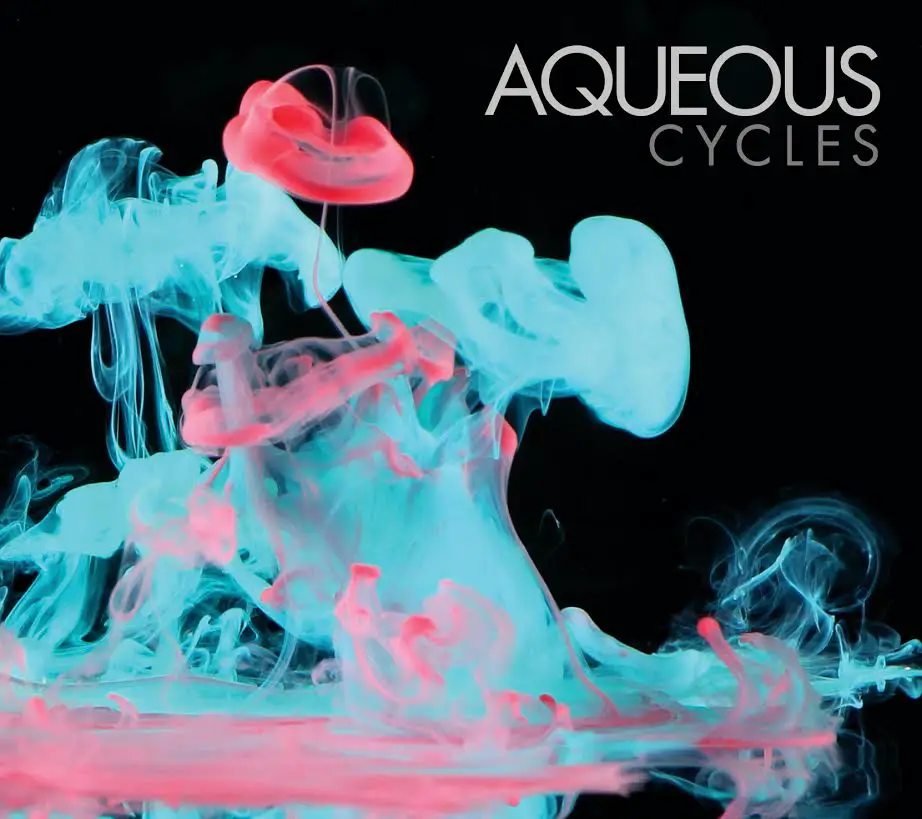 The album opens up with "Dawn" an eerie instrumental string arrangement that could have easily been embedded in a classic 1950's film before dropping into "Kitty Chaser (Explosions)" which gives the listener a full taste of the band's broad range. Right out of the gates the band works its way into an abstract groove that builds a perfect loop for experimentation. The song builds nicely and it's refreshing to listen to something so organically driven and original. The music is very much precise, well rehearsed and calculated but still leaves plenty of room to breath for improvisation. Clocking in at just less than 10 minutes of prowess, "Kitty Chaser" is full of energy and sheer power that serves as a great introduction to the new album and all it has to offer.
"2020" keeps the energy consistent and showcases the adept connection between [former drummer] Nick Sonricker on drums and Evan McPhaden on bass. The rhythm section works with unconventional times signatures that create a nice platform for Dave Loss and Mike Gantzer to paint over. The piercing guitar solos are full of energy and the music is nothing short of astoundingly beautiful. "The Median" creatively intertwines the song's lyrics with a collection of different chords strumming, including an upstroke reggae feel before launching into an ambient groove of bass popping funk that finds deeper direction with the work of a synth. "Skyway" features an impressive blend of genres that's primarily fueled by heavy guitar, something notably similar to Umphrey's McGee and their sound. Blending elements of reggae, funk and progressive rock seem to be an easy task for the young blossoming band and at times the music takes a direction of maturity that speaks volumes well beyond the band's years.
The music takes an interesting turn with the "Complex Pt. I >Wandering>Complex Pt. II" as the band experiments with an extensive palate of effects that complements the music's complexity well. It's not uncommon for musicians to hide behind effects that mask any sort of true identity, often acting as a distraction. However, Aqueous uses effects creatively that add to their sound in a compelling fashion and these effects don't deteriorate the overall quality and direction of the music. The level of control and authority the band has with their unique sound is inspiring and exciting to say the least. "King For A Day" kicks off with a building tone that eventually explodes into full swing where the listener is met with the lyrics before the band breaks off into a melodic jam fueled by soaring guitar and a heavy heartbeat rhythmic section.
The album closes with "Starring Into the Sun", a 15-minute adventure packed full of talent and soul. The many layers of this song can be perceived in several different ways. There's a collection of something for everyone through this number as the musical spectrum can be as broad as heavy, distortion infused power chords, all the way to a soft melodic breakdown on the keys. The extensive and uplifting psychedelic jam can be compared to something from Pink Floyd. The song melodically builds upon itself and as it continues to unfold the band pushes into new ground valiantly as the band never once losing control of the reigns.
It's clear that Aqueous will be a force to be reckoned with for a very long time. The next wave of jam bands is upon us as these musicians have redefined many beloved subgenres by pushing their musical limits to a refreshing level of genre-bending authenticity. Aqueous are in full pursuit of something organically driven and original and there's no sign of slowing down.
Key Tracks: The Median, Complex Pt. II, Kitty Chaser (Explosions), Staring Into the Sun
*Editor's Note – New drummer Ryan Nogle took over duties for Nick in August 2014 after recording completed