Everything is great about Great North Music and Arts Festival. Featuring two sets by headliner Tipper, this year's line up brought a barrage of up and coming producers and bands together along with seasoned vets in central Maine. More than doubling in size from last year, Great North grew close to 4,000 revelers to experience live painting by Alex & Allyson Grey, fire spinning, graffiti artists, silent disco, art installations, multiple stages and a diverse array of vendors kept the attendees busy and entertained throughout the weekend.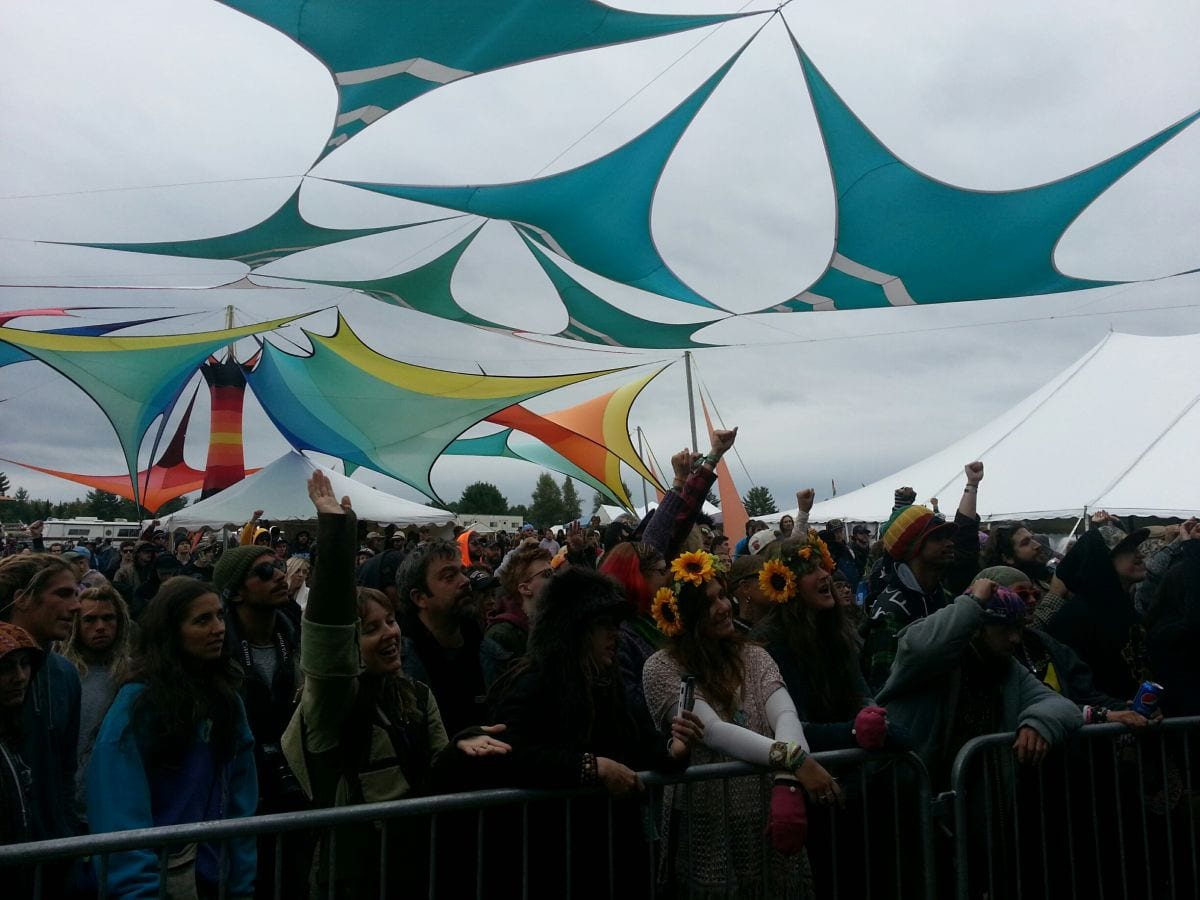 The check in process was organized and it was immediately noticeable Great North had a bigger crowd than last year. Camping areas were full in comparison with the 2013 debut. Car camping was available to VIP and RV campers, otherwise off site parking required festival goers to hoof their gear in on foot or wait for a cart ride. Thankfully the parking lots were in close proximity so walking was manageable.
Generally a youthful crowd, the vibe was a cheerful and pleasant one. Smiles for miles all around with lots of outgoing groups intermingling through the weekend. Having recently relaxed marijuana laws in Maine, some vendors reflected that with flowers, concentrates, edibles and tinctures available for purchase.
Friday
JGB performed two solid sets Friday afternoon to get everyone shaking their butts and soon after, Conspirator brought the heat. Which was a slight relief to the increasingly arctic weather. Friday night temperatures dipped to 38 degrees, and when coupled with high humidity to make cuddling a priority. Ill-Esha graced the Temporal Dome stage getting the crowd hyped and ready for Griz. Headlining the main stage Friday, Griz laid down a set that had the crowd bouncing around. His version of the wedding stalwart "shout" got everybody singing and gyrating in unison. He then dropped his hit "Smash the Funk" to end his set. Cosmic Karma Fire kept the fire burning hot and bright while performing during Conspirator and Griz's set. Staying awake for Desert Dwellers early Saturday morning would have meant enduring a hypothermic chill.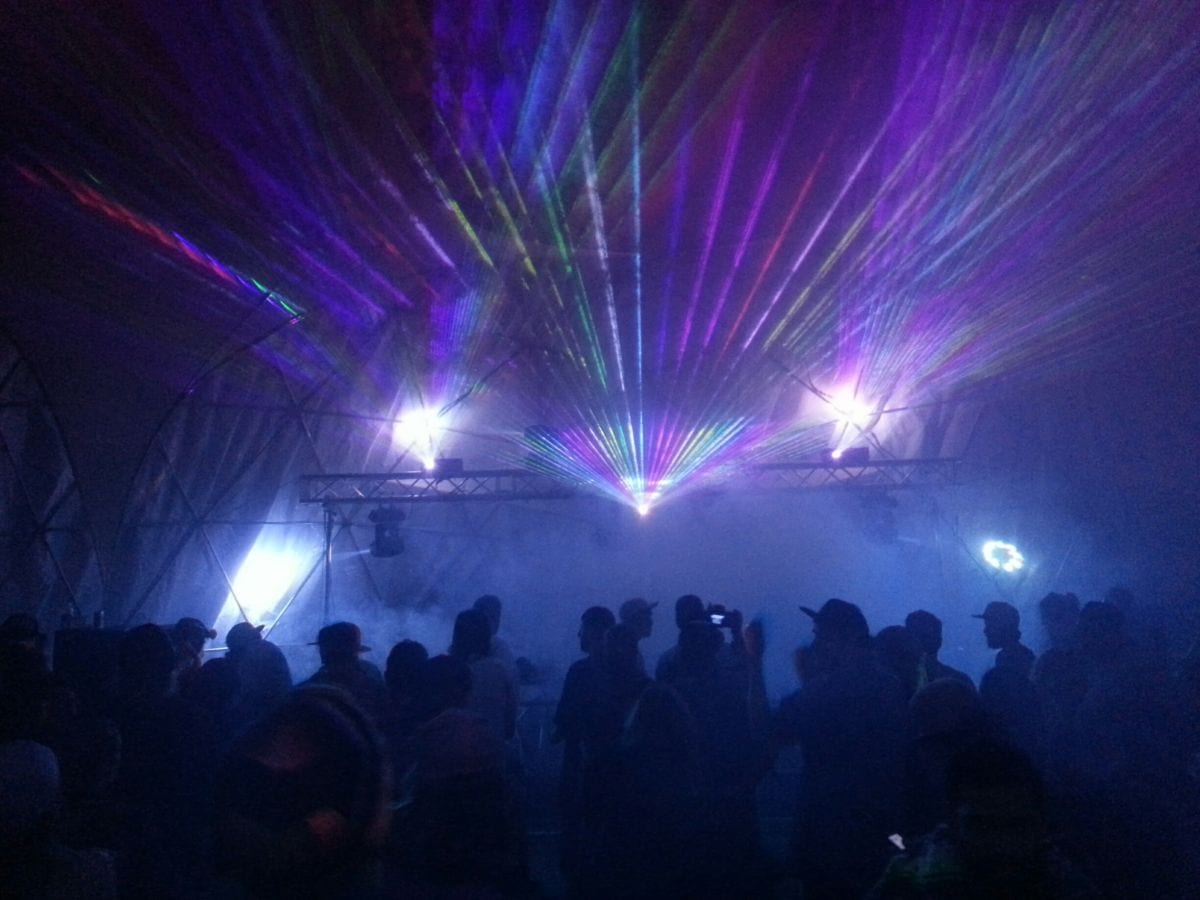 Saturday
Up and at them. Upon acquiring credentials, the day unfolded with lots of incredible music ahead. Nahko and Medicine for the People were outstanding. Nahko even sang a few solo numbers for his fans. Space Jesus' late afternoon slot set the tone for the night to come, even dropping a new track not yet played on the East coast. Tipper kept the evening groove light and bubbly then staked out darker territory during his late night set with Jonathan Singer projecting psychedelic visuals including manipulating some of artist Chris Dyer's work. The G-Nome Project, Israel's answer to The New Deal, and legend DJ Qbert treated the crowd to some high energy dance beats between Tipper sets. Cosmic Karma Fire spun fire during Qbert, but pulled out all the stops for Tipper. Fire breathing, fire swords, rope dart, and fire juggling coupled with LED hoopers and LED juggling combined with Tippers stage projections made for an incredible spectacle. Pulling out all the stops the Late night Bluetech was a magical dub adventure. A fledgling Space Jesus vs Bluetech collab closed the dome stage and had Bluetech laying down the deep dub/drum and bass while Space Jesus painted sweet and spacey chords on top replete with horns and operatic singing.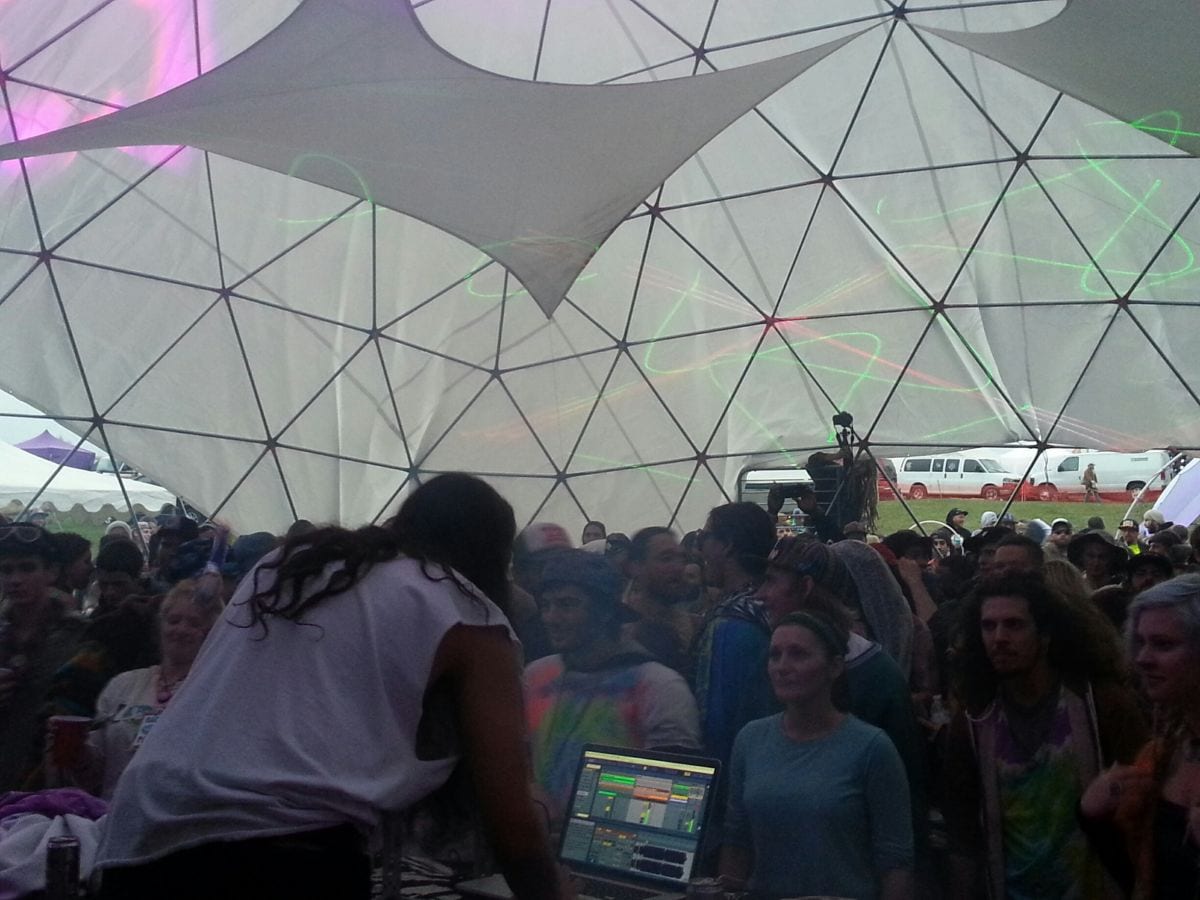 Sunday
Sunday funday. Overcast skies kept the weather warm and humid after early morning showers made getting out from under the blankets a challenge for many. Maine natives Cyborg Trio brought the energy levels up during their day set and Wobblesauce expounded on it by coming hard and fast with beats and wobble. After some fantastic day sets by festival veterans Viral Sound and Consider The Source, Papadosio was ready to close down the main stage. Papadosio has truly stepped up their game. A polished set had visual projections added by Deciduous Pupils as an added bonus.
With Orchard Lounge expected to close down the Fest at the dome stage, a surprise G-Nome appearance roused the crowd into one last frenzy. Their drummer even lit his sticks on fire. Orchard Lounge then set about laying down some deep house funk for everyone to unwind and groove to deep into the night, playing much later than their time slot.
With plans to expand next year and two extra fields to fill, Great North Festival will certainly continue to grow. The long Maine sky is the limit.