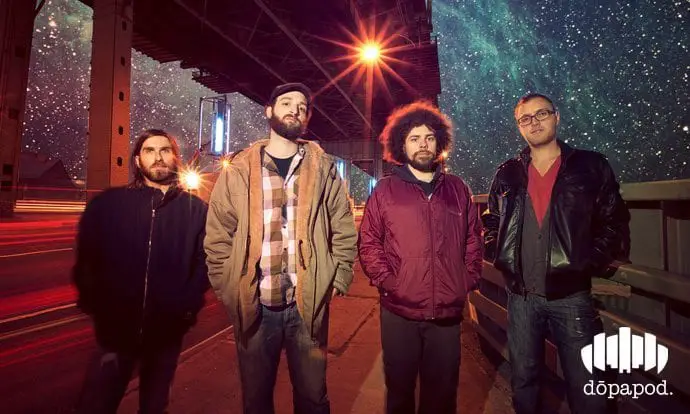 On this unseasonably warm Saturday night Sept. 27, people flooded into Putnam Den to see and hear some of the best live music around with Consider The Source and Dopapod. The vibe was chill, most people waiting for the bands to come on were talking about the music. This was a good sign of what was in store. There was a wide array of ages 18 and up (in some cases way up) but regardless of what age, everyone was there to get down and have fun.
Consider the Source, a power trio out of New York City opened to a packed room, which became more and more engulfed as the seconds went on. Starting with a slow melodic piece that was reminiscent of Pink Floyd; a treat to many in attendance and a good sign of what the evening had in store. The lead Guitarist, Gabrielle Marin, played a double neck guitar possessing many different effects; one emulating a horn which was out of this world. Fans were looking around to see where the horn layer was, which there wasn't, it was just on the guitar, this was brilliant as well as impressive. The drums played by John Olsen, laid down a sweet groove to jam over, which usually the drum and bass do together. Which they did do to a point  but the bass player, John Ferrara, had many solos of his own. Showing that this band was, well, a band. There is no real way to describe the sound of Consider The Source but 'Thrash Jam' could fit. They did just that, holding the audience's attention while getting them ready for Dopapod.
Dopapod opened with "Indian Girls", a very danceable groove layered by heavy beats provided by two percussionists and the bass. This one kept the energy that CTS left going, and even raising the bar. It was on and the party was just about to get into full swing. Dopapod took their groove to another level with "Brooklyn Bridge", and by adding in vocals, this made their jams actual songs to sing along too, and many people did. Smiles were abounding as people sang along and a small sense of family was felt throughout the crowd. This showed they were not a one trick pony who could come out and lay down heavy beats and just move on to the next heavy track, which so many bands tend to.
The compositions of Dopapod were very complex. All four members of the band, including Adrian Tramontano from Kung Fu as a guest percussionist, were very intricate parts of these songs and everyone stayed tightly together, not losing a beat for a second. It may have seemed as if they were all over the place, but with a careful ear you could tell they were 100% on the same page. This was sheer brilliance. This led into a dark trance like groove keeping their overall sound, their feel, which isn't very easy to do when shifting so drastically. With Dopapod's heavy build ups, there was only one place for them to go: the peak. When they reached this peak it was second to very few. The lights went up, the crowd roared, and the payoff was well worth the wait. Eli Winderman's keys and Rob Compa's guitar took fans to another world, the world which is known as Dopapod.