As with all of the 14 years prior, this summer's moe.down festival held in Turin, New York was nothing short of a remarkable live music gala featuring acts from Upstate NY and across the country. This festival would not be in existence however, if it were not for moe. themselves. moe. has not only become a pioneer of the jam-rock genre, but the band has also influenced the festival scene like few others. Turin's beautiful Snow Ridge Ski Resort has been the host of this event for 13 years now and has seen many different types of performers from all genres, but with one common theme… moe.!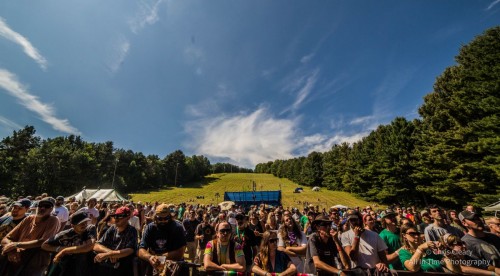 The Snow Ridge Ski Resort, nestled just outside of Turin, is a prime location for such a festival. The area is somewhat secluded, with several parallel ski slopes serving as the festival grounds. Though smaller than previous years, the camping areas are located on the slopes along either side of the main venue. The main slope serves as a natural stadium, where festivalgoers can look out over the grounds and the two stages at the bottom of the hill. Though sometimes a hazard during heavy rains, this past Labor Day served up just the right kind of weather for a festival. As to be expected at any festival, there was some rain, but it came briefly in the wee hours of the morning on Sunday and did not seem to cause any issues for campers.
moe.down is not just your run-of-the-mill festival. In times where festivals try their best to get as many artists as possible, sometimes with upward of one hundred performers, moe.down keeps their lineup small, allowing artists to play two or three sets. This may not seem like big deal, but for anyone who has attended, they know that it gives listeners the opportunity for much more depth in their musical experience. Instead of festivalgoers seeing new band after new band and getting a bit overwhelmed in the process, one can get to know a band over the weekend by watching multiple sets and seeing how versatile a band's music can be and how they have evolved as a group.
On Friday, Aug. 29 the music began just after 6pm, but most campers had gotten there much earlier, some even showing up a full day before the festivities started. It did not take long for the adjacent hills to turn into a small tent city, especially since the main campground space had been cut nearly in half compared to previous years, eliminating one whole ski slope as a camping option. Ohio's The Werks kicked off the fest with the first of their three sets. This jam quartet played almost their entire repertoire, as they alternated sets with Lotus and moe. themselves. The Werks played many of their popular songs including "Duck Farm", featuring high-energy solos from lead guitarist Chris Houser. One of the group's most distinct elements in their music is the presence of the electronic synthesizer and sound manipulations, creating what has been called "Psychedelic Dance Rock". Each set proved to be more impressive than the last with several cover,s including a great rendition of "Pink Panther" that was a real treat for all in attendance.
Jam seemed to be the only thing on the menu Friday night as Lotus took to the stage, asserting themselves as one of the powerhouses of the genre. With a unique hybrid of jam/rock and electronic dance music, Lotus never fails to keep the crowd on their toes and dancing wildly, even after the music stopped. Similar to The Werks, Lotus incorporates many electronic samples that can be enjoyed by everyone, from classic jam fans to younger drum and bass lovers. After the dueling Lotus and The Werks sets, the air became heavy with anticipation as the moment everyone had been waiting for drew near. Yes, of course, that meant none other than moe.! The Upstate legends made their way to the Mountain Stage for their first set of the weekend and all the moe.rons (the name given to the die-hard moe. fans) were in a frenzy. There was not an unsatisfied person in the venue as moe. performed a set that can best be described as a "Meat sandwich." moe. began with their song "Meat", a song with a heavy rock feel that is filled with screaming guitar solos, lightning fast bass playing, and intense percussion throughout. This was a common theme throughout the set, returning to "Meat" in the middle and then ending the night with one final mighty "Meat" jam. There would have been no better way for the band to open the weekend and really get the party started.
moe.down has two very special groups that are there to support festivalgoers of all backgrounds. The first is a women's support group, the Yodeladies, who have a tent set up in the venue to aid women in whatever way they can. The other group, the Happy Hour Heroes, is also there for those who choose to remain drug and alcohol free and need support and information on that choice. Both groups get their names from moe. songs, "Yodelittle" and "Happy Hour Hero." The festival grounds is also filled with many vendors selling their local and handmade goods, as well as ecofriendly products made of various recycled materials. Though there is not an art gallery on the grounds like some other fests, the Snow Ridge Ski Resort has ski lifts running all weekend for those wanting to get a better view of the festival. From atop the slopes, one can see the beautiful rolling hills and Western Adirondacks of the surrounding area and it is a perfect spot to catch the sunrise and sunset.
American Babies started things off on Saturday with two sets of their soulful rock and roll, with Conehead Buddha playing in between. Conehead is known for their large presence with eight musicians on stage, creating an extremely energetic sound that is a mix of ska and funk. moe. wasn't far behind, playing their first afternoon set, which seemed to be a warm up for their double feature later in the night.
Though the weekend was mostly filled with jam/rock performances, one act that certainly set itself apart was Les Claypool's Duo De Twang. Claypool is known for his following of what might be best called "eclectic and extraordinary fans", and his music clearly shows why. Best known for his music with Primus and Oysterhead, his Duo De Twang was much different, providing a much more mellow bluegrass and folk/blues feel, covering Jerry Garcia and playing some traditional Canadian songs. There was something a bit off with Les that day however. Maybe it was his lack of fondness for the hippie crowd or something personal, but his loyal fans could easily tell something wasn't right. At one point, mid-performance, he stopped after attempting some of his famous "fancy finger waggling" and apologized to the crowd saying, "the devil's inside me no longer", referencing his inability to play the bass like he used to. The rest of the set was rather odd, with a lot of talking about his life and what seemed to be a hint of sadness. He ended by playing his South Park theme song several times and "Jerry Was A Race Car Driver", one of his hit songs with Primus, before stopping not a minute after he was scheduled to end. Many including myself were somewhat baffled and hope that the devil will find his way back into Les' fingers once more.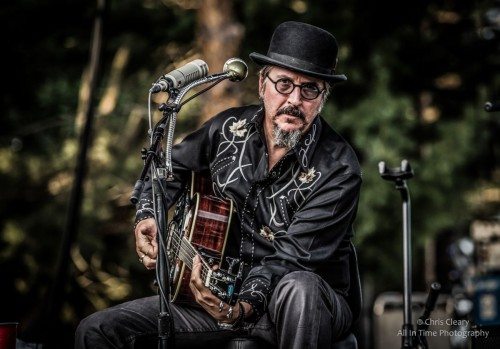 Saturday's jams were far from over though, with up-and-coming festival favorites Twiddle playing three sets on the get.down stage. The trio's endless jams explored the limits of jam, rock, and some of their own renditions of the classics, including a medley of "Somewhere Over The Rainbow" with their song "When It Rains It Poors". Between Twiddle's sets, the late '90s Gypsy punk rockers Gogol Bordello showed they still have all the energy they did fifteen years ago. The crowd was belting out the lyrics with the band to "Break The Spell" and "Wunderlust King", and then finishing the set by yelling "Goodbye Forever!" as the band exited the stage in a dramatic fashion.
moe. came in with a bang, starting off with "Bullet" and its lyrics, "We are all waiting, for the main event.", but it was obvious that this was in fact it. They were later joined by the Conehead Buddha brass section with moe.'s song "Nebraska" before ending their second set. Before the third and final set of the evening began, moe. guitarist Chuck Garvey took center stage to thank all who helped make the festival possible and all those in attendance for coming out. He finished by saying just how special moe.down was to him and the band, and that it was the highlight of their year. The third set saw some variation, starting off slow and bluesy and then morphing into a lighter Caribbean feel with Rob switching basses and Al getting out his double neck guitar. Then, for a very special solo, Chuck broke out a talkbox, an instrument used by Peter Frampton that allows the player to manipulate an instrument's sound by using a plastic tube held in their mouth. Towards the end of the set, the Conehead Buddha horns reentered with a Paul Simon cover and "Threw It All Away".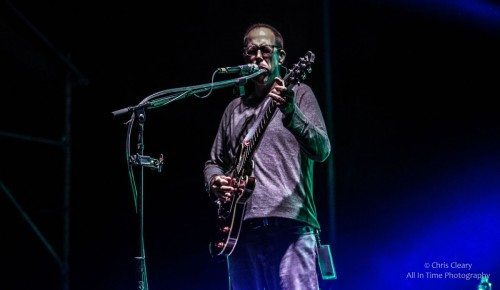 All the moe.rons were partying extra hard Saturday night and into Sunday morning, despite the filling in of "The Ditch", an iconic part of the moe.down festival. There were even a few sorrowful chants of "Where's the ditch?!", but there were still a good number of people paying tribute to it by dancing atop the mound of gravel that now stands in its place. It seemed that most people were still asleep at noon when Wild Adriatic began their first set. Slowly, people made their way to the venue for Jerry Douglas Band's bluegrass led by Jerry himself on the dobro. Staying on a somewhat blues theme, Soulive took to the Mountain Stage. The band is made up of Alan Evans of Alan Evans' Playonbrother, his brother Neal who is typically seen with Lettuce, and is led by guitarist Eric Krasno, known for his work with Lettuce as well. The band played several songs off their album Rubber Soulive, and you could tell by the look on Krasno's face that his sweet yet sorrowful solo during their cover of "Eleanor Rigby" came from somewhere deep within.
There was more in store for the bluegrass lovers at the fest with Al and Vinnie of moe. performing with one of their side projects, Floodwood. The group made their first appearance on stage at moe.down several years ago, bringing together veterans of the string-band world for this all-star ensemble. The moe.rons were especially excited to see their favorite moe. musicians and they burst into applause as mandolin player Jay Barady jumped down into the crowd for a solo during "It's A Long Way To Virginia".
It was right back to the electric jams after Floodwood, with O.A.R.'s rock and Americana tunes. The band covered Sublime's "Pawn Shop" and ended with an incredible medley of "Revolution" and Bob Marley's "No Woman No Cry". Upstate's own, Aqueous performed two sets, playing "Can't Stop, Won't Stop" just to make sure that no one in the crowd was thinking about going home early. Their groove-rock was a perfect recipe for dancing, letting festivalgoers let loose one more time before the weekend was over. Aqueous' set was nothing short of over the top intensity as the mountain resonated with their infectious rhythms and solos.
It was then finally time for what could be either called the best or worst moment of the weekend… moe.'s final sets. After ending their second to last set with "Water", the crowd didn't budge as all the moe.rons made sure they locked down their spot for the second jam. Aqueous played for only about 30 minutes before giving way to moe. to finish things off. It was all about Chuck for the final set and the crowd could not be kept quiet. He led things off with "Puebla" and soloed for what seemed like an eternity, shredding every note as if it would be his last. There were only about five songs, each about fifteen or twenty minutes long, but it was an outstanding exhibit of the musicians' impressive endurance. The guys took a short break to announce this year's moe.down Mayor as the infamous "Rex", much to Rob's dismay, before returning to their final song. It seemed only right that moe. ended moe.down 15 singing the words "I'll find my way back to you" from their song "Rebubula". You could tell that the crowd wanted more, but the were only left with fireworks as they smiled thoughtfully, thinking about the unforgettable weekend that they had just taken part in.
It was another great year for moe.down and the moe.rons with good vibes and good music supplied all around. The Snow Ridge Ski Resort was happy to be home to moe. and we hope it will continue to host this great Upstate fest for many years to come.
All Photos by: Chris Cleary
FRIDAY
SATURDAY
SUNDAY