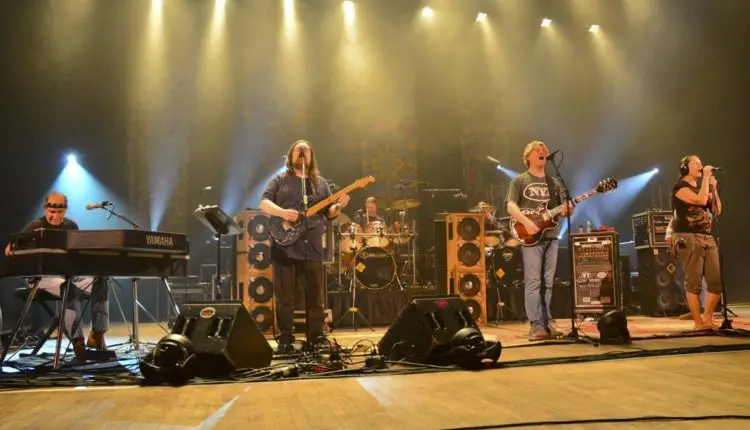 Dark Star Orchestra Will be all Over New York State This Fall
Dark Star Orchestra will be coming back to New York this fall with a tour that will let you dance throughout the state this November. The tour will see the Grateful Dead Tribute act start in Buffalo's The Town Ballroom on November 12. This will be followed closely with stops at the Reg Lenna Civic Center in Jamestown and the Palace Theatre in Albany on the 14 and 15 respectively. Prior to two nights at Higher Ground on the 24 and 25, the tour will stop at The State Theatre of Ithaca on the 17 and the Mid Hudson Civic Center in Poughkeepsie on November 20.
Following Thanksgiving, DSO will be playing New York City's Best Buy Theatre for a two night stand on the 28th and 29th. The New York portion of the tour wraps up on December 1st at Syracuse's Palace Theatre. Tickets for these shows go on sale this coming week. All the dates are below.
11/12 The Town Ballroom Buffalo, NY
11/13 The Danforth Music Hall Theatre Toronto, ON
11/14 Reg Lenna Civic Center Jamestown, NY
11/15 Palace Theatre Albany, NY
11/17 The State Theatre of Ithaca Ithaca, NY
11/19 Mayo Performing Arts Center Morristown, NJ
11/20 Mid Hudson Civic Center Poughkeepsie, NY
11/21 Lupo's Heartbreak Hotel Providence, RIp the 
11/22 The Dome at Oakdale Wallingford, CT
11/24 Higher Ground (Ballroom) Burlington, VT
11/25 Higher Ground (Ballroom) Burlington, VT
11/26 Penn's Peak Jim Thorpe, PA
11/28 Best Buy Theater New York, NY
11/29 Best Buy Theater New York, NY
12/01 Palace Theatre Syracuse, NY
12/03 Paramount Theatre Rutland, VT
12/04 State Theatre Portland, ME
12/05 Calvin Theater Northampton, MA
12/06 Lowell Memorial Auditorium Lowell, MA