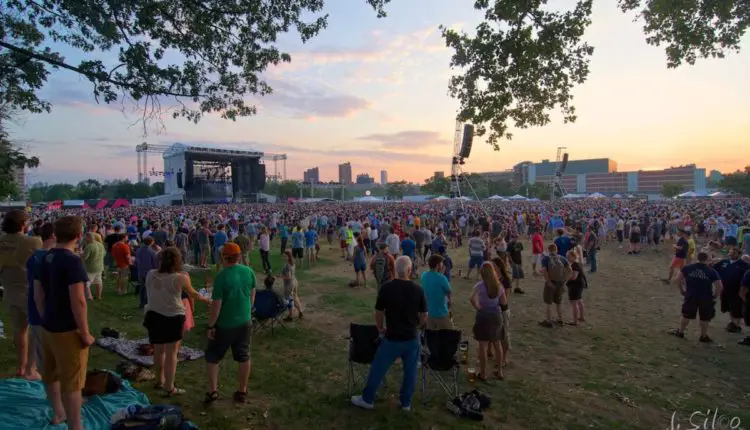 Randall's gets Rocked from Phish and Phans on July 11th
Written By: Sue Rice Photos By: Jacob Silco
Phish and their dedicated followers are no strangers to New York City, seeing that they visit during the bitter cold New Year's Eve runs each year. But the holidays came early for fans as they enjoyed the three-night run of beautiful weather, famous skyline and jam-packed set lists on Randall's Island, located between Harlem, Queens and the South Bronx. With a capacity of 35,000, Randall's Island was a comfortable and familiar fit for fans that long for the Phish festival experience, but were happy to spread out on the lawn or rage by the stage.
There was a strict curfew each night of 11pm, causing the shows to actually start on time around 7, and with gates opening at 4, there were more than enough activities to keep fans entertained. Ben & Jerry's handed out free Phish food ice cream and Hippieshop.com sold raffle tickets for a Fuego themed bicycle. One of the biggest attractions were the Official Phish Freezer and Water Wheel Foundation tents, offering vintage merchandise, Pollock posters, DVDs, and vinyls such as the new exclusive release of Picture of Nectar.
Thousands of phans travelled by ferry, car, subway, bus or walked the almost 2 mile hike over the East River to partake in the unique experience of Phish. The start of the three night run on Friday night brought a funky "Moma Dance" opener as the first "Ya Mar" of the season had the classic Page McConnell solo plus a stand out bass solo from Mike Gordon. The first set had possibly one of the best "Bathtub Gin" versions of the summer, clocking in at a solid 18 minutes. The Gin started in the traditional sense of phans singing along with the lyrics before the band dove into a fast paced melody of pure exploratory bliss.
The second set was a continuous flow of surprise and delight as they started with a dark and rare "Steam" with a slow build up that got pretty weird before the stand out "Down with Disease" that featured high energetic guitar riffs from Trey Anastasio. The soft and gentle melody morphed into a "Golden Age", followed by a mellow "Limb by Limb". The ever popular new hit "Fuego" made an appearance and set fire to the "David Bowie" that followed with triumph.
The show ended with a simple, yet groovy "Character Zero" as the first impressions of the night were grand, making everyone eager to return for two more nights of Phish. Randall's Island has proved to be high on the list of venues and stand out jams for the summer tour this year.
Friday July 11th Setlist
Set 1: The Moma Dance, Kill Devil Falls > Ya Mar, Bathtub Gin, 555 > Rift > Sample in a Jar > The Wedge, Waiting all Night, Stash
Set 2: Steam> Down with Disease [1] -> Golden Age > Limb by Limb > Fuego > David Bowie, Cavern Encore: Character Zero
[1] Unfinished.
Notes: Trey teased the Munsters theme in Stash. DWD was unfinished.