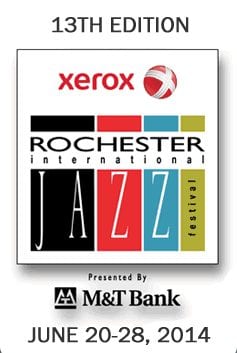 It All Starts Tomorrow! The 13th Edition of the Xerox Rochester International Jazz Festival. will have your continued coverage for all 9 days of the festival. Stay tuned for daily show reviews, photos and artist interviews.
Headliner Show Tickets – Kodak Hall at Eastman Theatre Tickets are available for Janelle Monae, Michael McDonald, Fourplay and Buddy Guy. Tickets are sold out for both shows of Steve Martin & The Steep Canyon Rangers featuring Edie Brickell and for Earth, Wind and Fire.  – Buy tickets online at rochesterjazz.com, at the door if not sold out, or at the Ticket Shop, 100 East Ave and Gibbs St., 10AM – 11PM daily during the festival, 585-454-2062
Club Pass Shows: Exchange Club Pass tickets for Passes before getting in line to attend any show at the Festival Ticket Shop – Corner of East Ave & Gibbs St., the Kiosk at the Corner of Gibbs Street and Main St. (4PM – 10PM) or the Merchandise Tent on Gibbs Street (4PM – 11PM). Tickets cannot be exchanged for passes at venues. Admission to Club Pass shows is with the Club Pass or $20/ $25 Kilbourn Hall, cash only at the door, no advance sales for individual club pass shows. First-come, first-served for everyone!
Free Shows – No tickets are required, all shows rain or shine.
Check out Friday's full lineup on the XRIJF website!
Follow Jazz Fest