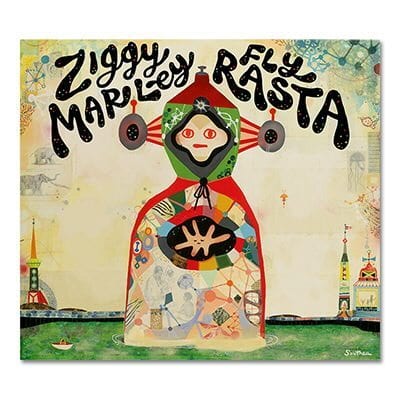 Hearing Aide: Ziggy Marley's 'Fly Rasta'
Ziggy Marley's new musical offering Fly Rasta combines many of the essential elements that make up Ziggy Marley as a Rastafarian, music artist, and the son of a legend. The multifaceted  record reaches to the ends of the musical spectrum, touching on pop, roots, reggae, funk and soul. Marley easily navigates through numerous genres and influences, referring to his sonic hybrid appropriately as 'Ziggy' music. Now past the age reached by his famous father, Ziggy's discography has now arrived at its natural maturity, taking on all aspects of Marley's philanthropist pursuits in its content and context. The album expresses the basic tenants of Rastafarianism, love, respect, hopefulness and nature through childlike expressionism uncluttered by pretense or unneeded obscure lyrical references. There is a consistency of focus on the record that is retained regardless of the thematic or genre excursions undertaken.
The opening track and single, 'I Don't Want To Live on Mars' begins with a straight pop/rock hook that dissolves into an addictive funk groove. Marley expresses that he does not want to leave earth, nor does he have to, regardless of man's progress or Earth's natural disasters. This is not his father's Reggae, this is a celebratory creation built around the integrity of Marley's past life experiences and his forward thinking compositions that defy simple classification.
The title track spins like a vintage dancehall groove from 1960's Jamaica. Supported by vocal assistance from 'U-Roy', Marley pays his respect to and reminds his fellow 'Knotty Dread's that it's time to soar. The groove is relentless, a steady heartbeat of the soul, disorienting, a pounding organic dance groove with a directive for Jah people to rise.
The album is a grower, similar to the plentiful green Ganja fields of Jamaica that stretch toward the hot Caribbean sun. It soaks into the listener's skin after repeated listens like salty ocean air. A testament to its divergent styles continues with the luminescent 'Lighthouse', a straight forward, but alluring, rock ballad that sits on a muted reggae guitar nestled into its 4/4 beat.
'Sunshine' and 'Moving Forward' use archetypal reggae as their launching pad, sunny compositions rooted in Ziggy's natural element, draped in horn lines and unique guitar melodies. 'Sunshine' features a ticklish sitar solo midway through the track, adding a unique texture to the song.
'You' is one of the songs that perfectly illustrates Marley's unabashed combination of musical and world elements as the song moves from 'One Drop', to a funky Hammond organ breakdown, and then through slick and smooth soul middle eight. Resinous wah-wah'd guitars and slick backing vocals, in addition to start and stop rock break downs, makes this one of the finest arrangements on the LP.
The intimate 'So Many Rising' paints a troubadour on the beach at dusk, singing to the world through the deep, dark, and reflection of the night sky. Unadorned hand drums and an acoustic guitar are the only instrumentation on this song of hope and encouragement, clearly understood through its transparent and woody arrangement.
'I Get Up' follows and features sister Cedella Marley, adding her sweet vocal abilities and family support to the track about battling through every day issues and living in and for the moment. Warm descending bass lines and alternating horns tickle the melodic sense of the song.
'Your My Yoko', and 'Give It Away' close the album on a positive and grooving note. 'Your My Yoko' is a testament and tribute to women as a support system, muse and as representative Earth Mother, through a syncopated major key arrangement. The closing song, 'Give It Away' fittingly concludes and bookends the record with a delicious 'riddim'. The song begins with soft vocals crooned by Marley that explore the melody of the track. The tune then moves into a gently undulating reggae groove that then suddenly shifts into a circular funk for the songs central change. 'Only if we give it away, can love be love' is the concluding message and a simple note to leave behind after the experience of the record.
Ziggy Marley has now reached the point in his successful career where his legacy is in place and he has grown into his substantial shoes. The music he is disseminating to the world is truly his music, created by and stamped with his aesthetics. Marley is proud of his history and his roots, but does not let it overwhelm his need for discovery and creation. His lyrical voice expresses a proud and historic awareness, but never a pretentious or didactic attitude. It seems Marley has reached a sun-drenched plateau of confidence and security where he can develop new and interesting ways of communication through the re-imagining of the medium of reggae.
Key Tracks: Fly Rasta, So Many Rising, Give It Away
Ziggy Marley will be performing on June 25th at Artpark in Lewiston, NY in support of Fly Rasta. Steel Pulse will be supporting Ziggy at this performance. Tickets are available for $6.00, $11.00 and $26.00, with gates opening at 4:30.