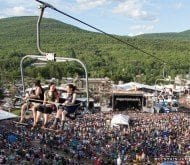 This year marks the tenth anniversary of Mountain Jam, a festival produced by Mountain Jam, LLC, in association with Woodstock, NY's legendary independent radio station Radio Woodstock 100.1, and none other than guitar and vocals virtuoso Warren Haynes. You know if Warren Haynes is involved, it's going to be good! The festival will take place at Hunter Mountain, a world-class ski resort nestled in the heart of the Catskill Mountains in Upstate NY, from June 5-8. Located just over two hours from New York City, it is definitely worth the trip up the mountain to check out this festival, which features approximately 40 bands on 3 stages.
Having started out as a one-day festival to celebrate Radio Woodstock's 25th anniversary, it has grown to what it is today, a festival that has been consistently rated as one of the top music festivals in the country by magazines such as Rolling Stone. Over the years, Mountain Jam is honored to have hosted some incredible talent, from internationally touring bands, including Widespread Panic and Primus, to some local favorites from right here in Upstate New York, including John Medeski and Simone Felice, and this year is sure not to disappoint. Not really knowing where to begin, as there are so many spectacular musicians who will making appearances over the course of this four-day festival, just a few of the bands that will be playing include: Bob Weir and Ratdog, the Allman Brothers Band, Government Mule, Umphrey's McGee, Pretty Lights, Michael Franti and Spearhead, Tedeschi Trucks Band, Jackie Greene, and The Avett Brothers. And these are just a fraction of all the huge acts that will be there! The two main stages are set up right next to each other, which maximizes the amount of time there is to play/see music, as while one band is playing on one stage, the stage next to it is being set up for the next band. (It is also much easier on the knees, for fans at least, who don't have to trek across fields to make it from one band to the next.)
The third stage is located in Healey Brothers Hall, inside the Main Lodge. It is always worth heading indoors to check out this more intimate concert space, and to escape from the elements, if necessary.  This year, in honor of Mountain Jam's 10th anniversary, a series of workshops will be taking place in Healey Brothers Hall throughout the weekend. Stop by to participate in these workshops, which are being led by various authors, photographers, painters, dancers, and musicians, including Michael Franti, who has become quite the fixture at Mountain Jam, and who will be performing a very special acoustic set! Another cool act to perform on this stage will be Sister Sparrow and the Dirty Birds, who will be joining the Paul Green Rock Academy – another collaboration that promises to be exceptional. Other workshop topics include songwriting, led by Eric Earley (of Blitzen Trapper), Valerie June, and Connor Kennedy; and a reading and discussion with Duane Allman's daughter Galadrielle Allman.
Hunter Mountain has become quite the year-round attraction. For those daring enough, between sets, be sure to squeeze in enough time to experience North America's longest and highest Zipline, right there at Hunter! For a unique way to be able to take in the spectacular mountain views while not having to miss a beat of music, take a ride on the Sky Ride, which allows you to view the two main stages from above on the mountain's ski lifts. There are plenty of other activities that can provide a brief hiatus from all the rockin' music being channeled out to you, including yoga and sound healing classes, drum circles, and a live interactive version of Farmville 2! In addition, Ash Street Puppetworks will be strutting their fantastic puppets around the festival site throughout the weekend, and you can't really miss them, so be sure to snap some photos when they pass by – they are quite the sight to see! Another act that has become a staple of Mountain Jam who will be back again this year is the Shilly Shally Fire Troupe, who jumps from place to place around the festival site to captivate the audience with their unique interactive fire act. The Fire Troupe will even be giving workshops this year for those who have always been curious as to how they do all their remarkable tricks!
For the wee ones, there are plenty of activities to keep them entertained (an important note: children 10 and under are admitted to the festival for free with a ticket-holding adult, limit two children per adult): children's music and entertainment will be performed on Saturday and Sunday mornings; there will be a "cozy kids corner" complete with arts and crafts, hammocks, and a sandbox, and even its own potty; the well-known Wormtown tent, where kids can get their faces painted and participate in team games (there is a child registration area located at the Wormtown tent, in case your child gets lost during the festival); and the "Wayfinder Experience" interactive game. None of these activities should be treated as babysitting services, but they definitely provide some much-needed distractions for the kiddies, and they do so in such a way that encourages the children's teamwork and creativity.
While you are enjoying all the music and activities, it will be hard to avoid reveling at the beauty of the scenery surrounding you. To demonstrate the festival producers' awareness of that fact, and the forward thinking that went into the planning of this festival, Awareness Village will once again host exhibits from not-for-profit organizations and environmental groups, in addition to children's entertainment, performance and sculpture art, physical and spiritual healing, a beer and wine garden, and much more. On top of all that, Awareness Village is the spot to be if you are itching to meet some of your favorite artists, as you will be able to find many of them signing merchandise in the Radio Woodstock Artist Signing Tent throughout the weekend! The Festival will also be continuing its greening efforts with recycling, carbon offsets, and $1 water refills to reduce the usage of plastic water bottles. So be sure to stop by the Awareness Village to see the many positive impacts that are being made by local environmental groups, and to learn more about how you can help move this planet in a more positive direction.
It would be foolish not to mention the extraordinarily wide range of food options from which to choose at Mountain Jam. Many of the food vendors are located right along both sides of the concert field, so you don't even have to miss any music while scoring some grub to sustain you through the rest of your dance-filled days! From New Orleans-influenced cuisine to Asian-style stir-fried noodle dishes, from tacos to pizza, you will find all that and more at the Festival. Some of the more unique food options available this year include How We Roll, described as serving comfort food in an egg roll, and Meltdown Gourmet, where they serve up a variety of creative grilled cheese creations, including a BBQ chicken mac and cheese sandwich!
Tickets are available on the Mountain Jam Festival website, with a variety of ticket options available, ranging from single-day tickets ($69 for Thursday only; $99 for Friday, Saturday, or Sunday), to 3- or 4-day passes with or without camping (if you buy at the "It's About Time!" price, a 4-day pass with camping would cost $269). In addition, there are designated "car camping", "lot car camping", and "near-car camping" passes available, if lugging all your gear up to a camping spot on the mountainside isn't your thing. RV passes are also available, with several designated areas to choose from as far as where to park your home for the weekend. One can also purchase one of several "Jammer" packages, which provide VIP amenities such as early access to the festival, private camping areas, a special viewing area in front of the stage, access to shaded hospitality tents stocked with hors d'oeuvres and discounted drinks, and 24-hour access to air-conditioned bathrooms (which can be key, especially when it gets hot and sticky outside, which often happens at Mountain Jam). Jammer pass holders are eligible to reserve lodging in the on-site Kaatskill Mountain Club, which provides swanky accommodations during the festival right there on the outskirts of Awareness Village. (These rooms are sold out for this year, but be sure to reserve your spot for next year's festival if you are looking for a more luxurious festival experience!) This year, you can also purchase an on-site parking pass; your other option would be to park for free at one of the festival's off-site parking lots and take a shuttle to the festival entrance (or you could always utilize the many parking lots that seem to pop up on people's front yards for such events, for a small fee, of course). Please see the Festival's website for more detailed information on ticket pricing and to purchase tickets and RV/car camping/parking passes. The Festival website also has a list of hotels in the vicinity of Hunter Mountain, many of which will be serviced by a hotel shuttle being offered by the Festival for a $20 fee, allowing you to leave your car behind at the hotel and not even have to worry about looking for parking at or near the Festival.
Whether you decide to come for the day, or for the entire four days, you will discover that you don't have to travel very far (that is, if you live in Upstate NY) to find world-famous, as well as locally known and loved, musicians playing in a pristine mountaintop setting. Mountain Jam is a place where you can just let loose and enjoy yourselves to the fullest, where you will come to see familiar faces year after year – and meet plenty of new ones, and where you can get your karma washed by a team of "Bliss Facilitators" right there on the concert field! Come on out to Mountain Jam in the heart of the Catskills for a thoroughly enjoyable four days of music, art, and community from June 5-8! In the meantime, here's a preview of what's to come at this year's Mountain Jam Festival!
[youtube http://www.youtube.com/watch?v=S0GFOS3hSfE]