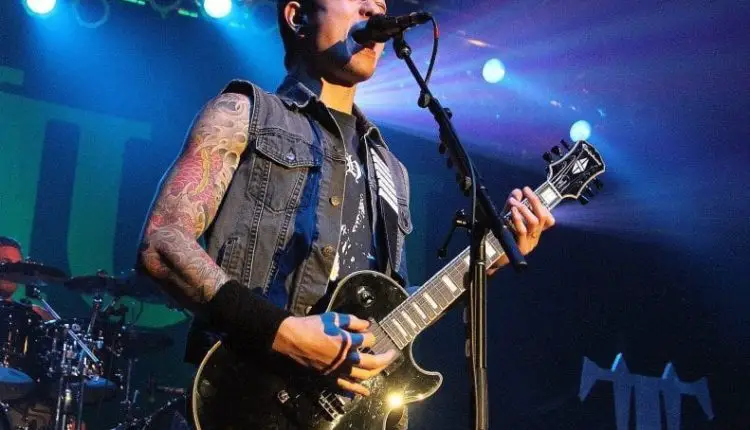 Article and Photos by Nicole McKay
Poughkeepsie was long overdue for a rock show on Tuesday night when Volbeat, Trivium, and Digital Summer came to town. The Mid-Hudson Civic Center was beginning to fill up when Digital Summer hit the stage early. Kicking things off early didn't stop anyone from getting right into it. The hard rock newcomers had the stage presence of a headlining act, getting the crowd moving with their contagious energy. Most impressively, the band featured 13 year old Austin Rios on drums, who could easily give his much older peers a run for their money.
Trivium kept the night going, powering through a 45 minute set packed with hits. The guitar driven tracks were accompanied by the powerful vocals from frontman Matt Heafy, who got the crowd jumping and singing along on tracks like "" as well as the band's latest single, "Strife". They saved he best for last, building up anticipation with an eerie drum intro and light show to match before kicking things into high gear one last time. Mosh pits broke out while the entire audience screamed "In Waves" each time the chorus hit.
Despite being entertained by a surprisingly musical soundcheck, fans began to grow anxious for headliner Volbeat to take the stage. Just before 10pm chants for the band were met with the dimming of the lights. They immediately  jumped into "Doc Holliday", featuring the first of countless solos from guitarist Rob Cagiano. Amid hits such as "Lola Montez" and "Heaven Nor Hell" singer Michael Poulsen joked around with the crowd and talked about some of his influences growing up, including Johnny Cash. A cover of "Ring of Fire" fit Poulsen's voice perfectly, with the audience drowning him out on occasion.
With an extensive catalog to choose from, the band did their best to fit in a few songs from each, including energetic dance along track "Sad Man's Tongue" from their 2007 release Rock the Rebel/Metal the Devil. Fans were in for a treat on "Evelyn", when Trivium's Matt Heafy and Corey Beaulieu joined Volbeat on stage. Heafy provided the screams on the heavier track, with Poulsen's distinctive voice on the chorus, making the crowd go absolutely insane for the all-star combination. Following "Still Counting" the audience were desperate for more, chanting for one final song until the band finally made their return. The 4 song encore came to a close with older tracks "Thanks" and "The Mirror and the Ripper." The punk rock tracks had the audience jumping along from front to back for one last time. Simply put, Volbeat are a fun band to see live. For both old and new fans, it's nearly impossible to not dance along with a smile on your face throughout the entire set.