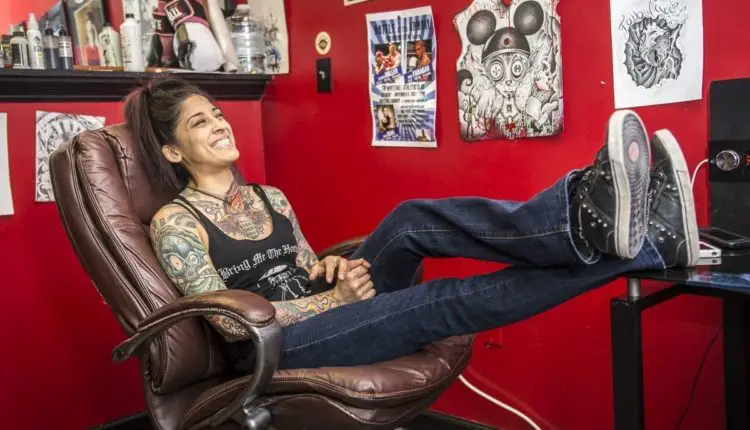 Since Lydia Bruno was a young adult, she understood life better than most.
"You have to make your own path in life," Bruno said. "If you wait for things to happen to you, you're just going to get lost in it; just end up settling for a life you really weren't meant to live in."
The 34-year-old tattoo artist is suddenly on the national stage.  Starring in Ink Master, a hit television show on Spike TV, she enjoyed a two-month run before ultimately being eliminated from an initial field of 16 artists.
Already, it has impressed her toughest critic.
Today, Bruno lives in the Capital Region.  But, she is the very definition of a cosmopolitan, having lived throughout the world, thanks in part to her father's career as a nuclear engineer.  Originally born in London, Bruno has lived England, Canada, and the Netherlands.  In the United States, she's lived on both the West Coast and the East Coast. As can be imagined, her father believes in a good education.
After Bruno graduated high school, she pursued a career in mental health.  She ultimately wanted to earn a PhD.  But, as you read this, you can already tell that's not what happened.  While enrolled in school, the opportunity to work at a local mental hospital presented itself. Valuing experience over schooling, Bruno leapt at the chance.
"Wow, the experience," Bruno said. "I'm learning more in a day than I am in a month at the school." It coaxed her into dropping out of school to pursue a full-time job.  The experience, she said, was worth it. "It was good," she said, "because I realized that I fucking hated it."
Bruno toiled with her mental health career for four years.  By chance, another opportunity presented itself when her roommate's boyfriend noticed her doodles. "I've been an artist all my life," she said. "I never once thought to do something with my art. It's so much a part of me. It's like breathing! You don't make money off of it." He thought enough of her art to persuade her into an apprenticeship at a local tattoo shop.  Working nights at the hospital, and days as an apprentice, it wasn't long before she was forced to a decision.
"I got to follow my passion, so I went with the art side," she said. "That's why I'm on this Earth, I feel.  I try to fight it. Sometimes I'm like, 'Maybe I'm on this Earth to do this job?' No. I'm an artist. I can't fight it."
Nearly a decade later – after dropping school, after quitting her career, after being cast onto the show – she receives a phone call. "'Your famous! I saw you on tv," says an excited voice on the other end of the telephone. "You're on a billboard in Times Square!"
"Yeah," Bruno says. "Not bad for a hobby, huh, dad?"
Burn Your Own Path was a motto taken from a skateboarding company Bruno and a partner started a decade ago.  Custom designing decks naturally tapped into her creative nature.  Her partner pulled out of the venture before it took off.  The name has since developed into Bruno's own personal mantra, of sorts.
Bruno's creativity had also drawn her to the local stage. She was a teenager when her hardcore metal band, Catheter, was making the rounds in the Capital Region. They would be playing along such groups as Section 8, Skinless, Crisis and Stigmata at the QE2 (where the dance club, Fuze Box is now located on Central Avenue). They went as far as cutting a record before ultimately disbanding. But, while on stage, she demonstrated her talents as a vocalist and a wordsmith, singing her words out onto a riot of dancing revelers.
Whether it was a skateboard company, a heavy metal band, a graduate's degree in mental health, or a tattoo apprenticeship; Bruno has approached each opportunity with passion. "I like to throw myself into things 100 percent," she said. "I definitely put every fiber of my being into something I'm doing." Which, as of late, has included amateur boxing.
From the back of a weathered boxing gym, Bruno can be found jumping rope under the watchful eye of pro boxing trainer, Rick Sweeney.  The snapping of her rope blends into a medley of sound that includes the thack-a-da-thack-a-da-thack-a-da of speed bags, along with the percussion of punches (and subsequent grunts) from two boxers who battle inside the ring.
Even among the handful of women who are there, Bruno seems out of place – a little bit shorter, a tad bit smaller, maybe a little older. Despite this, she appears to have an air about her where others recognize she's no one to fuck with. Maybe people are intimidated by her eyes, dark and blunt, especially when unaccompanied by a smile. Or, maybe by her tattoos, to which her tank top reveals plenty; from both "sleeves" down her arms to the art that covers her chest and back of her neck. Regardless, such perceptions are based upon assumptions.  Speaking with her melts away those preconceived judgments, and reveals someone entirely different.
For starters, Bruno enlisted herself into an amateur boxing program at Sweeney's Boxing & Fitness in Delmar, New York.  Sweeney, has produced two champion boxers out of his gym.  One of which, Sarah "The Knockout" Kuhn, who is responsible for introducing Bruno to the gym.  All who walk into Sweeney's gym are immediately made aware of the no none-scene atmosphere.  Those who seek training for amateur boxing are warned they must meet "high expectations" or be asked to leave.
"I'm very passionate, and it may be overbearing [for some people]," Bruno said. So much so, some people label her as a badass. "I believe the term badass is something other people put upon someone else that they don't understand."  Nonetheless, it is a persona she's been asked to embrace while on television.  "(Laughs.) I guess a lot of people have labeled me a badass."
With careful editing and coaxing from show producers, Bruno is intense and unapproachable.  It's something the show wanted to portray, she said. And, she agreed to play along. "Okay, I'll go with it."
The premise of the show pits tattoo artists against each other in competition.  Each episode focuses on a specific technique to which a panel of judges ultimately critique and eliminate one artist at the end of every episode.  The margin of error "is so slight," Bruno said. "They don't show how bad [the critique process] is. You'll have a line that is a little bit thinner than the other and you'll get blasted for it.  You can get eliminated for it."
In addition to the stress of competition is the drama involved with living with strangers.
"It's basically, you're putting sixteen overly passionate artists in a loft," Bruno said. "We like to do things our own way. They are going to fight… A lot of people had a difficult time… On top of that we had to deal with the production side [of the show], which took hours and hours of every day. We were tired.  We were cold.  We were hungry. And, then, when that was done. There was a lot of standing. Going back, going forth.  Out in the cold, pretending that it's summer. And, then it's 10 o'clock at night, 'alright, competition starting. Here are your canvases!'
The biggest obstacle for me throughout the challenges was not being in my artistic comfort zone," Bruno said. "I learned that I like to do art in my own time, in my own setting."
Like the images tattooed onto her own body, she draws back to things she's picked up along the path. She still picks up a pen.  She writes prose and later posts it onto Facebook for her friends to read. ("Just with the way my words come out on paper.  Just writing and writing, and read it later and I'd learn about myself. Same thing will happen with my art.  I'll just zone out and start drawing. When I'm done with a piece, I'll look at it and I won't realize that it came from me.  It's like I'm looking at someone else's art.")   When she tattoos, she can listen to her music. ("Music is very important to me. I listen to '80s music when I tattoo. I listen to the 80s station on Pandora – Billy Joel, Flock of Seagulls. Stuff like that. I listen to hardcore metal, a little mix of everything. Every now and then the occasional Haddaway.")  The television show has lead to more phone calls; old clients offering up support and new ones from out of town calling in to have work done. It humbles her to remember how long it took to build her credibility with clients. ("It's been glamorized so much that everyone wants a hot girl tattooing them.  But, back in the day, for the trailblazers, it was difficult.")
Now, she continues to box, something she had to abandon for the show. Another path she intends to burn.