The Sinclair was in for an epic night on April 17th when Tycho took to the stage as a part of the "Awake" tour for his newly released LP. Tycho, otherwise known as Scott Hansen (the main man behind the curtain), utilizes synths, guitar, bass guitar and his own visuals and programming to hype up his act. He's been in the works since 2002 but recently has been touring with a live backing band including Zac Brown on guitar and Rory O'Connor on drums. His unique pairing of psychedelic synths with hypnotic guitar patterns has formed a distinctive ambient sound that fans have been craving for years.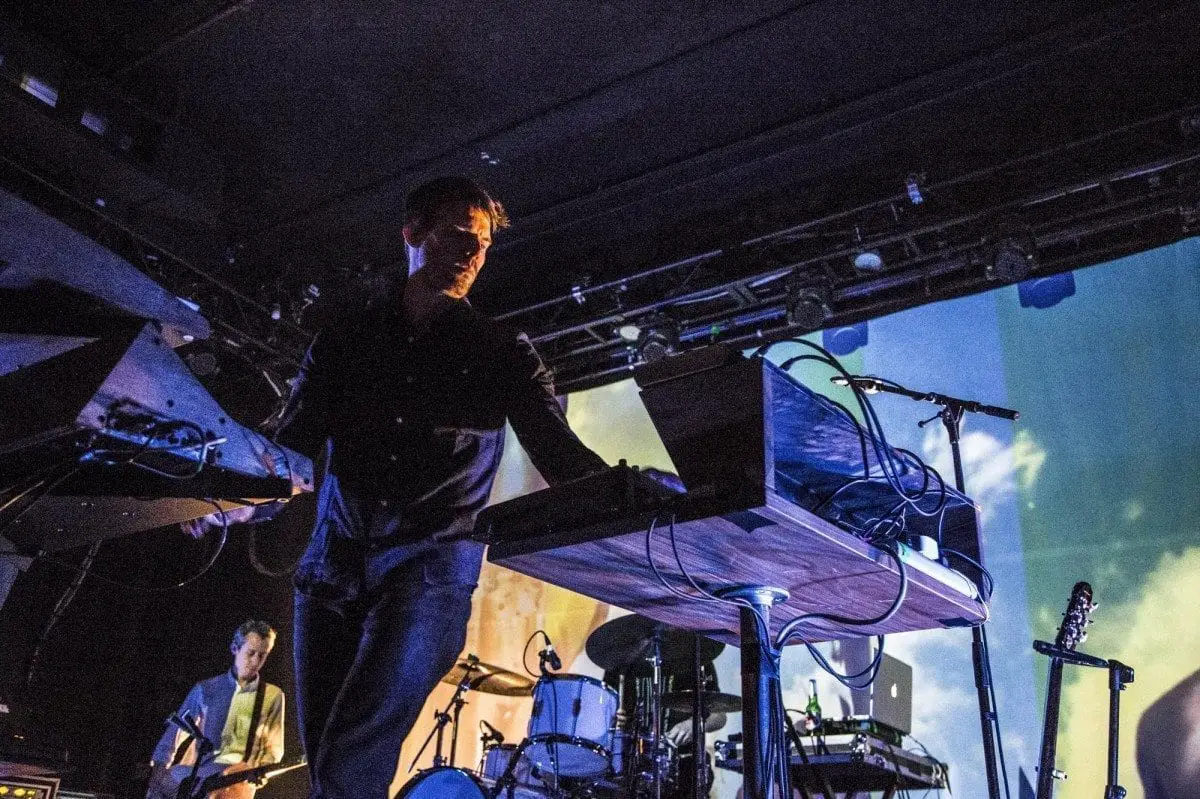 With the anticipation at its highest peak and the beginning bass notes slamming through the speakers, everyone in the crowd at The Sinclair inched forward expecting a big entrance, only to see Tycho and his band humbly walk to their positions on stage. They shyly waved to the audience as people screamed and entered into the first number from their newest album, "Awake". Just like their entrance, the synths, keyboard and guitar riffs flowed sweetly together to send every audience member into an immediate trance. Tycho refused the exaggerated energy of the high beam flashing lights that their opener, Gardens & Villa rocked so well with a new-age disco vibe. Instead they stuck with an honest low-lit environment that complimented the screen behind them. They amped up the beat with some intricate drumming patterns that barely allowed your head to bob as you watched the second star of the show: the artwork. One cannot speak about Tycho without speaking about his artist/photographer counterpart, otherwise known as ISO50. The music changed completely with his silhouetted figure swallowed up in the projected dreamlike sequences. Eyes were overcome with images anywhere from a mixture of space and sky, to slow motion splashes of feet running through the ocean, to a girl wrapped in the wind, slowly being drowned by the white light. All of these were intermittently overlaid with his design work – beautiful pink and orange and red stripes taking different forms, reminiscent of his most recent LP cover. As the psychedelic ambience washed over you, so did the slow sunsets and splashes of his video art.
Tycho mixed up the evening with schizophrenic switches from new to old to even newer. After breezing through a few songs in "Awake", the band dipped back to the classics, throwing in tracks from the album "Dive" including "Hours", "Ascension", "Daydream", "Dive", and any Tycho-lover's favorite, "A Walk" for his encore. He livened up the set with some new numbers called "Pip" and "E:", both vibrant with his signature repetitive synth chords and heavy with drums. Of course the newest tracks caught the most attention with their beat-driven base and unique guitar parts. Tracks like "Apogee", "See" and "Montana" really got the crowd moving, if they were able to break out of their psychedelic abstraction.
In the end, Tycho was gone just as quickly as he hobbled on stage – the night breezed by. Maybe it was the daydream we all entered so unknowingly; maybe it was the trippy flashes of people spinning in saucers, musicians in large hats and water droplets spilling through the screen and into the crowd. Whatever it was, being "Awake" hit us hard – if you're ever in a live Tycho trance, you'll never want it to end.
Setlist: Intro>Awake, Dye, Hours, Ascension, L, Daydream, Spectre, Apogee, Dive, Pip, See
Encore: E:, A Walk, Montana