On May 7th the road leads full circle for Ben Mauro, Syracuse native and world-class musician, as he takes the stage at Shifty's Bar & Grill on 1401 Burnett Avenue to launch his new EP, Take Your Time.  The year was 19-something when those at Shifty's Bar & Grill first saw Ben take the stage for open mic night.
Since that time, he's gone full steam ahead to have one of the most successful careers a musician could hope for, traveling the world, meeting and playing alongside the most amazing musicians, mentors, and fans along the way.  However, after only two seconds I knew he was something special as we chatted about his upcoming event.  The success that Ben has achieved has not changed his priorities, and this is apparent as he comes home to share this special release.  Giving back to the community that embraced him originally was Ben's goal, and for this we embrace our home town star and say thank you.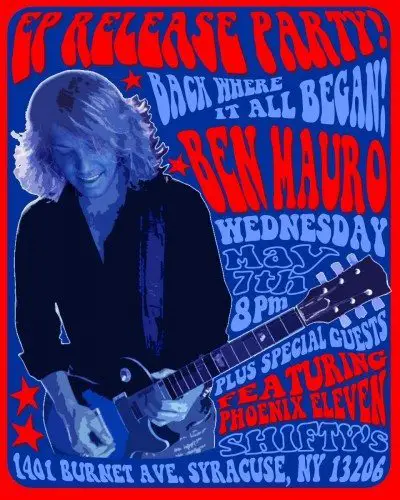 As I reviewed the new EP Take Your Time, I came away with a sense of who Ben is and what he wanted to achieve in his new release.  His versatility is amazing to me and after speaking with him, I can see how all of the influences over the years lend to what we hear on Take Your Time.  A positive vibe comes across in his sound as the lyrics tell a story of love, happiness, and living life uncomplicated as it should be.  With a mix of pop, country, southern rock, jazz, and Latin flavor the audience is treated to many genres, sounds, and instruments along the way.  In "She's Beautiful", the jazzy tune is upbeat and happy with an interjection of a sax solo that is reminiscent of songs during the Motown era.  In "Complicated" Ben's songwriting skills inherently shine through.  While on the track "Down By The River" you have this urge to grab a cooler, bathing suit, and fishing pole to play hooky all day like Huck Finn and Tom Sawyer. On the title track "Take Your Time" Ben's guitar solo rocks this number to the point where that's the one thing that stands out..WOW…this man can play a guitar.  Here's a small taste of "Take Your Time."
Lately I've been on a kick for ethnic sounds and find myself drawn to songs of this nature so on the final track "Burn It To the Ground" I was immediately drawn in to the sultry song with the Latin flair to it.  Not only does it showcase the songwriting talents of Ben, it also showcases the amazing talent of Ben's backup musicians with the percussion and keyboards,  while his guitar solo evoked a feeling of being in a small cantina listening to the mariachi band serenade me.  Only thing missing was my cerveza.  Over all, once I listened to the Take Your Time EP, I couldn't help feeling happy, upbeat, with an admiration for Ben.  I was curious to see who and what had influenced him over time to bring us to the point where this mix of music originated from within.  So as Ben toured the world with Lionel Richie through Australia, Asia, and many countries, he so graciously took the time to answer a few questions for me and the audience to get to know him better.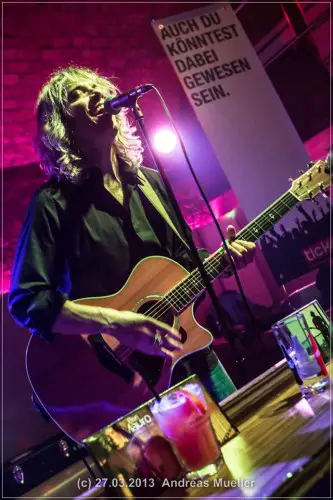 Kathy Stockbridge:  So let's begin this journey and share with me some insight to how it all began. When did you know that music was your destiny? You share how you began as a young adult jamming in the basement to Led Zeppelin tunes, but did you also participate in music through grade/high school also? Garage bands?  Marching Bands?  Was a formal education in music helpful to your understanding of the craft?
Ben Mauro: I played French Horn in middle school, and was All-County Band and Orchestra. Then I took a break from music for a while, until my dad brought home an electric guitar he had trash-picked while out running one day. That's where it started, and I've been playing since I was 16. I had a garage band in high school ,and we played in the school talent show and at a couple of parties. That was really it.
My formal education was mostly with Rick Balestra, a private jazz instructor, that still teaches and performs around Syracuse.  I studied with Rick for two or three years –  he really opened my eyes to a lot of different types of music and it made a huge difference.  I was mostly playing Southern Rock up until that point. Plus going to OCC for classical guitar really helped a lot – learning technique and how to read music.  My instructor there was Joe Jewel.  He left Syracuse to go to Los Angeles and now plays on "Dancing With The Stars."
KS:  As a parent I support my children in anything they wish to do, no matter how risky it may be as I feel when you love what you do, it's not even a job, it's a lifestyle.  Did your family support you like this as well?  Do you come from a musical family?
BM:  The short answer is no, I don't come from a musical family.  A couple of my cousins were kind of musical – one played guitar and one had long hair.  But the rest of my family are all teachers. My dad started the rugby team in Syracuse, so I was surrounded by rugby players growing up. I was always hanging around athletes, not musicians. They still know how to party, though! Really, I'm very lucky because nobody in the family knew much about music.  My dad said if I could make it my job and make a living doing it, we support you. And they did – still do.
KS:  You share how you took off for NYC to for a "street musical education".  As a starving artist, do share some experiences that defined in which direction you ventured.  We know you gravitated towards the music scene in Greenwich Village at Café Wha? Were there other venues you played that held special meaning?  Types of music that helped you learn the business more so than had you just hit the tour scene?
BM:  What I tell up and coming artists all the time is that they have to work – hard.  Before I got the Lionel Richie gig, I was a freelance musician playing around the circuit in NYC for years.  I paid my dues and at the time that I got the Lionel audition I was playing in ten different bands.  I used to say "Yes" to every call I got.  It was a badge of honor in our circle of friends to see who could play the most nights in a row without taking a night off.  It would usually be about 35-40 nights straight of playing before I would take one night off and then go back at it.  Sometimes that was two gigs a night –three sets in two different bars!  We would play one gig then drive into NYC to start our second gig at 1am and then play sometimes until 4am.  But that is really what helped me keep my name out there – just keep going and going. And playing in all different kinds of bands.  I got the experience in Jazz, Funk, Rock, Latin.  Even if I wasn't sure I could do it when the call came in, I would say yes and then make sure to learn.  You can't just play one style of music, even if it is your favorite.  Learn as much as you can and play as much as you can.
KS:  We all are inspired by other greats along the way. Share with us some of these influences that shaped your musical style and steered you towards the craft you do today? Teachers, mentors, bands, sounds…who and what has shaped the sound we hear today on "Take Your Time"?
BM: My favorite band growing up was the Allman Brothers Band – that kind of Southern Rock type band.  Learning all the different styles helped me figure it out along the way, but my all time favorite is a guitar player named Warren Haynes.
KS: On this timeline, please share with us some of your musical moments beginning at Shifty's and carrying on through to your world-wide tours with artists such as Lionel Richie, Don Felder, John Fogerty, Kelly Clarkson, and so many other great musicians along the way.
BM:  The thing with Shifty's is, that is where I first met Delmar Breland.  He was playing bass and I went up and started talking to him.  My first band was with Delmar, Ricky Chisholm, and my good friend Paulie Cerra.  And that all happened because of Shifty's.  Ricky loves the Commodores and we played all kinds of those songs.  Which really helped out a lot when it came to my current job. Delmar was also a big help to me because he and this other dude named Sugarfoot are the ones who really taught me how to play that kind of funky rhythm guitar.  Here I was, this long-haired white kid from the country and these two big guys took me under their wing and taught me how to really play.  That is why I am working today – that funky R & B guitar skill has served me well.
It kind of goes with a story about Lionel, too.  After I had played a couple of gigs just filling in for his main guitar player he made some changes and he fired everyone in his band except the drummer and sax player.  I had to try out again too, and at first the new musical director didn't want to hire me. He told me later he was thinking who is this surfer looking dude in here, but it was Lionel who said to him, "Naah, give him a chance – he's funky."  So if I hadn't hung out with Delmar and Sugarfoot, or learned all those Commodores songs with Ricky…
KS: In between, what are some "a ha" moments that you have had?
BM: Probably watching the first season of American Idol and then getting a call to play in the band for the tour and backing up Kelly Clarkson. She was really great to work with – and then doing TV shows with her.  Getting a call from Don Felder from the Eagles asking me to be his guitar player in his solo band and then playing the Hotel California harmony guitar solo on stage with him.  That was a WOW moment. Auditioning in John Fogerty's garage and getting the job as his guitar player and background singer.  That was pretty surreal. He asked me if I knew any country!  And pretty much every time I get onstage with Lionel and he looks me in the eye while he is singing his ass off!
KS:  As I previewed the new songs on Take Your Time EP, one thing definitely jumped out at me, and that is that you are very versatile in your styles. Many times you will listen to an album and get a flavor of similarity in all the songs, however on this album, you get a wonderful variety of genres, musical instruments, and moods.
BM: I think this goes back to my days in NYC where I had to play all those different styles of music.  Now that I'm an artist and write my own stuff, that is all coming out.  It just feels comfortable and comes naturally to go from one style to the next.  I don't set out to write in a specific style – it just comes out.
KS:  And I must add they go together extremely well. They have a common theme to them and a positivity.
BM:   I'm happy to make music that makes people feel good instead of all down and dark.
KS:  Talk with me about the making of this album and the songs on it. What do you want the listener to take away from this album?
BM:  Uplifting. I want people to feel good and positive.
KS: What was the creative process, the inspiration, and share some of the moments in the making of the album cuts. Do you come up with lyrics and immediately reach for the closest paper? Were there melodies in your mind you came up with and then put the lyrics to them?
BM:  The music usually comes first and then I write the lyrics as I play the tune.  I don't write it down very often – just start playing.  Sometimes I will record things on my phone so I don't forget an idea. Some of the new songs were written in the area.  "Down By The River" was inspired by something my dad said when we were all on a family vacation.  He just said one thing and it clicked – the song came from that.  And I wrote "Take Your Time"  sitting at my parents kitchen table.
KS:  Do you collaborate on any of the songs? Share with us the band and how you chose the instruments to accompany the music.
BM:  I do most of the writing and then my producing partner Gary Davenport comes in to collaborate on some of them.  He does some arranging and polishes the songs up.  Makes them more focused – just better. The band is the 13 Curves Band, Oscar Seaton and Gary Davenport.  13 Curves was my rock band from a few years ago.  We played together for a while and then it kind of morphed into me as a solo with them playing for me when I recorded. Gary is also from Syracuse and I played with him way back before I left for New York.  I first met Oscar touring with Lionel – he has been Lionel's drummer for 15 years.  He also plays with jazz guitarist George Benson and a bunch of other great artists.
It's also cool because Paulie Cerra, my old bandmate is still one of my best friends.  He plays saxophone with me on "She's Beautiful."  That's another Syracuse connection.
KS:  Do you play multiple instruments in the recordings?
BM:  I play guitar, dobro and banjo on this one.
KS:  As I mentioned above I have noticed that you are a very upbeat and positive individual and that shines through your music and your show Let's Go! With Ben Mauro. How did you come up with the idea for Let's Go! and share with us how long you have been documenting your adventures?
BM: Let's Go! came from my dad telling me I had to go out and see things while I was on tour.  I kept telling him I was too tired after having been on a 12 hour flight, but he would say things like, "The Tower of London is only 20 minutes from your hotel."  I finally went and took some pictures and posted a blog.  I started to do it for my family – so they could know what I was doing while I was on tour and stuff.  But people really liked it so it expanded.  I got an HD camera and started to do the videos. The very first one I did officially was the Great Wall of China and it's been almost 4 years.
KS:  What are some of your most favorite places and you've been able to share with viewers along the way? I also want to commend you for featuring band mates and other musicians along the way as well. It's great to not only see these amazing countries and places, but also to see behind the scenes of the rock and roll way of life with sound checks and traveling and all of the things that accompany this lifestyle.
BM:  Some of my favorite places are Morocco, Brazil and the Great Wall of China. It is very important for me to show the life of working musicians.  I say that in every episode. What we do is really so different from what most people think. It's a great job and I'm very lucky to get to do a lot of really cool stuff, like seeing places I might never see.  But it is not all rock and roll glamour.  We are on planes. A lot.  We are in hotels.  A lot.  It's a job and we work hard.
KS:  As a fun way of getting to know the musicians and give the readers an insight into their personalities…would love if you would play along in a "Social Speed Round" of questions, some very random questions for you to answer. And…"Let's Go! With Ben Mauro!"
1.  You're flipping through the channels on TV and come across this movie or show that you always stop on!!! No matter how many times you've seen it!!!    – Million Dollar Baby or Anchorman.
2.  You come across a restaurant out-of-state that claims to have the best original NY food…you think THIS has to be on the menu to even be considered a NY restaurant?  –
3.  I meet a lot of great individuals in my line of work, some that have left me at a loss of words. This is the person that leaves you speechless and at a loss of words when you finally meet them?  – Greg Allman.
4. Time to get away for the touring for a while. Where is your "Happy Place"?  – Zuma Beach, Malibu, California.
5. You're at Disneyland/World…you only have time for one ride because you have to do a sound check and perform immediately after…you choose Roller Coaster/Bumper Cars/Sky Ride or Ferris Wheel?  – Roller Coaster.
6. You get an offer to be a featured star on a cable television show but you can only do one..you choose Dancing with the Stars/ Man vs. Food/ Off Limits? –  Man vs. Food
7. Dream collaboration  –  Greg Allman again.
8. Favorite board game? – Yahtzee.
9. If you weren't a musician what was your plan B? – When I was a kid I wanted to be a professional athlete – soccer player, but never really had a plan B.  Since I was 16, I always wanted to be a musician and I loved it so much that I never thought about doing anything else.  Even when I was dirt poor in New York, I never thought I would do this for a few years and then get out.
10. Your guilty pleasure?  – Spy and adventure novels.  Like Lee Child or the James Bond books.
As you can see, Ben Mauro is a fun, positive, upbeat type of person.  He works extremely hard to be the best he can be, and he is appreciative of his beginnings and those along the way.  Syracuse is honored to have Ben Mauro return home to launch his new EP Take Your Time and we urge everyone to take the time to stop down to Shifty's Bar & Grill on May 7th to welcome Ben home.  Ben will be joined by SAMMY award-winning performers Phoenix Eleven and special guest Ricky Chisholm.  Tickets are being sold ahead of time and can be purchased at http://bpt.me/622514  There are limited tickets available so I urge you to not wait, but buy in advance to guarantee to be part of this event.