The Experience Hendrix 2014 Tour stopped in Albany, NY's Palace Theatre on March 28th, 2o14, for a night of tribute to one of rock and roll's first gods: Jimi Hendrix.
The annual tour is produced by Janie Hendrix, Jimi's younger sister, as a tribute to her brother's life and music. Along with featuring artists who cover his music while showcasing their own talents, the show presented short clips from a biographical documentary. The full house was treated to many different musicians, but highlights certainly included Doyle Bramhall II, Dweezil Zappa, Eric Johnson, Ana Popovic, Billy Cox, and Buddy Guy.
The tour has featured all types of virtuosos and has functioned essentially on the premise that "this is how Jimi would want to be remembered: in a fun, musical way," to paraphrase Janie Hendrix. In fact, at the beginning of the show, Billy Cox said, "we like a rowdy crowd!" and launched into a high-energy performance of "Stone Free," just to get the crowd to clap along.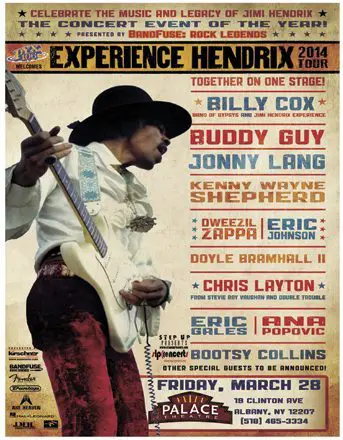 But this was simply a warm up compared to the next part of the show which took the audience to a whole new level of energy. The legendary Eric Johnson (Cliffs of Dover) took the stage and had no fear of imposing his 100-pound violin tone and Texas accent on "Power to Love." Johnson also threw his own spin onto each song as set-mates Scott Nelson and Chris Layton, as well as Eric Gales at one point, allowed time for duels and improvisation. 
When Ana Popovic took the stage alongside Dweezil Zappa, she took full force, never leaving an opportunity to play another note. However, Zappa was not hard-pressed to keep up; he became his own force as they dueled for the audience's awe. Together, they covered "House Burning Down," and "Can You See Me?" Besides Zappa and Popovic's ability to play guitar in an unbelievable fashion, the audience soon learned that Popovic had an uncanny ability to sing Hendrix songs as well.
The standouts of the night, though, included Doyle Bramhall II, Jonny Lang, and Buddy Guy, all of whom impressed the audience with their ability to collaborate with other musicians while mixing in their own style and keeping an overall handle on the music. As the night went on, the crowd became more and more excited, screaming, "excuse me while I kiss the sky," while Eric Gales powered his way through "Purple Haze."
Jonny Lang's ability to cover "All Along the Watchtower" left those watching in awe; his voice was both majestic and practiced. He put on a show with the quality of his cover certainly rivaling both Dylan's and Hendrix's versions. Not only this, but Kenny Wayne Shepherd and singer Noah Hunt covered "Gypsy Eyes." Hunt may have appeared underconfident on stage, but his ability to vocally mimic Shepherd's solo paved the way for the final act of the night.
Buddy Guy has never really lost it. He can still play guitar as well, if not better, as he did years ago. The tone of his guitar is warm and his charisma and control of the crowd are almost political. There is not much to say about Buddy Guy — especially after his onstage appearance with Billy Cox to play "Hey Joe" — that has not been said throughout the years. This show was truly wonderful and it is not one fans will forget for a long time to come.
Setlist: Stone Free, Message to Love, Freedom, House Burning Down, Can You See Me?, Power to Love, Ezy Rider, May This Be Love, Are You Experienced?, Purple Haze, Foxy Lady, Hear My Train a Comin', Angel, New Rising Son, All Along the Watchtower, Fire, Spanish Castle Music, Gypsy Eyes, Come On (Let the Good Times Roll), Voodoo Chile, Voodoo Child (Slight Return), Who Knows, Louisiana Blues, Them Changes, Hey Joe, Red House