Aqueous is:
Mike Gantzer: Guitar, Vocals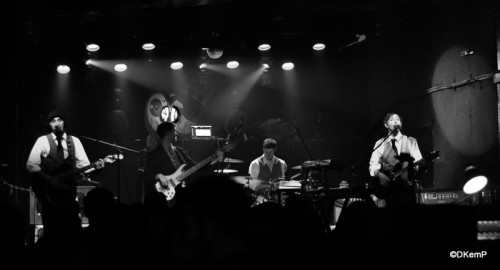 Dave Loss: Guitar, Keys, Vocals
Evan McPhaden: Bass
Nick Sonricker: Drums, Vocals
Mike, Dave, Evan, and Nick make up Aqueous, the four piece prog machine out of Buffalo, NY that is rapidly becoming known up and down the East coast. The band played over 125 shows in 2013 resulting in a tighter bond evident throughout their playing. It's difficult to sum up their sound concisely though as they can quickly shift from one genre to the next effortlessly. To give you an idea, the guys have covered everyone from Elton John to Notorious B.I.G. and The Beatles to Metallica. Even still, there's something very distinct about their sound mixing rock, prog phrasing, and a heavy focus on groove. Their attention to both structure and free-form improv leaves their shows wrapped in intrigue. If you really want to know what they're all about, as cliché as it may be, you have to catch their live show.
The band recently released Live Nugs Volume 4 at the beginning of the year. Consisting of five live cuts of original songs from their fall tour, the album puts their current chops on display and is a perfect marker for growth through the Live Nug series. gave a glowing review of the album, claiming the tracks to be the "headiest to date." Additionally, the band is set to do their first ever residency at Buffalo's Nietzsche's in February. On each of the four Wednesday's of the month, Aqueous will be joined by a special guest and feature a different theme. The four bands playing in support are Pigeons Playing Ping Pong, The Mantras, Broccoli Samurai, and Big Something. Aqueous is even offering a pass for the whole month allowing you entry into each of the four shows for only $20.  If you're unable to make one of their hometown shows, don't fret.  Their spring 2014 schedule was just announced, and it looks as though it'll be relatively easy to catch these guys if you're anywhere in the Northeast.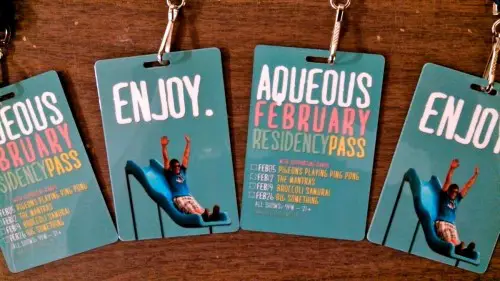 What type of fan is Aqueous for?
Dave Loss: Honestly, Aqueous is for fans of music. Yes we do a lot of improv when we play live and are influenced by many of the major jam bands like Umphrey's and Phish, but beyond that we all like many different types and styles of music and are always determined to keep things interesting and avoid being too repetitive. Oh and we always focus on keeping the groove. We are big on groove!
Mike Gantzer: I agree with Dave here. We try to put into one of our shows the things that move us most when we see shows; energy, interaction, occasional theatrics, and general fun. We certainly have a sound, but we believe that music should push and pull, and contrast is a beautiful thing. Mixing rock with reggae, funk with hip hop, metal with bluegrass etc. It's wonderful as musicians to delve into different sounds and styles, and even better to see people react to that contrast.
Where do you think you'll be in five years?
Dave Loss: Popular enough to where I don't need a Facebook anymore and can strictly use Twitter……but seriously I would love to be at a point where I could play venues like the Town Ballroom here in Buffalo all over the country. Maybe even on a European tour! But really if I could make a living off playing and recording music, that would be a dream come true.
Mike Gantzer: Personally, my goal for the band is to play in Japan and do a European tour within the next five years, and make it to the West coast. We're all grateful for the level of support we've been shown, and I think our priority is to keep building on that momentum and write and tour as much as possible.
Evan McPhaden:  In the next five years I'd like to be able to tour more extensively, reaching the West coast would be amazing.  Playing some of my favorite venues where I've seen bands that I love like the Town Ballroom.  Ideally, if I could survive from playing music that would be all I need.  Lastly, in the next five years I'd like to find a golden ticket and meet Willy Wonka.
Keep up on everything Aqueous via their Website, Facebook, Twitter, and SoundCloud pages.
[soundcloud url="https://api.soundcloud.com/tracks/124223014″ params="color=ff6600&auto_play=false&show_artwork=true" width="100%" height="166″ iframe="true" /]
[soundcloud url="https://api.soundcloud.com/tracks/127580768″ params="color=ff6600&auto_play=false&show_artwork=true" width="100%" height="166″ iframe="true" /]