The Hollow was alive with energy in the early hours of Wednesday night for Break Science with special guest Paul Basic on January 22nd. Paul Basic took the stage first with a seemingly packed house full of adoring fans. The crowd was flooded with fans plastered in "Pretty Lights Fam" pins, hats and shirts and it was certainly evident that these artists have a significant amount of love and respect within the music scene. The moment Basic began to play it was evident why he had attracted so much hype straight out of the gate. His music fused hip hop, dub step, glitch-hop, funk, hard samples and a variety of different techniques and genres to create a unique sound that fits perfectly within the various artists that combine to make up the Pretty Lights music label.  Basic played in a band with both Pretty Light's Derek Vincent Smith and Michael Menert. Eventually the three went on their separate ways and it wasn't until years later that they synced back up to create the music they play today. Basic played many songs off his LP Transient Horizons and put on an overall excellent performance and showed an astounding amount of talent for an up and coming DJ.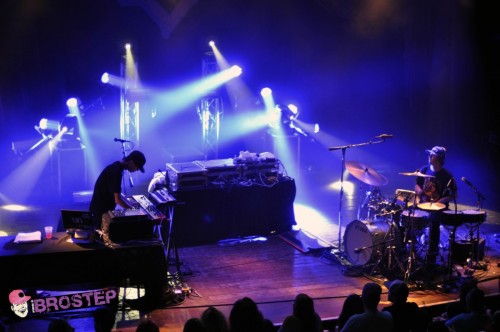 Break Science came on shortly after Paul Basic left the stage and delivered a performance with such a ridiculous amount of energy and intensity. Borahm Lee and Adam Deitch unite to make such a new and different sound with such epic complexities. The samples they utilize encompass the old school, underground Brooklyn music scene layered with a new current sound that seems almost impossible to blend so perfectly. When asked about the influences of the samples they choose and music they play, Deitch spoke about the influences his father, who is also a musician, had on his musical palette. Artists like Aretha Franklin, Earth, Wind and Fire, Stevie Wonder, etc. were just some of the artists that he wanted to bring into his work to introduce to his fans.  He stated, "I grew up on Funk, I got into hip-hop as a teen, and right now it's about electronic is now." It is evident that both Lee and Deitch are both extremely passionate about the music they create, and because of that drive they are given the platform to perform with such intensity.
When asked about playing New York, which is both Lee and Deitch's home state, they both spoke so highly Albany and the devotion all of their fans have for the music they create. Both artists were surprised that even with the freezing cold weather of upstate, the turnout was phenomenal and the energy was at a high. Due to the layout of the Hollow this was also a much more intimate experience for both the fans and the artists. It is obvious that both Break Science and Paul Basic have a lot of love in the Albany music scene and they will be looking forward to their return.