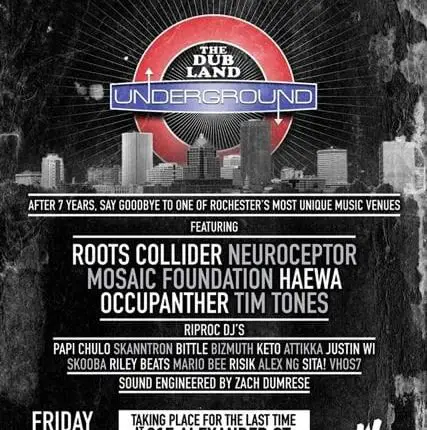 One Last Party at Rochester's Dub Land Underground
After seven years, Dub Land Underground will be closing their doors for good—but not without one more jam-packed evening bringing together some of Rochester's favorite bands. Dub Land, which has been a staple of Rochester's music venues (specifically for jam bands and psychedelic DJs), is ready to say goodbye with a bang, featuring sets from area favorites Roots Collider, Haewa, Mosaic Foundation, Ocupanther, Neurocepter and Tim Tones. There will also be DJ sets throughout the night, with past RIPROC artists throwing down one last set.
The farewell is sure to be bittersweet, but local music fans can expect to see Dub Land go out on a high note, with music starting at 7PM and lasting until 4AM. The show is this Friday, January 10th, and with tickets costing only $10 (21+) / $15 (18+) for virtually nine hours of non-stop tunes, Dub Land's Last Call is the only show in town.