On December 27th, Joe Russo's Almost Dead closed The Capitol Theatre down for 2013 with their second-ever performance. Comprised of Russo, Marco Benevento, Scott Metzger, Dave Dreiwitz and Tom Hamilton, the quintet showed why they wowed audiences in January with their debut show at The Brooklyn Bowl. Their set was largely changed up from that show, so for those who have seen both performances they experienced two varied shows, in the spirit of all things Grateful Dead.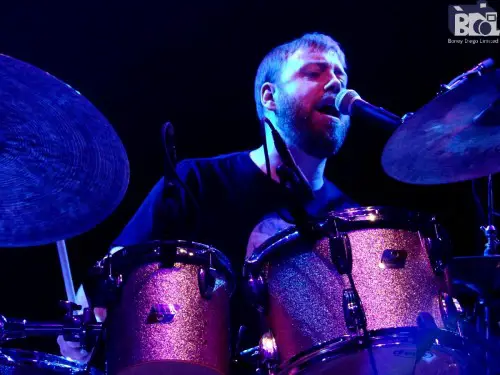 Starting off with a psychedelic take on "Cream Puff War" the group was firing on all cylinders off the bat. A surprisingly long "Truckin'", followed after a beautiful transition as the band jammed it out, endlessly dropping straight into a one-two punch of "Dupree's Diamond Blues" and "Cumberland Blues."  A quick break in the action allowed Joe to welcome everyone to the venue and thanked them for coming out.  Every song seemed to push the envelope of what a Grateful Dead song could sound like and it all came to a head with a 15 minute set closing "Shakedown Street."  This version is a must hear as it was ripped right out of discotheque and the audience knew it, dancing their hearts out for the entirety of the song.
After a short break, the band returned, starting up the set with a wild "Space" that went into an amazing "Scarlet Begonias > Fire on the Mountain" combo.  This combo took about half an hour to complete and every second was worth it. The "Fire" was an absolute barn burner and really got the second set going. They teased songs throughout their performance, most notably during "Playin' in the Band" with "The Eleven/The Other One" before going right back into a spacey jam. These jams truly dominated the evening and validated the claim that JRAD is the best Dead-related act out there. The group ended the set with a perfect "Terrapin Station" that seemed endless.  Smiles were seen throughout the building during the opening chords of the suite. A half hour later, the group was walking off the stage before their encore of "Brokedown Palace."
The evening was a beautiful way for many people in town for the Phish run to start the end of the year.  Joe Russo has gone on record saying that these shows will be few and far between to ensure they maintain their special quality. This concert showed the crowd that there is still hope for all things Grateful Dead related, whether there is an original member in the band or not.  Joe Russo's Almost Dead is sure to play a show or two again this coming year and if they do, run, don't walk, to make sure you get to see it.
Set 1: Cream Puff War > Truckin' > Dupree's Diamond Blues > Cumberland Blues, Row Jimmy,  Bertha, Easy Wind > Shakedown Street
Set 2: Space > Scarlet Begonias > Fire on the Mountain, Playin' in the Band, Althea, Turn on You Lovelight, Terrapin Station
Encore: Brokedown Palace